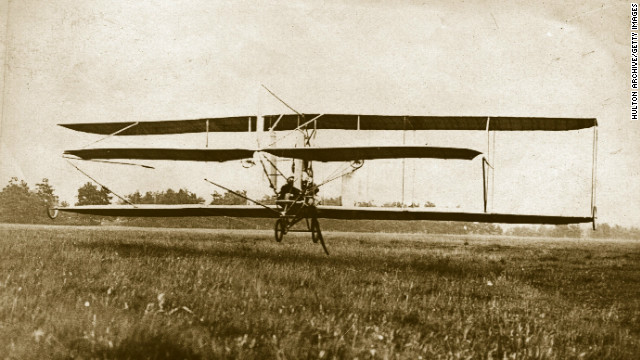 Farnborough in Hampshire, England has a long association with air travel. This image circa 1909 shows aviation pioneer Samuel Cody's British Army Aeroplane No 1 flying at Farnborough. Cody later died in an air accident. (Photo by Hulton Archive/Getty Images)
Another air innovation gets an outing at Farnborough in 1925 as test pilot Frank Courtney talks with officials and reporters at the aerodrome before taking an "autogiro" for a flight.
A de Havilland Comet, the world's first jet airliner, is displayed at the Farnborough's second major air show in 1949.
Eight-year-old David Bailey stands by the undercarriage of an Avro York transport plane at the Farnborough Airshow rehearsal in 1950.
Disaster strikes the airshow in 1952 when a de Havilland 110 broke up over spectators after breaking the sound barrier. The accident killed 29 people on the ground and injured dozens more.
An experimental Rolls Royce aircraft capable of vertical take off, nicknamed the 'Flying Bedstead', exhibited in Farnborough in 1955.
A model of the supersonic airliner Concorde at the Farnborough air show in 1962.
A forerunner of modern day drone aircraft, the radio-controlled Westland Wisp was displayed at the 1976 Farnborough Airshow.
The £40 billion Eurofighter Typhoon combat aircraft is unveiled at Farnborough in 1998.
Members of the British Royal Airforce's "Red Arrows" aerial display perform stunts over Farnborough in 2004.
Then UK Prime Minister Tony Blair visits the air show in 2006. Current Prime Minister David Cameron is reportedly opening this year's event.
A Northrop Grumman RQ-4 Global Hawk unmanned aircraft is pictured at Farnborough on July 22, 2010.
Farnborough's long history with aviation
Frank Courtney tests an "autogiro," 1925
World's first jet airliner is displayed, 1949
An Avro York at Farnborough airshow, 1950
The de Havilland 110 disaster, 1952
Experimental engineering, 1955
A supersonic spectacle, 1962
Drones on show, 1976
A £40 billion combat aircraft, 1998
A "Red Arrow" aerial array, 2004
Politicians at the airshow, 2006
Unmanned aircraft on display, 2010