STORY HIGHLIGHTS
Many West Virginians are without basic necessities -- food and water
Storm, heat wave have affected food pantries, groceries
Government officials, charities delivering supplies
Red Cross begins feedings in several communities
(CNN) -- Governments and charities Wednesday rushed critically needed food and water to thousands of hungry West Virginians whose pantries emptied after storms and an accompanying heat wave.
The American Red Cross in West Virginia prepared to hold it first mass feedings in four regions, said Becky Howard, regional chief development officer.
The charity expected to serve the first meals later Wednesday and provide up to 25,000 meals a day beginning Thursday, she told CNN.
The scale of the crisis in the mountainous state was clear.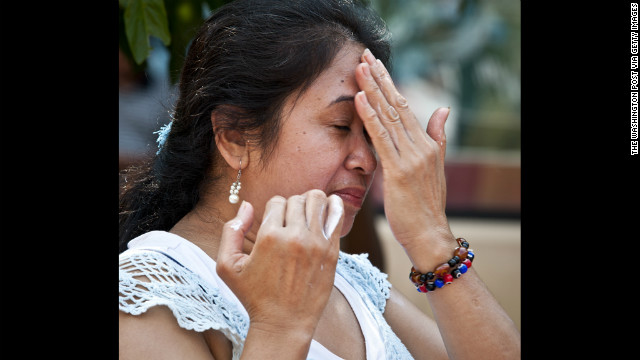 Fatima Domingpe applies sunscreen to her face near the Mosaic Fountain in downtown Silver Spring, Maryland, on Saturday, July 7. A record heat wave has been in the area for more than a week.
Ten-year-old Lilly Hwang-Geddes, left, of Ithaca, New York, plays in a fountain at the Yards Park on Thursday, July 5, in Washington.
Six-year-old Spencer Hwang-Geddes of Ithaca, New York, cools off at the Yards Park on Thursday. Weather forecast predicted the hot weather will last through Sunday with possible daily triple-digit temperatures.
A boy enjoys the waterfall in the Yards Park fountain on Thursday.
Chilren play in the fountain away form Thursday's scorching temperatires at the Yards Park.
Shannon Mack and Bobby Rush keep cool with their dog, Bubba, in a pool at their apartment in Chicago on Wednesday.
Keshyra Pitts, 7, plays in the spray of a hydrant in Chicago on Wednesday.
Lori Bryant holds her 7-month-old nephew Justin Tackett as Marianne Oliver cools him down during the Fourth of July parade in Downers Grove, Illinois.
Residents find relief from the heat at the McCarren Park pool in Brooklyn, New York, on Tuesday, July 3.
Abbi Buck, of Cookeville, Tennessee, gulps a bottle of water as sweat drips down her face as she visits the Lincoln Memorial in Washington on Tuesday.
Katie Kiang finds shelter from the heat to study for the Graduate Record Examinations inside an air-conditioned mall in Silver Spring, Maryland, on Monday. Kiang's home is one of the thousands without electricity after storms hit hard.
Gene Holmes splashes into a quarry lake after jumping from a rope swing on Monday, July 2, at the Beaver Dam Swimming Club in Cockeysville, Maryland.
Without electricity to operate the pumps at his gas station in Silver Spring, Maryland, Ken Duckson fills a cooler with ice he cannot sell because his cash registers will not work.
Aziz Taylor, 11, plays in a water fountain Monday in the Capitol Heights neighborhood of Washington.
Lifeguard Niko Garcia jumps into a pool in Washington on Monday to try and beat the heat wave gripping the nation.
A boy plays in a water fountain in Washington on Sunday, July 1, amid a record-setting heatwave in the eastern United States.
Bryan Moran sprays his dog, Rocky, with water in Washington's Columbia Heights on Sunday. Eastern cities were forecast to approach or break record-high temperatures.
Linda Gordon, right, finds relief from the extreme heat with an ice pack in Memphis, Tennessee, on Saturday, June 30.
Residents crowd onto the beach at Coney Island in Brooklyn, New York, in the powerful heat on Saturday.
Beachgoers lie in the sun at Coney Island on Saturday.
A boy plays in the ocean at Coney Island on Saturday.
Workers brave the high heat to repair a storm-damaged roof at the Park Tanglewood apartments in Riverdale, Maryland, on Saturday.
Beads of sweat roll down Francisco Hernandez's face as he works to repave Hillsborough Street in Raleigh, North Carolina, on Friday, June 29.
Children play in the water at Six Flags Over Georgia in Atlanta, where temperatures topped 100 degrees on Friday.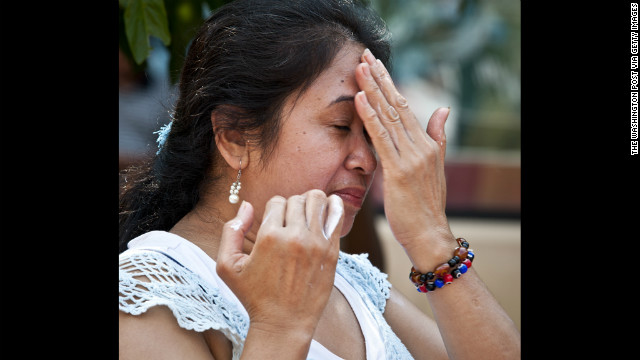 Photos: Extreme heat strikes U.S.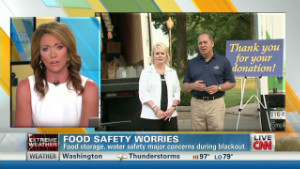 Storms stress food bank supply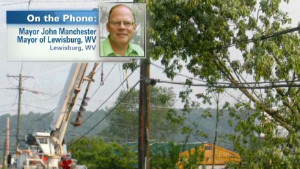 W. Va. town on water conservation alert
Utility crews, working in incredible heat, cleared downed lines both on roads and remote mountaintops. A food drive was in its second day. Boil-water advisories were in place in many communities and ice was being trucked in from as far away as Louisiana.
There were "mass dumpings" of spoiled food across the state due to the power outages after last week's storms, and grocery stores in many areas still could not open due to lack of electricity, Gov. Earl Ray Tomblin said.
Triple-digit strategies for staying healthy
Officials were sending "about 40 big truckloads of water around the state each day," he said. "Those affected by the storm are beginning to receive much-needed food."
Tomblin said about 300,000 customers were without power Wednesday morning. That number dropped to 238,685 by evening.
"One of the biggest challenges is the geography. We are spread out and various pockets across the state have been hit hard," said Howard.
Charities, including Mountain Mission, stepped in to help neighbors.
"This has really surprised us," said Mountain Mission's John Roberts during a stop at the Kanawha City Community Center in Charleston. "I've been doing this job for 12 years. We help with a lot of fires, a lot of floods, things like that. This storm snuck up on us."
Ylonda Wilcox, a storm victim at the shelter, said the ordeal has been extremely difficult. "We went to churches and stuff like that to get some food, but it's been very hard indeed because you had to go from place to place and then it's hot."
"You're used to being independent and being able to get the food when you need it, when you want it," Wilcox said. "But right now we're not able to do that."
In Nicholas County, east of Charleston, 83% of 12,046 houses remained without power Wednesday, said emergency services director Carla Hennessey. Three communities in the coal-mining county had no power at all.
"This has been the worst disaster that I can remember in the last 20 years," said Hennessey.
Waits at gas stations in Summersville were nearly 30 minutes at times, down from three hours.
Gadgets to help you survive a power outage
Three grocery stores there can now provide lunch meat.
"If they put bread on the shelf it was your lucky day," Hennessey told CNN.
The county, with assistance from several parties, is getting food, ice and water to residents.
"It took a little while to get some help," Hennessey said. "We are getting the help we are needing."
Some residents in outlying parts of the county may not have power restored for at least another week, she said.
Federal aid -- including 100,000 meals, 100 large generators and 50 tractor-trailers of water -- was rushed to West Virginia after last week's storm. Two large food banks in the state ran out of food.
"We have had other pop-up storms almost every evening," Tomblin said. "So a lot of people have been knocked out again. But we are making progress, and we will continue to work around the clock until we get the electricity back on to everyone."
Howard said the Red Cross is bringing in an additional 80 people to the state.
"The feeding requests are tremendously starting to increase," she said.
Mobile feedings will be based in Parkersburg, Lewisburg, Charleston and Summersville. Emergency response vehicles also were deployed.
People react to record temps: 'It's not the heat, it's the stupidity'
Currently, the organization is managing five shelters and supporting 10 others.
"I think it will grow as we ramp up our feeding," said Howard.
How is extreme heat affecting you? Share your images with CNN iReport.
CNN's Josh Levs and Jake Carpenter contributed to this report.