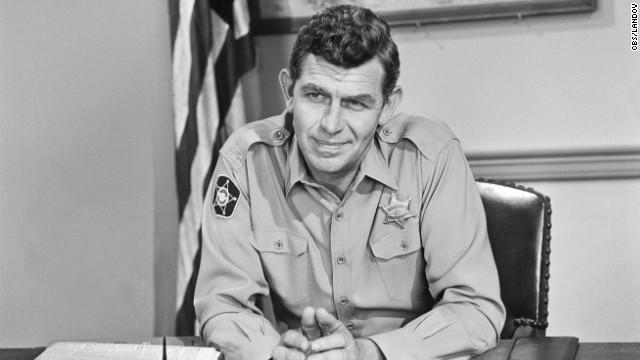 Andy Griffith, famous for his starring role in "The Andy Griffith Show," was an actor, director, producer and Grammy-winning Southern gospel singer and writer. He died Tuesday, July 3, at 86. Click through the gallery to see a glimpse of his career and life.
Future director Ron Howard played son Opie to Griffith's Andy Taylor on the TV show.
Griffith and Don Knotts were beloved co-stars in the CBS television series "The Andy Griffith Show" from 1960 through 1968.
Griffith as Sheriff Andy Taylor peers through laundry in "Andy and the Woman Speeder."
From left, Don Knotts as Barney Fife, Andy Griffith as Andy Taylor and Jim Nabors as Gomer Pyle.
A bird's-eye view shows the town in jail on set for "Andy Saves Barney's Morale."
Griffith plays the guitar for his television son, Opie, during "The Runaway Kid."
From left, Mickey Rooney, Connie Stevens and Griffith in a hospital room set in 1972.
In 1972, Griffith appeared on "The Sonny and Cher Comedy Hour" with Sonny Bono.
Griffith also starred in the television legal drama "Matlock" from 1986 through 1992 on NBC and from 1992 until 1995 on ABC.
The crew records the episode "The Idol," which aired May 19, 1994.
Griffith in the episode "Dead Air," which showed December 8, 1994.
In 2005, Griffith was awarded the Presidential Medal of Freedom by President George W. Bush. Fellow awardees included singer Aretha Franklin and former Chairman of the Federal Reserve Alan Greenspan.
Griffith read a poem after the 2009 inauguration of North Carolina Gov. Beverly Perdue in Raleigh.
Griffith in 1994.
Andy Griffith through the years
Andy Griffith through the years
Andy Griffith through the years
Andy Griffith through the years
Andy Griffith through the years
Andy Griffith through the years
Andy Griffith through the years
Andy Griffith through the years
Andy Griffith through the years
Andy Griffith through the years
Andy Griffith through the years
Andy Griffith through the years
Andy Griffith through the years
Andy Griffith through the years
Andy Griffith through the years