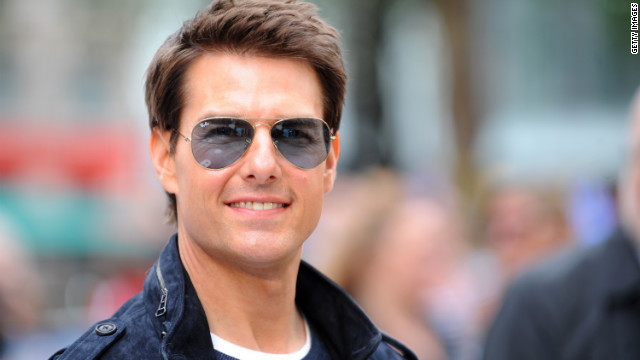 Despite having a
rough week
, Tom Cruise celebrates his 50th birthday on Tuesday. From "Risky Business" to "Rock of Ages," here's a look back at the Oscar-nominated actor's time in the limelight:
This scene from 1983's "Risky Business," which features Cruise's Joel Goodson dancing around sans his pants, has been immortalized in Guitar Hero commercials and 1999's "Never Been Kissed."
Cruise's Maverick saved the day and got the girl in 1986's "Top Gun." In real life, the actor married Mimi Rogers in May 1987. They divorced in 1990. Emilio Estevez, Cruise's "Outsiders" co-star, was the best man at their wedding, according to
People.
Cruise starred with Dustin Hoffman in 1988's "Rain Man." The film won four Academy Awards, including best picture.
Jack Nicholson's Col. Nathan R. Jessup told Cruise's Lt. Daniel Kaffee, "You can't handle the truth!" in 1992's "A Few Good Men." The film was nominated for four Academy Awards.
Cruise received a star on the Hollywood Walk of Fame in 1993.
He married Nicole Kidman in 1990. The couple, who split in 2001, have two children together.
Cruise and Kidman's characters got hot and steamy in 1999's "Eyes Wide Shut."
Cruise dated his "Vanilla Sky" co-star, Penélope Cruz, until 2004.
"The Last Samurai," which hit theaters in December 2003, was nominated for four Academy Awards.
Cruise took young actress Dakota Fanning under his wing for Steven Spielberg's "War of the Worlds" in 2005.
In June 2005, actress Katie Holmes flashed her engagement ring at the London premiere of "War of the Worlds."
Cruise and Holmes welcomed daughter Suri in April 2006 before getting married at a Bracciano, Italy, castle in November. One year later, Cruise and Suri cheered Holmes on when she ran the New York City Marathon.
Cruise's Les Grossman was such a hit in 2008's "Tropic Thunder," he got back into character for the 2010 MTV Movie Awards.
Cruise greeted fans at the Madrid premiere of "Mission Impossible -- Ghost Protocol" in 2011.
Cruise played rock star Stacee Jaxx in Adam Shankman's Rock of Ages," which hit theaters in June.
Happy birthday, Tom Cruise
'Risky Business' (1983)
'Top Gun' (1986)
'Rain Man' (1988)
'A Few Good Men' (1992)
June 1993
January 1996
'Eyes Wide Shut' (1999)
August 2001
'The Last Samurai' (2003)
June 2005
June 2005
November 2007
June 2010
December 2011
'Rock of Ages' (2012)