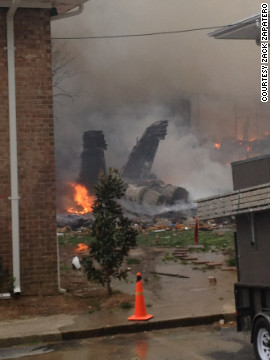 A Navy jet crashed into apartments on April 6 in Virginia Beach, Virginia, sending flames and thick black smoke into the air.
The two crew members ejected from the jet, and only seven people, including the pilots, were injured.
This map shows the approximate location of the crash.
"I work right across the street from the apartment complex," iReporter Chris Johnson said. "As soon as I saw the smoke, I ran out and took pictures before the police showed up."
Smoke billows from apartment buildings as firefighters battle blazes. Virginia Beach Fire Department Battalion Chief Tim Riley said five buildings were heavily damaged.
iReporter David Bryan saw smoke from his hotel balcony in Virginia Beach and shot this photo. "You could smell the jet fuel, and all we could see was the black smoke," he said.
One of the plane's seats lies near the crash site. Retired rescue squad member Pat Kavanaugh said he and others found one of the two plane crew members who ejected.
Spectators watch as smoke billows from an apartment building in Virginia Beach.
Fire suppression foam covers wreckage and debris near the burned-out apartments.
Firefighters from the city of Virginia Beach and the Navy Region Mid-Atlantic Fire and Emergency Services respond to the crash of the jet, which was assigned to a Naval Air Station Oceana squadron.
Navy jet crashes into apartments
Navy jet crashes into apartments
Navy jet crashes into apartments
Navy jet crashes into apartments
Navy jet crashes into apartments
Navy jet crashes into apartments
Navy jet crashes into apartments
Navy jet crashes into apartments
Navy jet crashes into apartments
Navy jet crashes into apartments