Katy Perry's bra-mazing outfits
updated 7:53 AM EDT, Mon July 2, 2012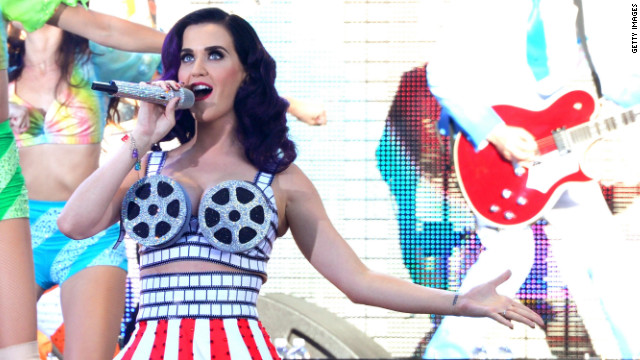 In honor of Katy Perry's concert movie, "Part of Me," which hits theaters on Thursday, here's a look back at the singer's most memorable bra tops -- starting with this one. Perry wore the sparkly film reel brassiere during her performance at the Pepsi/Billboard Summer Beats special on Tuesday. She told
HollywoodLife.com
, "Just because you have boobs doesn't mean you can't rule the world."
The singer sported a slime-inspired top at the 2012 Nickelodeon Kids' Choice Awards in March.
Perry also wore a neon crop top in her "Last Friday Night" music video.
Channeling an angel in Armani, Perry accessorized her bejeweled top with a pair of wings at the 2011 Grammy Awards.
The diva wore a bright pink top to perform at the 2010 MTV Movie Awards.
Ah, the infamous cupcake bra. Perry worked this sweet look in her "California Gurls" music video.
This risqué bra top caused viewers to do a double take during the MTV European Music Awards in 2009.
Perry attended Capital FM's Summertime Bal in 2009 looking like a fresh-faced Minnie Mouse.
She donned a more subdued bra top at a Hollywood event in 2009.
Perry wore this matching ensemble to host Travis McCoy's New York City birthday celebration in 2008.
June 2012
March 2012
June 2011
February 2011
June 2010
May 2010
November 2009
June 2009
May 2009
July 2008