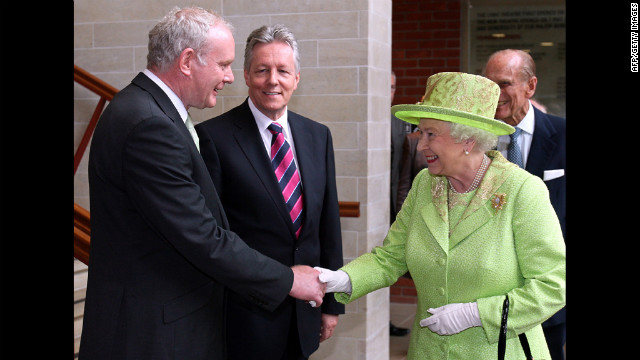 Queen Elizabeth II shakes hands with Northern Ireland Deputy First Minister Martin McGuinness, a former Irish Republican Army commander, on Wednesday, June 27. What might seem like a simple handshake marks a historic step forward in the peace process relating to British rule of Northern Ireland.
Republicans protest in the streets of Dublin, Ireland, against the hanging of IRA volunteers by the British government in 1921. The IRA was created in 1919 with the purpose of ending British rule in Northern Ireland through armed force.
An illustration in the French newspaper Le Petit Journal Illustre portrays the assassination of British Field Marshal Henry Hughes Wilson by two IRA members in 1922.
A car sits in rubble at the scene of an IRA bombing in Coventry, England, in 1939. The bomb was planted in the basket of a tradesman's bicycle and killed five people.
A British soldier drags a Catholic protester on "Bloody Sunday," when British paratroopers shot and killed 13 Catholic civil rights marchers in Londonderry, Northern Ireland, on January 30, 1972. Shortly after, the Irish Republican Army declared that its immediate policy was "to kill as many British soldiers as possible."
Damage caused by an IRA bombing on March 8, 1973, litters a street in London. That year, the IRA resolved to expand its attacks to create more violence in mainland Britain.
The funeral procession of Lord Louis Mountbatten, an uncle of the queen's husband, is held in the streets of London in September 1979. Mountbatten was assassinated by the IRA while on vacation in Ireland.
Masked IRA members lead the funeral procession of Martin Hurson, an IRA prisoner who died after 46 days on hunger strike, in Northern Ireland in July 1981. Nine others on hunger strike died as well, and the event helped further politicize the organization.
A bombing by the IRA at the Docklands in London on February 9, 1996, ended a 17-month ceasefire made in 1994.
Sinn Fein leader Gerry Adams voices his approval in 1999 of the Good Friday Agreement, a peace treaty and power-sharing agreement between the Irish and British signed a year ealier.
Sinn Fein chief negotiator Martin McGuinness announces that the IRA will end its armed campaign but will not disband in July 2005.
A mural in West Belfast, Northern Ireland, marks what some see as the end of the traditional IRA.
Protestors gather in Dublin to demonstrate against the visit of Queen Elizabeth II to Ireland on May 17, 2011. Her visit marked the first by a British monarch to the Irish Republic.
Queen Elizabeth II and Prince Phillip ride through the streets of Belfast, Northern Ireland, on Wednesday, June 27, surrounded by supporters.
Not just a handshake
Not just a handshake
Not just a handshake
Not just a handshake
Not just a handshake
Not just a handshake
Not just a handshake
Not just a handshake
Not just a handshake
Not just a handshake
Not just a handshake
Not just a handshake
Not just a handshake
Not just a handshake
STORY HIGHLIGHTS
Northern Ireland's Deputy First Minister Martin McGuinness meets the queen
McGuinness is a former commander of the Irish Republican Army, or IRA
Handshake between the pair marks symbolic end to decades of sectarian conflict
Belfast, Northern Ireland (CNN) -- For Martin McGuinness, shaking Queen Elizabeth II's hand is the biggest single step yet on his road from feared paramilitary commander to politician.
It's a transformation that has taken place over decades: From the shaggy-haired, scrawny commander of Irish Republican Army (IRA) gunmen in the early 1970s, to the deputy first minister of Northern Ireland's power-sharing government, where he represents Sinn Fein, the province's most popular, mainly Roman Catholic, Republican party opposed to British rule.
In his home city of Londonderry I saw that fear firsthand while shooting a documentary about him a little over a decade ago.
McGuinness had long been rumored to have had a direct hand in the killing of an IRA man turned informer. I visited the man's mother, who lived just a few streets away from McGuinness's modest terraced house in the city's notorious Bay Side neighborhood. The killing had allegedly taken place decades earlier but the man's mother was still too afraid to talk.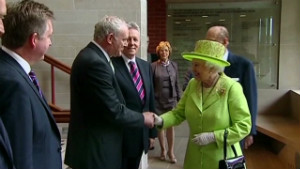 See queen shake hands with ex-IRA leader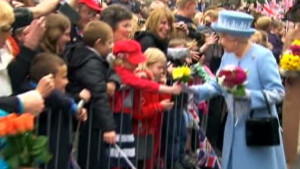 Symbolic handshake marks end of violence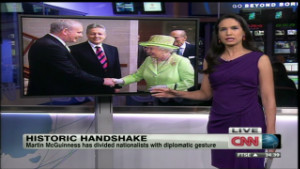 Shaking off the troubles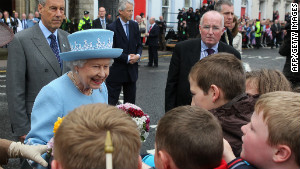 Queen gets hearty welcome to N. Ireland
Queen arrives in Northern Ireland on jubilee visit
Derry, as he would call his city, or Londonderry, as the province's mainly Protestant, pro-British Loyalists refer to it, was where McGuinness first tried his hand at politics.
While shooting the documentary I met with one of his former political colleagues who also was a secret agent for the British government. He had been pulled out and relocated to mainland Britain when his cover was blown a long time ago, but he told me he warned his British government handlers that McGuinness's early ballot box victories were a fraud: Countless ballots cast in clear infringement of the law.
He says his handlers turned a blind eye, and he concluded even at that early stage, 10 years after violence broke out, that British government officials had calculated McGuinness was someone they wanted in a suit and tie at the table talking to them, and not on the streets waging war.
As I concluded that documentary, I struggled to balance all I had seen with the question, is this transition reversible? Is McGuinness committed to peace? Back then, the IRA had still not decommissioned its weapons, and the door seemed open to a return to violence.
Later McGuinness's Sinn Fein colleagues told me I'd set him up for assassination as a leader who'd used back channels to secretly negotiate peace with the British government. I was told "we expected something more like Nelson Mandela," but that was a leap of faith I didn't have the evidence to take.
Dislike for McGuinness is not limited to those on the opposite side of the sectarian divide. His readiness to make peace with the British -- never mind shake the queen's hand -- has made him some powerful enemies in his own mainly Catholic community.
McGuinness's every move, from IRA commander, to deputy first minister, seems to have been an ever more calculated step.
Nic Robertson
When McGuinness and the IRA gave up their guns, even more extreme republicans picked up where they left off. The Real IRA has continued, its hard core of supporters making bombs and killing policemen.
In the Derry streets where McGuinness still lives, violent vigilante gangs mete out their own informal justice on the community, shooting drug pushers. They boast more arms than the IRA ever had, and have filled the void left as McGuinness and the social order the IRA enforced fade into the past.
Meeting the queen means McGuinness loses the legitimacy of hardcore Republicans -- he can no longer sway them as he once did. So while he'll still call for the British government to investigate its own actions of brutality, collusion with Protestant paramilitaries and the alleged shoot-to-kill policy of IRA volunteers, his calls will ring hollow for some.
But all along, McGuinness's every move, from IRA commander, to deputy first minister, seems to have been an ever-more calculated step.
The vast majority of nationalists -- and everyone else in Northern Ireland, for that matter -- only ever wanted a fair deal, peace, jobs and a good education for their children. McGuinness seems to have read that well.
An IRA military victory over "Queen and Country" was never really an option. It was a dream whose time came and went riding on the back of bigotry, sectarian violence, social injustice and the civil rights movement of the late 1960s.
The London-backed governments in Belfast had long run roughshod over nationalist, mainly Catholic aspirations. In a handshake, McGuinness will banish that to the history books for ever. An acknowledgment sealed in a formality that the violent divided past should be laid to rest.
For a man of peace -- which is how McGuinness wants to be remembered -- he has come a long way, and so have the nationalists of Ireland.
When a handshake is not just a handshake