Media 'inciting sectarian wars,' al-Assad adviser says
updated 8:53 PM EDT, Wed June 20, 2012
STORY HIGHLIGHTS
An adviser to the Syrian president says reporters are "fabricating facts" about events
"There are many people who believe what has been put on the news," she says
Tens of satellite channels "made themselves part of the war on Syria"
(CNN) -- Syria's government has not only had to contend with terrorists, but also with journalists bent on misrepresenting the news, according to a political and media adviser to Syrian President Bashar al-Assad.
"Inciting sectarian wars, fabricating facts about what's happening in our country," Bouthaina Shaaban told Russia Today, a government-supported television news channel, in an interview on Tuesday. "There are many people who believe what has been put on the news and it affects them very negatively. Unfortunately the media war, throughout history, could be very damaging and very effective."
Shaaban alluded to reports from international news organizations that the Syrian government has sharply limited access to the country by foreign journalists, citing those claims as examples of misinformation. "It is not true that we don't give access to foreign journalists," she said. "Hundreds of Russian journalists came, hundreds of foreign journalists from all over the world: from India, China, Europe, from the U.S., from all over the world -- so, it's not true that journalists are not given access to Syria. But, also there are tens, at least, of satellite channels who made themselves part of the war on Syria."
Fighting rages in Syria; 52 more said killed
With rare exceptions, CNN's repeated and continuing requests to travel and report freely inside Syria have been declined.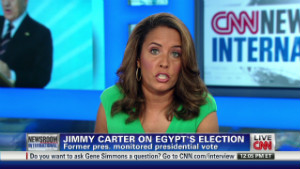 Jimmy Carter on Egypt and Syria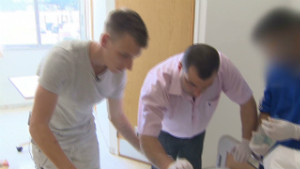 Former U.S. soldier aids Syria's wounded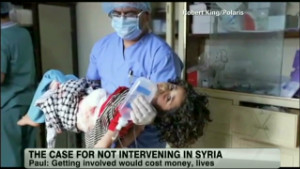 Should the U.S. intervene in Syria?
Syrian government officials have routinely said that terrorist groups and not government military forces are to blame for much of the violence that has wracked the country since March 2011. Asked to identify the countries that have been arming these terrorist groups, Shaaban refused to answer the question. "The Syrian government is not the issue, the issue is Syria, that is the issue, because when you have people from our army, people from our police, civilian people, women and children, killed by tens every day, when you have our factories burned and attacked, when you have our schools targeted, when you have our roads being obstructed by terrorists, then you are having a problem for the country and for the Syrian people.
"The issue is not the Syrian government, the issue is the unity and safety and sovereignty and prosperity of Syria."
Pressed to identify the groups, she said, "We do not know who these people are, we do not know to whom they belong. There is not a single leadership. I mean you can ask the U.N. forces and they would say to you this is the most difficult problem in Syria, that you don't know who your adversary is."
Shaaban reiterated a comment made by other Syrian officials, that Damascus still holds hope that the peace plan put forth by Arab League-U.N. Joint Special Envoy Kofi Annan will succeed. Observers have accused government forces of flouting it.
"It is in our national interest to cooperate with the Kofi Annan plan because the first item in the Kofi Annan plan is to put an end to violence from all sides and in all its forms," she said.
Monitors to stay in Syria, U.N. says
Syria exposes cool spots in U.S.-Russia ties

Part of complete coverage on
Syrian crisis

There's more to the Syrian civil war than rebels versus the regime. Syria's neighbors in the Middle East also have a stake in the conflict.
updated 5:13 PM EDT, Thu May 9, 2013

Israel is taking steps to defend itself against threatened retaliation from Syria after claims it launched airstrikes on Damascus.
updated 12:36 PM EDT, Tue May 14, 2013

Domestic political will is a necessary for intervention and polls show Americans are reluctant to support military interventions in Syria.
updated 1:38 PM EDT, Mon May 6, 2013

Syria's claim that Israel launched airstrikes presents a dangerous escalation of Israel's involvement in Syria's war, writes Fawaz Gerges.
updated 5:41 AM EDT, Tue May 7, 2013

The U.N. says a Syrian rebel group may have used a nerve agent -- it would not be the first time the al-Qaeda-affiliated group used chemical weapons.
updated 2:00 PM EDT, Wed May 1, 2013

Having willfully avoided direct military involvement in Syria for the past two years, Obama may not be so lucky anymore, writes Aaron David Miller.
updated 5:44 AM EDT, Fri May 10, 2013

What began as a protest movement became an uprising that metastasized into a war, a vicious whirlpool dragging a whole region toward it.

A devout man prays. A fighter weeps over a slain comrade. These are a few faces of the Syrian conflict captured by photographer LeeHarper.
updated 4:59 AM EDT, Thu April 25, 2013

A group of pro-Syrian regime hackers that has targeted major news organizations but its cyber attacks can have real-life impact.
updated 6:24 PM EST, Thu March 7, 2013

The role of women in Syrian uprising is little reported, but many have played a key part as activists and medics since the bloodshed began.

Are you in Syria? Share your stories, videos and photos with the world on CNN iReport, but please stay safe.