STORY HIGHLIGHTS
"He's not moving," Cynthia Kelley sobs to a 911 dispatcher
Kelley says she found her fiance, Rodney King, at the bottom of his pool
"I threw a shovel (into the water) but that didn't wake him up," says says in the frantic all
"Please hurry it's Rodney King ... He's at the bottom of the pool"
Los Angeles (CNN) -- In a frantic 911 call early Sunday, Rodney King's fiancee, Cynthia Kelley, described how she discovered King's body at the bottom of his pool and made repeated efforts "to wake him up," but there was no response to her efforts.
"I threw a shovel (into the water), but that didn't wake him up ... he's at the bottom of the pool ... oh my God!" a distraught Kelley sobbed to an emergency dispatcher in a recording of the 911 call released Tuesday.
Responding officers found King, 47, at the bottom of the pool, removed him and performed cardiopulmonary resuscitation until paramedics arrived. He was pronounced dead at a nearby hospital, police said.
Kelley told the 911 dispatcher she had heard the sound of a fall, rushed to the pool and saw King in the water.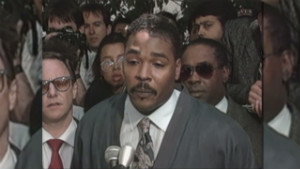 Rodney King dead at 47 years old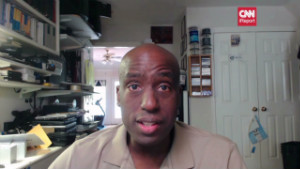 A lesson from Rodney King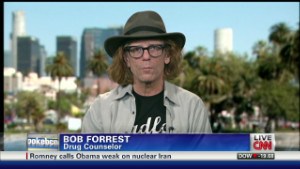 King was struggling with his sobriety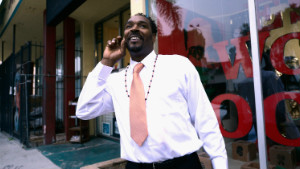 Listen to Rodney King's fiancee's call to 911
"Please hurry, it's Rodney King," Kelley says in the recording. "He's at the bottom of the pool. ... I'm trying to wake him up because I don't know how to swim," she says as she cries.
"How old is he?" asks the dispatcher. "Rodney King, the guy who got beat by the police ... he's 47 years old, he's not moving," Kelley responds.
5 ways the Rodney King beating and LA riots changed America
"I was sleeping, and I heard something fall like a table, and then I looked over and he was at the bottom of the pool," Kelley says as she sobs. "He's just floating at the bottom of the pool. ... This is crazy, this is crazy, oh my God."
The 911 call was made at 5:25 a.m. PT (8:25 a.m. ET) Sunday, according to Rialto Police Capt. Randy De Anda.
Kelley told investigators she had spoken to King, who was outside, through a sliding-glass door a short time earlier. She then heard a splash and ran out, De Anda said.
When police arrived, an unidentified officer jumped in the pool and pulled King's body onto the deck, said De Anda. "There were no signs of life," he said.
The officers attempted CPR, which was continued when paramedics arrived, he said. King was taken to Arrowhead Regional Medical Center in Colton, where he was pronounced dead at 6:11 a.m., he said.
A preliminary autopsy report was completed Monday, San Bernardino County Coroner spokeswoman Jody Miller said. The autopsy findings will not be released until toxicology tests are completed in six to eight weeks, Miller said.
There were no preliminary signs of foul play and no obvious injuries on King's body, De Anda said. Police are conducting a drowning investigation, he said.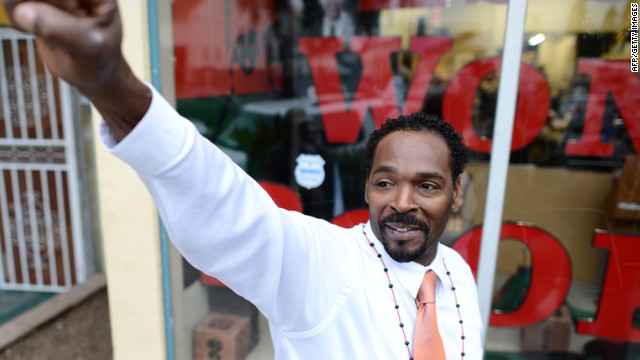 Rodney King gestures to supporters at an event in Los Angeles on April 30. King, whose videotaped beating by Los Angeles police in 1991 sparked the LA riots, was found dead Sunday, June 17. He was 47.
A fire department crew attends to a burning building in south Los Angeles on April 30, 1992, a day after rioting broke out caused by the acquittal of four white police officers charged with assault and the use of excessive force on Rodney King.
A still from the video made by George Holliday from his balcony shows Los Angeles police officers beating King after he was stopped for a traffic violation on March 3, 1991.
Officers Theodore J. Briseno, second from left, and Laurence M. Powell, right, are escorted out of the courthouse after they were acquitted of all charges except for one against Lawrence Powell on April 29, 1992. Hours after the officers acquittal rioting and looting broke out in South Central Los Angeles.
That evening a news helicopter broadcasted live the beating of Reginald Denny by an angry mob at the intersection of Florence and Normandie Avenues.
A rioter breaks a glass door of the Criminal Courts building, downtown Los Angeles on April 29.
A California Highway patrolman directs traffic around a shopping center engulfed in flames on April 30.
Rodney King pleads to rioters to end the violence during a press conference in front of his lawyer's office on May 1 saying "People, I just want to say, can we all get along? Can we get along? Can we stop making it horrible for the older people and the kids?"
More than 9,800 national guard troops were called in to end the violence which killed 55 people and injured more than 2000.
Looters rampage a shopping center in Los Angeles on April 30.
A woman runs out of a store that has been heavily looted as the overhead sprinkler system is triggered on May 1. More than 700 retail stores were damaged during the riots.
People watch from a sidewalk across from a burned out apartment building that was destroyed in the violence. More than 1100 buildings were destroyed or damaged during the riots.
Patrick Simpson of Los Angeles points to the federal building in Los Angeles in anger after two of the four officers were sentenced to 30 months in prison for violationg the civil rights of King.
In his book, "The Riot Within: My Journey From Rebellion to Redemption," King writes about his experience during the riots and in the media spotlight.
King speaks during a book signing event for his new book, "The Riot Within: My Journey From Rebellion to Redemption," at EsoWon book store in Los Angeles on April 30, 2012.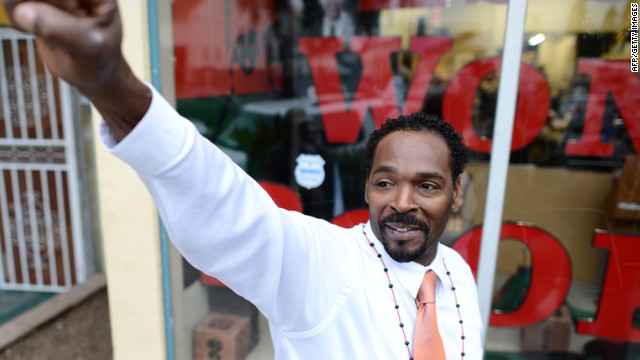 Photos: Rodney King and the LA riots
King, whose beating by Los Angeles police in March 1991 was caught on camera and sparked some of the deadliest riots in U.S. history, was 25 and on parole after a robbery conviction. In an interview in 2011, he recalled he had been drinking and was headed home from a friend's house when he saw a police car following him and panicked, thinking he would be sent back to prison. So he attempted to flee.
"I had a job to go to that Monday, and I knew I was on parole, and I knew I wasn't supposed to be drinking, and I'm like 'Oh, my God,' " he told CNN.
Timeline: Rodney King from 1991 - 2012
Riots erupted after the acquittal of the four officers charged with assaulting King. The aftermath of the King beating forever changed Los Angeles, its Police Department and the dialogue of race relations in America.
The officers were later charged with violating King's federal civil rights and two were eventually convicted. King was awarded $3.8 million dollars in a civil trial.
Kelley, who was a juror in King's lawsuit against the city of Los Angeles in 1994, told police on Sunday that King was an "avid swimmer."
King, who built the pool after purchasing his home in the city of Rialto, told CNN in an earlier interview he had inscribed two dates in the pool -- March 3, the date of his beating; and April 29, the date the Los Angeles riots began -- as a reminder of his troubled past.
Overheard on CNN.com: Rodney King 'had demons. But called them his own'