Historic Chinese space mission docks successfully
updated 5:29 AM EDT, Mon June 18, 2012
STORY HIGHLIGHTS
China's Shenzhou-9 spacecraft successfully docked with the orbiting Tiangong-1 space lab
China is now the third country to complete a manned space docking
The mission also saw the country's first female astronaut go into space
(CNN) -- China's Shenzhou-9 spacecraft successfully docked with the orbiting Tiangong-1 space laboratory on Monday, completing the next step in the country's ambitious space mission.
This makes China the third country to complete a manned space docking, following the United States and Russia. The mission, which began on Saturday, also saw the country's first female astronaut go into space.
The three-person crew will stay in the space lab to conduct "scientific experiments, technical tests, and physical exercises," according to official state news agency, Xinhua.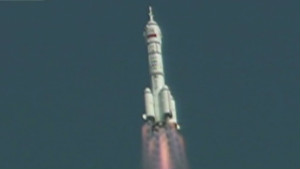 China makes space history
Tiangong-1, a prototype for a full-fledged space station, was launched into space in September. The unmanned Shenzhou-8 successfully docked there two months later, in China's first space docking.
China has made rapid, steady strides in developing its space program over the last decade, such as sending its first astronaut into space, completing its first spacewalk, and launching two lunar orbiters.
The latest docking mission was one of the goals included in a government white paper issued in December, which outlined an ambitious five-year space exploration plan.
CNN's Tian Shao contributed to this report.

Part of complete coverage on
updated 10:25 PM EDT, Wed May 15, 2013

This month, "On China" host Kristie Lu Stout speaks to guests about China's contemporary art scene.
updated 9:07 PM EDT, Wed May 15, 2013

Who is the world's third biggest smartphone maker? BlackBerry? Guess again. HTC? Nope. It's China's Huawei.
updated 8:24 AM EDT, Wed May 8, 2013

CNNGo heads to the capital of China's Sichuan province where numbing peppers rule.
updated 8:16 PM EDT, Wed May 8, 2013

The poisoning of Zhu Ling, a college sophomore in Beijing almost two decades ago, has ignited an emotional debate in China.
updated 6:53 PM EDT, Tue May 7, 2013

80-year-old Chinese war veteran Duan Keke fought for North Korea in the Korean War. He believes China will prevent war with North Korea.
updated 2:54 AM EDT, Fri May 3, 2013

"Iron Man 3" has set a new box office record in China, taking 130 million yuan ($21 million) on its opening day.
updated 10:59 PM EDT, Tue April 30, 2013

The Communist party has become an exclusive club for China's elite, and some say its youngest members are motivated by nothing more than naked careerism.
updated 7:14 AM EDT, Fri April 26, 2013

The H7N9 strain responsible for the bird flu outbreak in China is unlike any that has previously been seen in this type of virus.

Share with us your photos and videos of life in China-- the everyday China. The best content could be featured online or on air.