U.N. suspends observer mission in Syria
updated 8:35 AM EDT, Sat June 16, 2012
STORY HIGHLIGHTS
The United Nations says Syria poses too much of a risk for observers
The head of the mission says violence has intensified in the last few days
The escalation is limiting the ability of monitors to do their job
The monitors went in to ensure compliance to Kofi Annan's peace plan
(CNN) -- The United Nations suspended all activities in Syria on Saturday due to the escalating levels of violence, the head of the global body's mission said.
"There has been an intensification of armed violence across Syria over the past 10 days," said Gen. Robert Mood, head of the U.N. Supervision Mission in Syria.
"This escalation is limiting our ability to observe, verify, report as well as assist in local dialogue and stability projects -- basically impeding our ability to carry out our mandate," Mood said.
The situation, Mood said, was too high risk.
'Choking siege' leaves Syrian town in crisis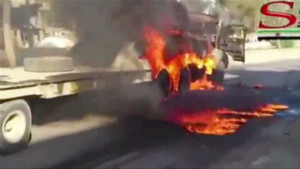 UN: Violence inhibiting work in Syria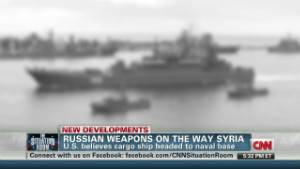 Russia sends ship with weapons to Syria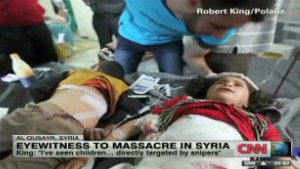 Photographer captures Syrian carnage
The U.N. monitors, whose number gradually rose to about 300, were sent in to ensure that both President Bashar al-Assad and opposition fighters were abiding by a six-point peace plan brokered by special envoy Kofi Annan.
A ceasefire took hold April 12 but only nominally, it turned out.
Violence has soared in recent days with reports of heavy government bombardment of town and chilling massacres of civilians.
On some occasions, the monitors themselves have come under fire.
"The lack of willingness by the parties to seek a peaceful transition, and the push towards advancing military positions is increasing the losses on both sides: innocent civilians, men women and children are being killed every day," Mood said.
He said U.N. observers will no longer be conducting patrols and will stay in their locations until further notice.
This suspension will be reviewed on a daily basis, Mood said.
Operations will resume when we see the situation fit for us to carry out our mandated activities.
Syrian opposition groups estimate that between 12,000 and 14,000 people have died in the months of uprising against al-Assad's rule.

Part of complete coverage on
Syrian crisis

There's more to the Syrian civil war than rebels versus the regime. Syria's neighbors in the Middle East also have a stake in the conflict.
updated 5:13 PM EDT, Thu May 9, 2013

Israel is taking steps to defend itself against threatened retaliation from Syria after claims it launched airstrikes on Damascus.
updated 12:36 PM EDT, Tue May 14, 2013

Domestic political will is a necessary for intervention and polls show Americans are reluctant to support military interventions in Syria.
updated 1:38 PM EDT, Mon May 6, 2013

Syria's claim that Israel launched airstrikes presents a dangerous escalation of Israel's involvement in Syria's war, writes Fawaz Gerges.
updated 5:41 AM EDT, Tue May 7, 2013

The U.N. says a Syrian rebel group may have used a nerve agent -- it would not be the first time the al-Qaeda-affiliated group used chemical weapons.
updated 2:00 PM EDT, Wed May 1, 2013

Having willfully avoided direct military involvement in Syria for the past two years, Obama may not be so lucky anymore, writes Aaron David Miller.
updated 5:44 AM EDT, Fri May 10, 2013

What began as a protest movement became an uprising that metastasized into a war, a vicious whirlpool dragging a whole region toward it.

A devout man prays. A fighter weeps over a slain comrade. These are a few faces of the Syrian conflict captured by photographer LeeHarper.
updated 4:59 AM EDT, Thu April 25, 2013

A group of pro-Syrian regime hackers that has targeted major news organizations but its cyber attacks can have real-life impact.
updated 6:24 PM EST, Thu March 7, 2013

The role of women in Syrian uprising is little reported, but many have played a key part as activists and medics since the bloodshed began.

Are you in Syria? Share your stories, videos and photos with the world on CNN iReport, but please stay safe.