China sends first female astronaut to space
updated 10:35 AM EDT, Sat June 16, 2012
STORY HIGHLIGHTS
Liu Yang becomes China's first woman in space
China aims to be third nation to perform a space docking
China aspires to build a space station and conduct a manned mission to the moon
(CNN) -- China made history Saturday when it launched a spacecraft sending the nation's first female astronaut in space.
The Shenzhou-9 launched Saturday afternoon, carrying Liu Yang and two male astronauts, Jing Haipeng and Liu Wang.
State media aired the launch held at a satellite center in Jiuquan.
Liu, 33, was the deputy head of a flight unit in the nation's air force, according to China's Xinhua news agency.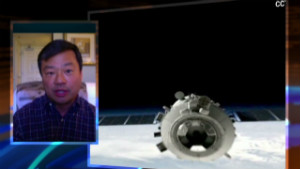 China to launch major space mission
Chinese women push for a place in space
She is a veteran pilot with 1,680 hours of flying experience, and excelled in space testing after two years of training.
If all goes well, the Shenzhou-9 will dock with China's orbiting space laboratory, making the nation the third after the United States and Russia to complete a manned space docking.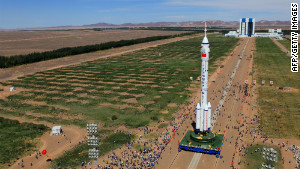 The Shenzhou-9 spacecraft and its carrier rocket as seen Saturday in northwest China's Gansu province.
Participation of women in space will aid training, improve flight crew equipment and expand knowledge on the physical and psychological effects of space on women, said Wu Ping, a spokeswoman for China's manned space program.
China rockets forward in race to moon
"It will also further expand the social impact of human space missions and showcase the positive image of Chinese women," Wu said before the launch. "As a woman, I am eagerly looking forward to this flight with a female astronaut."
China has big aspirations for its program and hopes to build a space station and conduct a manned mission to the moon.
The orbiting Tiangong-1 space lab module was launched into space in September, and two months later it successfully completed China's first space docking with an unmanned spacecraft, Shenzhou-8, according to Xinhua news agency.

Part of complete coverage on

Check out CNN's latest news, commentary, photos, and videos on our China special section.
updated 10:21 PM EDT, Wed May 22, 2013

A quarter century after his death, American pop artist Andy Warhol has popped up in China again after his first and only trip to the country in 1982.
updated 10:25 PM EDT, Wed May 15, 2013

This month, "On China" host Kristie Lu Stout speaks to guests about China's contemporary art scene.

Proving you don't have to be in France for great artisanal cheese, Liu Yang is teaching the Chinese to appreciate dairy.

You can now visit the city visa-free for up to 72 hours. Here's how to cram the best of Beijing into three days.
updated 9:07 PM EDT, Wed May 15, 2013

Who is the world's third biggest smartphone maker? BlackBerry? Guess again. HTC? Nope. It's China's Huawei.
updated 8:24 AM EDT, Wed May 8, 2013

CNNGo heads to the capital of China's Sichuan province where numbing peppers rule.
updated 8:16 PM EDT, Wed May 8, 2013

The poisoning of Zhu Ling, a college sophomore in Beijing almost two decades ago, has ignited an emotional debate in China.
updated 6:53 PM EDT, Tue May 7, 2013

80-year-old Chinese war veteran Duan Keke fought for North Korea in the Korean War. He believes China will prevent war with North Korea.

Share with us your photos and videos of life in China-- the everyday China. The best content could be featured online or on air.