Police, company investigates Foxconn death
updated 1:05 AM EDT, Fri June 15, 2012
STORY HIGHLIGHTS
Chengdu police are investigating the death of a Foxconn employee
Body of the 23-year-old found outside his residence, apparently from a fall
Comes after a rash of suicides at the brought scrutiny to the Apple supplier
(CNN) -- Chengdu police are investigating the death of a Foxconn employee, whose body was found outside his residence earlier this week.
The man, whose surname is Xi, fell to his death, according to Chengdu authorities. The death is being reported by Reuters and other news agencies as a suicide, which CNN cannot independently confirm.
"We were informed by local law enforcement authorities in the city of Chengdu that [Wednesday] afternoon, a 23 year-old male Foxconn employee was found dead outside his off-campus residence in Chengdu," Foxconn Technology Group said in a statement.
"Chengdu law enforcement authorities are conducting a thorough investigation into this matter and Foxconn is cooperating with that process. We have extended our condolences to the family of this employee and we are working with the Foxconn Labor Union and others to provide the family with the support they need at this very sad time."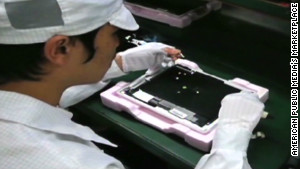 Rare look inside Foxconn factory campus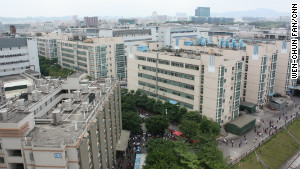 Audit of Foxconn finds major violations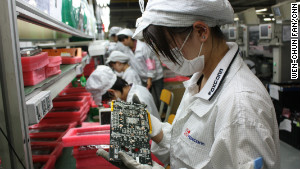 Foxconn audit shows 'excessive overtime'
Apple and Foxconn -- a major manufacturer of iPhones and iPads -- agreed to improve labor conditions at the Chinese plants earlier this year.
Foxconn, a subsidiary of Taiwan-based electronics supplier Hon Hai Precision Industry Co. -- which also makes electronic goods for Sony, Microsoft, Nokia and other household brands -- came under intense scrutiny by CNN and other media outlets in 2010 after a series of suicides by workers at its Chinese plants raised questions about living and working conditions.
Though Foxconn maintains its workers are treated well, Chairman Terry Gou made an unprecedented public apology in the wake of the suicides. Foxconn then released a statement saying it had introduced counselors, started a 24-hour phone counseling service and opened a stress room where workers can take out their frustration on mannequins with bats.
Apple joined the Fair Labor Association earlier this year -- the first technology company to do so -- and authorized the group to audit Foxconn operations. A March 29 report found several violations, especially regarding excessive work hours of more than 60 hours a week.
Apple and Foxconn have pledged to reduce working hours.
CNN's Paul Armstrong and Corinna Liu contributed to this report

Part of complete coverage on
updated 10:25 PM EDT, Wed May 15, 2013

This month, "On China" host Kristie Lu Stout speaks to guests about China's contemporary art scene.
updated 9:07 PM EDT, Wed May 15, 2013

Who is the world's third biggest smartphone maker? BlackBerry? Guess again. HTC? Nope. It's China's Huawei.
updated 8:24 AM EDT, Wed May 8, 2013

CNNGo heads to the capital of China's Sichuan province where numbing peppers rule.
updated 8:16 PM EDT, Wed May 8, 2013

The poisoning of Zhu Ling, a college sophomore in Beijing almost two decades ago, has ignited an emotional debate in China.
updated 6:53 PM EDT, Tue May 7, 2013

80-year-old Chinese war veteran Duan Keke fought for North Korea in the Korean War. He believes China will prevent war with North Korea.
updated 2:54 AM EDT, Fri May 3, 2013

"Iron Man 3" has set a new box office record in China, taking 130 million yuan ($21 million) on its opening day.
updated 10:59 PM EDT, Tue April 30, 2013

The Communist party has become an exclusive club for China's elite, and some say its youngest members are motivated by nothing more than naked careerism.
updated 7:14 AM EDT, Fri April 26, 2013

The H7N9 strain responsible for the bird flu outbreak in China is unlike any that has previously been seen in this type of virus.

Share with us your photos and videos of life in China-- the everyday China. The best content could be featured online or on air.