CNN ECOSPHERE: Digital garden visualizes live discussion at Rio+20
STORY HIGHLIGHTS
CNN ECOSPHERE will visualize Twitter discussions on key topics at the the RIO+20 Earth Summit
Firefox, Google Chrome and Safari (with WebGL enabled) are the recommended browsers for users
The website aggregates tweets tagged with #RIO20 and groups them into specific topics
(CNN) -- For three days from June 20, heads of states, business leaders and civil society representatives will gather in Brazil to tackle the world's environmental problems at Rio+20, the United Nations Conference on Sustainable Development.
CNN International is inviting you to join the global discussion on climate change by using ECOSPHERE, a digital tool that will visualize Twitter conversations around the Earth Summit in a stunning evolving environment.
The computer-generated "living sphere" is built using a state-of-the-art 3D platform called WebGL -- users are recommended to access the web-based interactive ecosystem with the latest versions of Firefox, Google Chrome and Safari (with WebGL enabled). If you don't have the latest browser and graphics card you can still see ECOSPHERE at work in a live stream on the same site.
'Plant your thought, watch the discussion grow'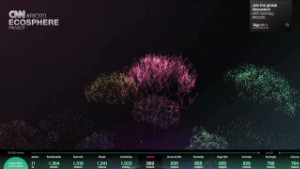 How to use CNN's Ecosphere
The ECOSPHERE takes thousands of tweets from around the world and visualizes them in real time in the form of an evolving digital garden.
The process is simple: Anyone sending out tweets that they want included must add the #RIO20 hashtag. Submitted tweets are scanned for keywords and then grouped together into specific topics or discussions.
Each tweet stimulates growth in a plant or tree in the garden, forming conversations. New thoughts are planted as seeds, which will grow as similar ideas are shared. The size, color and growth of these plants give users a real-time view of how the global discussion is evolving.
At any time in the evolution of the ECOSPHERE, there are up to 30 plants growing on the surface of the sphere, representing the 30 most popular keywords or topics.
Users can explore the lush 3D environment by zooming in on the different branches while a separate time line documents the development of the discussions and the ECOSPHERE environment itself.
The website was first launched in 2011 at the the United Nations Climate Change Conference in Durban. It was recently awarded with two Cannes Lions at the 59th International Festival of Creativity -- Silver Lion in the "Publications & Media" category and Bronze Lion in the "Best Integrated Campaign Led by Promotion and Activation" category.
Earlier this year, it won gold and silver prizes at the ADC and Clio Awards in New York, at the Montreux Festival, at the ADC of Europe Awards in Barcelona, as well as with the Grand Prix of ADC Germany.
Find out more about the ECOSPHERE.
Users are recommended to access the web-based interactive ecosystem with the latest versions of Firefox, Google Chrome and Safari (with WebGL enabled).

updated 11:41 AM EDT, Tue June 19, 2012

With their booming populations and heaving economies, cities stand to be the big losers in the climate crisis.
updated 7:04 AM EDT, Wed June 27, 2012

Klaus Pichler's photographs look like advertisements for a new product. It takes a moment to digest that you're staring at rotting food.
updated 7:08 AM EDT, Fri June 8, 2012

Singapore's latest development will blossom this month, with an imposing canopy of artificial trees, up to 50 meters high, towering over gardens.
updated 7:13 AM EDT, Tue May 29, 2012

An old meatpacking plant on Chicago's South Side is being transformed into an eco farm, which its founders says will produce food sustainably, while creating zero waste.
updated 11:14 AM EDT, Tue May 8, 2012

Can the roof of your house help you breathe easier by reducing the amount of harmful pollutants from urban air?
updated 11:10 AM EDT, Sat April 28, 2012

It's as tall as some of L.A.'s highest skyscrapers, but the only residents here are rats and cockroaches. Welcome to Puente Hills.
updated 5:36 AM EDT, Tue April 10, 2012

The legendary Hanging Gardens of Babylon are the inspiration behind an ambitious plan to grow a rooftop forest high above Beirut's crowded streets.
updated 7:57 AM EDT, Tue April 3, 2012

Behind a Victorian shop front in the Cockney heartland of London's East End hides an urban agriculture project that claims to be the world's first farm in a shop.
updated 12:00 PM EDT, Fri March 16, 2012

"The Waving Wall" is an art installation that highlights the water issue -- the hidden quantities of water used to produce the products we buy.
updated 12:25 PM EST, Thu March 8, 2012

How did buildings keep cool before the invention of air conditioning? Some architects are turning to the past for simple, low-tech solutions.

Beneath its destitute appearance, the Dharavi slum is the recycling super-hub of Mumbai.
updated 11:35 AM EST, Wed February 22, 2012

From smartphone apps to gaming workshops, data-crunching is the new frontier of sustainability.