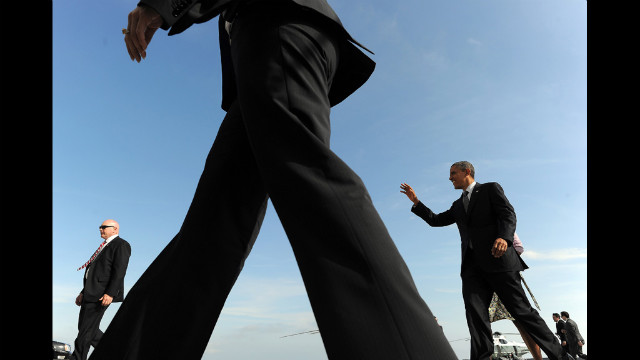 President Barack Obama greets a crowd at John F. Kennedy International Airport in New York on Thursday, June 14. Obama visited the World Trade Center to get an update on its growth and help prepare some of the finishing touches.
Spectators watching for the president's motorcade stand on posts for a better view.
Police keep watch over the area as pedestrians pass by.
U.S. Secret Service
scan the area around the building.
Members of the
People line the streets for a glimpse of the president and his wife in their motorcade.
A crowd forms, waiting on the president's motorcade to pass by.
From the 22nd floor, Obama, New York Gov. Andrew Cuomo, New Jersey Gov. Chris Christie and Michelle Obama look down at the September 11 memorial.
Obama and his wife, Michelle, visit the center to learn more about the progress.
Obama signs a steel beam as, from left, Cuomo, Michelle Obama, Christie and New York Mayor Michael Bloomberg look on.
Obama signed a steel beam for One World Trade Center, writing, "We remember we rebuild we come back stronger!"
Obama laughs with Cuomo and Christie as they tour the site.
Obama visits with workers. "We couldn't be prouder of you guys," Obama told them. "This is what the American spirit is all about."
Obama visits World Trade Center
Obama visits World Trade Center
Obama visits World Trade Center
Obama visits World Trade Center
Obama visits World Trade Center
Obama visits World Trade Center
Obama visits World Trade Center
Obama visits World Trade Center
Obama visits World Trade Center
Obama visits World Trade Center
Obama visits World Trade Center
Obama visits World Trade Center