STORY HIGHLIGHTS
NEW: Karzai: Civilian deaths causing serious tensions between Afghanistan and allies
Afghan president says such strikes can't be used "even if NATO forces are attacked"
NATO says it will no longer use airstrikes on civilian homes if "other means" are available
The shift comes after an airstrike last week in Logar province that killed 18 people
Kabul (CNN) -- Afghan President Hamid Karzai has reiterated his stance that NATO forces in Afghanistan should never make airstrikes on civilian homes, a practice that has angered many Afghans.
"As far as our responsibilities in Afghanistan are concerned, it was clearly agreed that no airstrike should be launched on the houses of Afghan people and no reason is valid for the use of it, and we totally call it disproportionate use of force," he told reporters in Kabul on Tuesday.
"Even if NATO forces are attacked, they cannot use airstrikes on civilian homes."
He said such airstrikes were "completely banned, absolutely banned."
Karzai's strong words followed a statement by NATO on Monday that it will no longer use airstrikes against insurgent targets in civilian homes if there are "other means" to deal with the targets.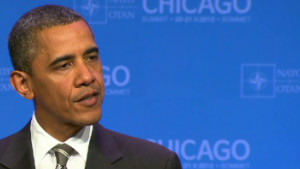 Obama lays out NATO's Afghanistan plan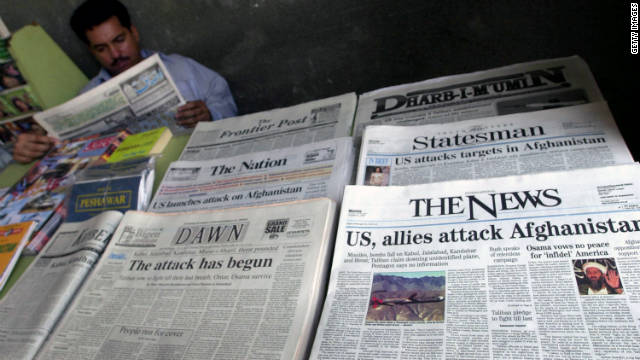 The U.S.-led war in Afghanistan started on October 7, 2001, in response to the 9/11 attacks. Ten years later, look back at some of the moments and key development from the conflict, which has drawn praise and criticism since its beginning.
President George W. Bush responds to media questions in the East Room of the White House on October 11, 2001. It was his first prime-time press conference addressing the U.S. response to the 9/11 attacks.
Northern Alliance soldiers maintain radio contact from a dug-in tank position in Oykhonum, Northern Afghanistan, on November 9, 2001. The opposition forces had been fighting the larger Taliban militias for several years before the U.S. airstrikes began.
U.S. Army Lt. Col. Ed Dorman teaches an English class near the Bagram Air Base on April 20, 2002. As the base commander, Dorman decided to teach English to the local students to empower them to educate themselves.
Afghan protesters chant against the U.S. during an anti-America demonstration in Kabul on May 24, 2003.
Afghan militiamen stand with a rocket launcher during a disarmament ceremony in Gardez on November 13, 2003. About 600 militiamen turned in their guns during the disarmament program.
Explosives that were hidden in a handcart lay on the ground in Kabul on July 3, 2004. In an effort to foil the country's first presidential election, the Taliban swapped broader offensives for homemade bombs and guerrilla warfare techniques.
Election officials count ballots in Kabul, Afghanistan, on October 14, 2004. The country's first democratic election was held on October 9, and Hamid Karzai was sworn in as president in December.
Suicide car bombers kill an Afghan citizen and wound four others in Kabul on November 14, 2005. Another suicide car bomber killed a German soldier and wounded two other German soldiers, as well as three civilians, an hour before.
An Afghan soldier accompanies CNN's Anderson Cooper on September 9, 2006, during a visit to Jalalabad, the site of Osama bin Laden's former compound.
U.S. soldiers disembark from a Chinook helicopter in the Ghazni province of Afghanistan on May 28, 2007. President Bush called on NATO in February 2007 to increase troops in Afghanistan. There were already about 50,000 U.S. and NATO troops there.
A solider looks on as C-117 plane drops food, water and other supplies onto a landing zone at an undisclosed location in the Ghazni province on May 29, 2007.
Artilerymen await coordinates before firing a 155-mm Howlitzer from Camp Blessing in the Kunar province of eastern Afghanistan on October 22, 2008. Their unit, Charlie Battery, 3rd Battalion of the 321 Field Artilery, is the busiest artilery unit in the U.S. Army, according to military officers.
Afghan elders of the Korengal Valley arrive for a meeting with U.S. and Afghan military officials on October 30, 2008, in eastern Afghanistan. The officials tried to convince them to accept a new paved road through the valley as part of a large American development project. The elders refused.
President Bush speaks to troops during an unannounced visit to Bagram Air Base in Afghanistan on December 15, 2008. It was his second and last visit as president.
A U.S. counter-intelligence Marine and his translator meet with local Afghan villagers on March 23, 2009, in Kirta, a remote area of southwest Afghanistan. Troops rely on information from local residents, many of whom are opium poppy farmers, to help thwart Taliban attacks.
Afghan men cast their votes at a polling station in Kabul on August 20, 2009, during the country's second democratic election. Voting fraud allegations lead to the scheduling of a presidential runoff vote on November 7.
President Karzai prepares to kiss a large copy the Quran during his swearing-in ceremony in Kabul on November 19, 2009. He was elected to a second term by default when Foreign Minister Abdullah Abdullah dropped out of the race and the run-off election was canceled.
U.S. Marines jump over a wall in a poppy field under heavy fire in a Taliban stronghold area in northern Marjah on March 25, 2010. Afghan poppies, which start as flowers in farmers' fields and often wind up as heroin on U.S. streets, fuel a $3 billion a year industry in Afghanistan.
President Barack Obama visits with troops at Bagram Air Base on March 28, 2010. Obama thanked the Afghan people and U.S. troops for their sacrifices and vowed to reverse the Taliban's momentum. It was his first visit to Afghanistan as president.
President Obama, along with members of the national security team, watch in anticipation in the Situation Room of the White House on May 1, 2011. On May 2, in the early morning hours, a small group of U.S. Forces raid a compound in Abbottabad, Pakistan. In the ensuing firefight, al Qaeda leader Osama bin Laden is killed.
Nicole Merkt greets her husband, Spc. Jake Merkt, from his return from Afghanistan during a welcome home celebration in Carson, Colorado, on July 9, 2011. In June, President Obama announced that all of the 33,000 additional U.S. forces deployed to Afghanistan in December 2009 will return home within 15 months. He also announced that U.S. combat operations in Afghanistan would end by 2014.
U.S. Army flight medic Brandon Lowther, left, holds hands with a fatally wounded U.S. soldier who is being airlifted on August 24, 2011. With 71 casualties, August was the deadliest month for U.S. forces in Afghanistan since the conflict began.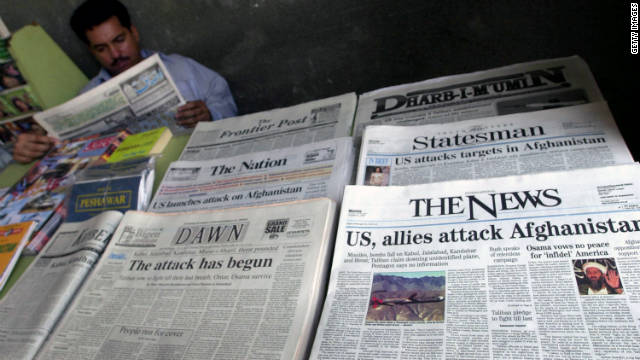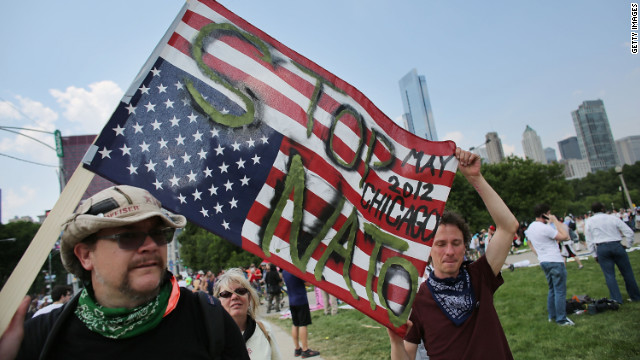 Protesters rally in Chicago on Sunday, May 20, the first day of the NATO summit. A week of demonstrations led up to the two-day meeting, which brought together the leaders of more than 50 nations.
A demonstrator displays an anti-NATO button on his bandana Sunday. Largely peaceful crowds chanted, waved signs and banged drums in Chicago.
Members of the anti-war group Code Pink demonstrate in Chicago on Sunday.
Two men rest against a tree before the start of protests on the first day of the NATO summit.
A police officer and a protester face off with cameras in Chicago during a demonstration organized by National Nurses United on Friday, May 18. Friday was the fifth day of protests leading up to the NATO summit.
Officers form a line to prevent protesters from crossing the Michigan Avenue Bridge during protests on Friday.
Protesters make their way through downtown Chicago in an impromptu demonstration.
Police clash with protesters attempting to cross the Michigan Avenue Bridge in Chicago.
Chicago police watch over protesters during demonstrations organized by National Nurses United in Daley Plaza in Chicago.
An Occupy Wall Street protester in Chicago covers himself with an American flag after a march through downtown Chicago on Friday.
A souvenir shop window reflects protesters in Chicago on Thursday as they demand an end to NATO violence ahead of the summit.
Police guard President Barack Obama's national campaign headquarters in the Prudential Building in Chicago during protests on Monday, May 14.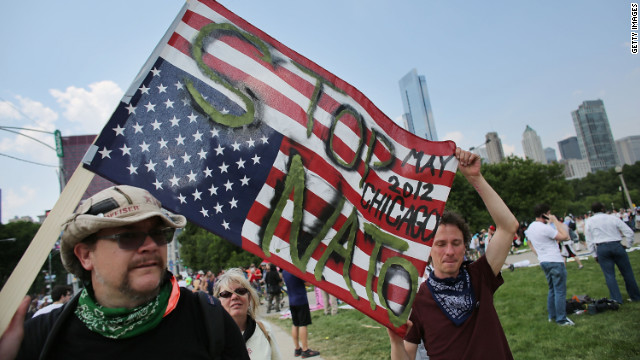 Photos: NATO summit draws protests
Forces "will continue to conduct operations against insurgents who use civilian dwellings, but when there is concern over the presence of civilians, air delivered munitions will not be employed while other means are available," Lt. Col. Jimmie Cummings said.
The statement did not elaborate on what other means International Security Assistance Force commanders would use.
Karzai calls casualties unacceptable
The shift comes after an airstrike last week in Logar province that killed 18 people, including women and children. It was the latest of several such strikes that have upset relations between Afghanistan and the United States.
Hollande: 4 French soldiers, interpreter killed in Afghanistan
Karzai cut short a trip to China following the strike and summoned the commander of NATO forces in Afghanistan, Gen. John Allen, to demand an end to the strikes.
He and Allen had detailed talks, the Afghan president said, in which they agreed that this kind of strike on civilian homes "cannot be repeated."
"Afghanistan has been ... greatly troubled by civilian casualties, as you are all aware, and this has been an issue on which we have had serious tensions with our allies in NATO and the United States," Karzai said.
The strategic partnership agreement signed by Afghanistan was supposed to turn a new page in the relationship between his country and NATO, he said, and "bring an end to bombardment of civilian homes."
NATO forces said the Logar airstrike occurred when soldiers returned fire during a mission targeting a Taliban leader. An ISAF spokesman said insurgents were killed and security forces seized weapons and explosives.
The change in policy will not hinder ISAF forces from pursuing insurgents, Cummings said.
"This restriction in no way limits our ability to take the fight to the enemy," he said. "Air dropped munitions against civilian dwellings represent a very small percentage of all of our air operations."
Army Lt. Gen. Curtis Scaparrotti, commander of ISAF Joint Command in Afghanistan, said Monday that since January 2012, ISAF had conducted more than 1,300 close air support operations, during which "32 civilian compounds were damaged and five incidents of civilian casualties were confirmed."
NATO and the U.S. military apologized last month to the families and loved ones of Afghans killed in coalition airstrikes in two other villages, saying they were "tragic and regrettable incidents."
CNN's Ingrid Formanek and Masoud Popalzai contributed to this report.