'Goodfellas' mobster Henry Hill dies at 69
updated 5:46 PM EDT, Fri June 15, 2012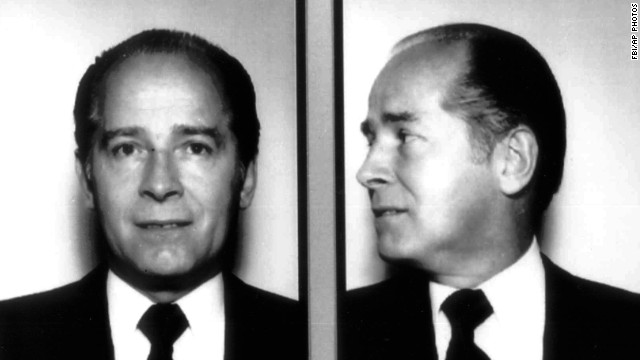 James "Whitey" Bulger rose to the top of the notorious Winter Hill gang, prosecutors say, before he went into hiding for more than 16 years after a crooked FBI agent told him in December 1994 he was about to be indicted on federal racketeering charges. He was captured in Santa Monica, California, in 2011, living under a false name with his girlfriend in an apartment in the oceanside city. On August 12, the gangster was found guilty on 31 of 32 counts -- including involvement in 11 murders. Here are some other gangsters from America's past.
Al Capone, or "Scarface" as he was popularly known, remains one of America's most notorious gangsters. Known for wearing custom suits, fedoras and spats, Capone was infamous in 1920s Chicago for his bootlegging and racketeering activities. Capone died in 1947.
New York Mafia chief John Gotti was known as "Dapper Don" for his expensive suits and "Teflon Don" due to government charges failing to stick in three trials. He was later convicted of murder and racketeering. He died of cancer at age 61 in 2002 while serving a life sentence.
Henry Hill, a mobster-turned-informant for the FBI died in 2012 at age 69.
His story was the basis
for Martin Scorsese's acclaimed 1990 film, "Goodfellas." Ray Liotta played Hill in the film.
George "Bugs" Moran was Al Capone's main rival in the Chicago mafia, culminating in the St. Valentine's Day Massacre in 1929 in which several members of Moran's gang were killed. Moran died in 1957.
Clyde Barrow and Bonnie Parker robbed banks across America before meeting their end when police and federal agents ambushed them on a dirt road in Louisiana in 1934.
John Dillinger, gangster and bank robber, was the first criminal to be called Public Enemy No. 1 by the FBI. Bureau agents gunned him down outside a movie theater in 1934.
George "Baby Face" Nelson, a car thief by age 14, associated with the likes of Al Capone and John Dillinger. Nelson died following a shootout with the FBI in 1934.
Mobster Louis Lepke Buchalter was one of the forces behind a hit squad known as Murder Inc. He died in the electric chair at New York's Sing Sing prison in 1944.
Vincent "Mad Dog" Coll was infamous for the attempted kidnapping of a rival gang member in 1931. Coll shot into a crowd, killing a child and injuring several other youths. Coll escaped conviction due to a lack of credible witnesses. He was later shot to death in 1932 while talking in a phone booth, most likely by a rival gangster.
American gangsters
American gangsters
American gangsters
American gangsters
American gangsters
American gangsters
American gangsters
American gangsters
American gangsters
American gangsters
STORY HIGHLIGHTS
Then man who inspired mobster film, "Goodfellas," passed away at the age of 69 Tuesday
Hill was a gangster, turned police informant whose story was immoratlized in Martin Scorsese's film
He lived in relative obscurity until the film's popularity drew him out of hiding
Hill's longtime companion, Lisa Caserta, told media he died surrounded by family members
(CNN) -- The man immortalized by Martin Scorsese's film "Goodfellas" has died.
Henry Hill, a former member of the Lucchese family of mobsters, died Tuesday in a Los Angeles hospital, according to a statement on his website.
Hill passed away one day after his 69th birthday. The cause of Hill's death has not yet been released.
The self-proclaimed mobster first came onto the media scene in the nonfiction book "Wiseguy," by journalist Nicholas Pileggi, detailing the "never-before-revealed day-to-day life of a working mobster -- his violence, his wild spending sprees, his wife, his mistresses, his code of honor," according to the book's back cover.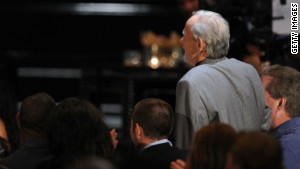 Former mobster Henry Hill (standing) appears in the audience during a TV show in Los Angeles in 2010.
The 1990 film, "Goodfellas," depicted the rock-n-roll lifestyle of New York City mobsters -- everything from wealth and women to drugs and death.
AMC has 'Goodfellas' series in development
"You never rat on your friends and you always keep your mouth shut," Hill's character, played by Ray Liotta, was told in the movie.
However, when Hill became worried his mob associates were out to kill him he became a police informant and "ratted out" scores of other gangsters.
As the New York Times reported, the largest crime in which Hill participated was a theft at New York's Kennedy International Airport, when the clan stole $5 million in cash and another $1 million in jewels from a Lufthansa cargo terminal.
Hill testified against his compatriots and was not prosecuted for the crime.
He lived in relative obscurity until the film's success drew him out of hiding.
Later in life, Hill became somewhat of a media magnet, appearing frequently in mafia documentaries and as a guest on "The Howard Stern Show."
The mobster was quite prolific on his website, goodfellahenry.com, dedicating an entire section entitled the "How to Be a Mobster Guide" to dispensing tricks of the trade.
In the guide, which he wrote was meant to be purely humor, Hill described how to "pistol whip", how to look good while on the run and the best ways to hide a corpse.
Hill's longtime companion, Lisa Caserta told CBS News that he died surrounded by family members and that years of smoking and a recent heart attack were cause for his poor health.
2011: Original 'Goodfella' Henry Hill talks mafia busts