STORY HIGHLIGHTS
Gabrielle Giffords resigned from Congress after being shot in head in January 2011
Giffords was a vocal proponent of civil discourse in American politics
Local Democratic chairman says candidates have been civil, super PAC ads have not
Observers say Tuesday's contest could forecast outcome in November election
Tucson, Arizona (CNN) -- Voters in Arizona's 8th Congressional District will decide Tuesday who will serve out the remainder of former Rep. Gabrielle Giffords' term in a race seen by politicos as a test for the fall and by observers as taking the temperature of the nation's political discourse.
On one side is Giffords' aide Ron Barber, who was wounded in the 2011 shooting that critically injured Giffords and killed six other people. His opponent is Republican Jesse Kelly, a former Marine and Iraq war veteran who ran a tea party-fueled campaign against Giffords in 2010 that came up 4,000 votes short.
Giffords stumps for aide in rare public appearance
Giffords decided in January to focus on her rehabilitation after being shot in the head instead of returning to Congress.
Opinion: For Giffords, resignation is not an end
After the shooting, controversy followed speculation that divisive political rhetoric may be to blame. And at a memorial service, President Barack Obama asked for more civil discourse.
"I don't think anybody thinks incivility caused the tragedy," said Kate Kinski, who teaches government and communications at Arizona State University. "Nevertheless, it presented an opening for us to talk about the dissatisfaction with the way we talk about politics."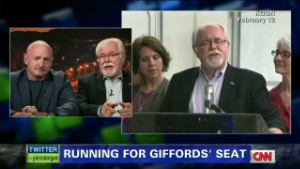 Ron Barber shows support for Obama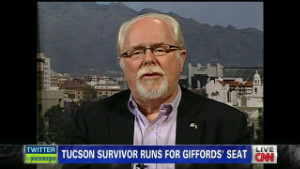 Ron Barber: Honoring Giffords' legacy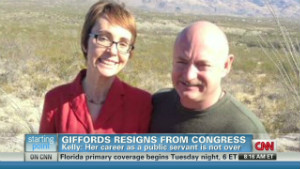 Mark Kelly: 'Job is to focus on Gabby'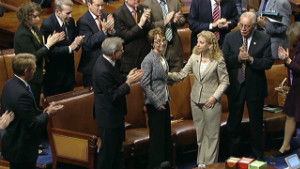 Gabrielle Giffords says goodbye
If the race to replace Giffords were a test of whether more civil discourse is possible in politics, the jury is still out.
"Maybe it's been a little more civil," said Mike Bayard, who volunteers for Kelly. "Still, there's what I see: people destroying signs I put up; people stealing signs where I have to go back and put them up."
Those antics may just be a regular case of strong partisan conviction. Arizona's 8th is a competitive district in which Republicans hold a 6.5 percentage point advantage in voter registration.
Little polling is available for the race. The major nonpartisan political rating services see it as a tossup.
Special elections like this one are generally decided by the party faithful, the ones who turn out despite the 100-degree temperatures in June.
"The candidates themselves have run a very civil race," Pima County Democratic Party Chairman Jeff Rogers said. He said outsiders like Republican strategist Karl Rove are to blame for any incivility.
"All this outside money that's come in from Karl Rove's group and the Republican National Committee and those ... Their ads have not been as civil, I would say, and that's on both sides."
Yes, attack ads have appeared for both sides. A super PAC dedicated to electing Democrats to Congress ran an ad that used comments made by Kelly in 2010 against Giffords, in which he calls her a "hero of nothing."
Kelly himself calls the ad despicable.
"To try to exploit a tragedy to try to win an election is one of the saddest things I've see in my life," he said.
For his part, Barber seems uncomfortable with the ad, but super PACs operate independent of candidates.
"Yes, the super PACs came in and ran some ads," he said. "To be honest, I wish we didn't have super PACs. We need campaign finance reform, and I'll be the first one to sign up."
Tuesday's special election is the last congressional race before the November elections, and that's why it's important, Kinski said.
"Congressional District 8 is a microcosm of the tensions we see in the nation overall. One of the thoughts is, if we can't get this district right, how can we expect the nation overall to become more civil and to reach conclusions to recognize the other side the best it can?"