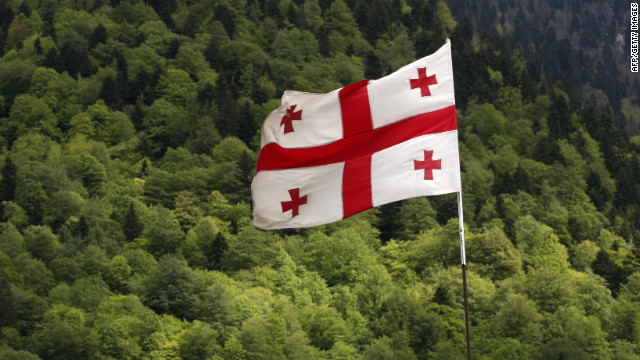 Georgia was divided between the Ottoman and Persian empires for centuries until it became part of the Russian Empire in the 19th century. It declared independence following the Russian Revolution, but was defeated by the Red Army and incorporated into the USSR in 1921. Georgia regained its independence in 1991, but maintains a complicated relationship with Russia. Tensions came to a head in 2008, in a five-day armed conflict against Russia and the separatist regions of Abkhazia and South Ossetia.
Emerging from the 2008 conflict with Russia, Georgia is seeking foreign investment and tourism. President Mikheil Saakashvili has struck a deal with U.S. property mogul Donald Trump, who will lend his name to a new luxury skyscraper project in the Black Sea resort of Batumi.
Nearly 84% of the population is Orthodox Christian. Christianity became the state religion around 330 AD. Here, religious observors celebrate Easter at the Sion Cathedral in Tbilisi.
During the Chiakokonoba folk festival, children engage in the ritual of jumping over a bonfire. Legend says this purifies the jumper's soul of evil spirits.
Wrestling has historically been a major sport in the country. Here, Georgia's Vladimir Gegeshidze (R) competes for the Vantaa Cup 2012, which is also a qualifying tournament for the Olympics. Georgia has won five Olympic gold medals.
Khachapuri, a bread pastry filled with cheese, is a staple food in Georgia. In central Batumi last year, an 8-meters-long khachapuri, was baked using 100 eggs, 90 kilograms of cheese and 150 kilograms of flour.
The Kura river runs through the Caucacus mountains, from Turkey, through Georgia, and then Azerbaijan. It is one of the largest rivers in Georgia, with 36,400 square kilometres of its river basin located in the country -- more than half of Georgia's area. However, it suffers from major industrial pollution, making it a problematic source of drinking water.
At 1.8 million years old, the Dmanisi skull is the oldest example of a hominin skull found outside Africa. It was discovered in 1983 in the medieval city of Dmanisi, which was settled during the Bronze Age.
From empires to independence
Continuing development
A Christian state
Chiakokonoba Festival
Wrestling nation
Khachapuri
Kura River
Dmanisi