Rainn Wilson and others tweet tributes to the late Ray Bradbury
updated 10:33 AM EDT, Thu June 7, 2012
STORY HIGHLIGHTS
Celebrity admiration for Ray Bradbury has been rolling in on Twitter all day
"Indeed a legend. Rest in peace Ray Bradbury." --Duran Duran
"RIP Ray Bradbury. See you in the future..." --Brad Bird
(EW.com) -- With the news that "Fahrenheit 451" author Ray Bradbury passed away Tuesday night at age 91, celebrity admiration has been rolling in on Twitter all day.
Not surprisingly, the Twitterverse is alive with those admiring him and his work -- particularly his sci-fi brilliance and commitment to reading. Check out a round-up of Tweets below:
"RIP Ray Bradbury You made Mars, time travel & Illustrated Men more real than reality for a 14 year old me. ‪#RIPRay" --Rainn Wilson
"Ray Bradbury Dead At 91 http://www.buzzfeed.com/whitneyjeffers ... I am setting fire to all the books in my office in his honor." --Morgan Spurlock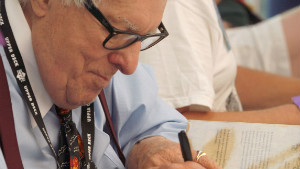 Author Ray Bradbury looks back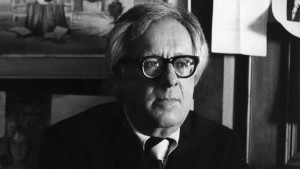 1997: Bradbury's humble love of books
"Indeed a legend. Rest in peace Ray Bradbury." --Duran Duran
"Pour out some dandelion wine for Ray Bradbury. Goodbye, Mr. Bradbury. See you in October Country." --Patton Oswalt
"'Libraries raised me. ... I couldn't go to college, so I went to the library three days a week for 10 years.' Ray Bradbury" --Nina Garcia
"RIP Ray Bradbury, native of Waukegan, Illinois. His brilliant Sci-Fi especially Fahrenheit 451 is mandatory reading." --Tom Morello
"The GREAT Ray Bradbury has left the planet. When I was younger I read no one else. Was lucky enough to shake his hand. R is for RIP." --Jonathan Ross
"I'm going to introduce my son to the public library today in honor of Ray Bradbury. ‪#RIP" --Alyssa Milano
"RIP Ray Bradbury :( you've touched many lives with your work, and even a few more recently you might not have expected! Sleep well dude!" --Dead Mau5
"RIP Ray Bradbury. See you in the future..." --Brad Bird
""Don't talk about it... write." Ray Bradbury." --Cameron Crowe
"Yesterday I recorded " the man who forgot Ray Bradbury". Rest in peace, Ray. We won't ever forget." --Neil Gaiman
CLICK HERE to Try 2 RISK FREE issues of Entertainment Weekly
© 2011 Entertainment Weekly and Time Inc. All rights reserved.