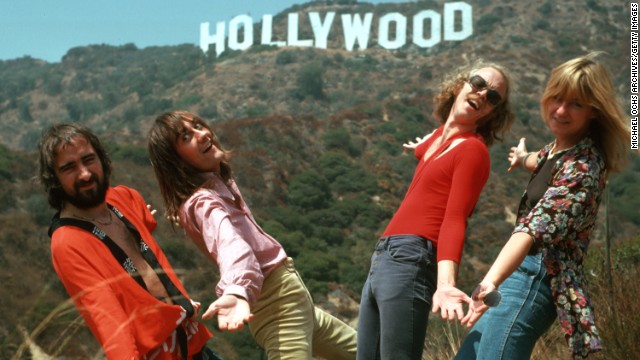 British-American band Fleetwood Mac formed in 1967. John McVie, Mick Fleetwood, Bob Welch and Christine McVie pose in front of the Hollywood sign circa 1970.
Christine McVie performs on stage with Fleetwood Mac in 1971.
American Bob Welch plays at Sundown in 1972. Welch joined the band in 1971 before launching a solo career. On June 7, 2012, Welch died of a self-inflicted gunshot wound to his chest. He was 66.
John McVie, from left, Danny Kirwan, Mick Fleetwood, Jeremy Spencer and Peter Green pose in 1969.
Singer and songwriter Stevie Nicks performs on stage. She joined Fleetwood Mac in 1974 with her then-boyfriend Lindsey Buckingham.
British drummer Mick Fleetwood is the only original member left in the band.
Lindsey Buckingham plays on the 2009 "Unleashed" Fleetwood Mac tour. Buckingham was the lead singer from 1975-1987 and 1997 to present day.
Stevie Nicks and Mick Fleetwood play at Wembley Arena in 2009.
In London, Fleetwood Mac perform together in 1998.
Buckingham performs in 1980 in the Netherlands.
Nicks sings in concert in 1978.
Fleetwood Mac through the years
Fleetwood Mac through the years
Fleetwood Mac through the years
Fleetwood Mac through the years
Fleetwood Mac through the years
Fleetwood Mac through the years
Fleetwood Mac through the years
Fleetwood Mac through the years
Fleetwood Mac through the years
Fleetwood Mac through the years
Fleetwood Mac through the years