Mubarak's health deteriorates in Egyptian hospital
updated 5:53 AM EDT, Thu June 7, 2012
STORY HIGHLIGHTS
Mubarak is in intensive care and has been placed on a ventilator
He was taken to a prison hospital Saturday
He is suffering from high blood pressure and shortness of breath
Cairo (CNN) -- Former Egyptian President Hosni Mubarak's health took a turn for the worse Wednesday and he was placed on a ventilator several times, the state-run news agency and the prosecutor's spokesman said.
Mubarak, 84, is in a Cairo prison hospital after being sentenced to life in prison Saturday for the killing of pro-democracy demonstrators last year. Mubarak was already suffering from health problems and attended court on a gurney.
The state-run news agency, MENA, and prosecutor's spokesman Adel Saeed said Mubarak is in intensive care at the Tura prison hospital, suffering from a sharp rise in blood pressure and shortness of breath.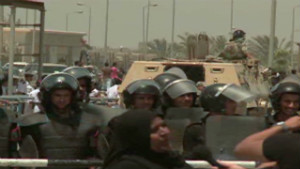 Egypt's Mubarak guilty, aides acquitted
"His health entered a dangerous state and he has been subjected to artificial breathing five times during the past few hours," MENA reported Wednesday evening.
Mubarak is also suffering from a nervous breakdown and severe depression since being transferred to the hospital immediately after Saturday's verdict, MENA and Saeed said.
MENA said official sources suggested transferring Mubarak to a military or private hospital.
CNN's Mohamed Fadel Fahmy contributed to this report

Part of complete coverage on
updated 9:40 PM EDT, Sun June 24, 2012

The Muslim Brotherhood's Mohamed Morsi is Egypt's first Islamist head of state. What direction will he steer the country?
updated 11:09 AM EDT, Sun June 24, 2012

CNN's Christiane Amanpour and Ben Wedeman comment on the significance of the Egyptian presidential election.
updated 5:33 AM EDT, Mon June 25, 2012

The Muslim Brotherhood is a religious and political group founded on the belief that Islam is not simply a religion, but a way of life.

Visit CNN Arabic for the latest news on developments in the Egyptian presidential elections, in Arabic.
updated 12:34 PM EDT, Sun June 24, 2012

CNN's Dan Rivers speaks to a disappointed supporter of defeated Egyptian presidential candidate Ahmed Shafik.

Already 2012 has seen a continuation of the violence experienced the previous year as protests swept the Arab world.
updated 7:33 PM EDT, Thu June 7, 2012

CNN's Ben Wedeman reports on a disillusioned, diminutive street fighter in the Egyptian revolution.
updated 10:03 AM EDT, Thu June 7, 2012

The revolution forced equality but no system is in place to support it, researcher says.
updated 11:35 AM EDT, Wed June 6, 2012

In 2011 young Egyptians marched for charge. Now the nation's new leaders must tackle the nation's education.