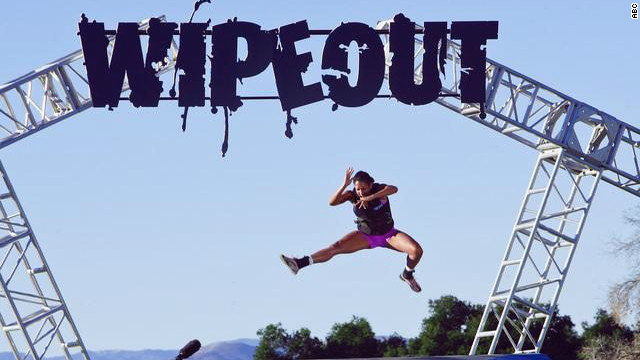 This year's summer TV slate is wielding some serious star power. We're counting off new and old shows (with their premiere dates) we'll be checking out at least once over the coming months, including ABC's "Wipeout," the perfect example of breezy summer TV. The show premieres at 9 p.m. ET June 28 on ABC.
We're not spending this summer at the Hamptons -- but that's where "Royal Pains," centered on Dr. Hank Lawson (Mark Feuerstein, right) comes in. Jill Flint, left, Reshma Shetty and Paulo Costanzo also star.
Fox is working the love angle this summer, first with "Take Me Out," a George Lopez-hosted dating series that features 30 women playing to find for their perfect match.
"The Choice" -- no relation to NBC's "The Voice" but similar to it -- features four celebrity bachelors (and a few bachelorettes) who each choose three women as potential dates during "blind auditions." The bachelors include the likes of Romeo, left, Jeremy Bloom, DJ Pauly D and Jason Cook.
The fifth season premiere takes us back to Bon Temps, where Sookie's dealing with the aftermath of Tara being shot, and Eric (Alexander Skarsgard, center) and Bill (Stephen Moyer, left) receive a visit from the Vampire Authority. Lucy Griffiths also stars.
"Dallas" is back, with a few of the same cast members to prove it. The saga of J.R. Ewing (Larry Hagman, left) continues with a new generation, including Josh Henderson as John Ross Ewing.
"Burn Notice" returns for its sixth season with Michael (Jeffrey Donovan) and his team trying to rescue Fiona after she turns herself in to federal custody.
If you missed out on this series in its first season last summer, now's your chance to catch up with the perfectly matched team of legal pro Harvey (Gabriel Macht, second from right) and newcomer on the run, Mike (Patrick Adams, right). Gina Torres, far left, Rick Hoffmann and Meghan Markle also star.
The first season of this Steven Spielberg-produced alien-invasion series, starring Noah Wyle, center, was a rough ride. But after a promising closer and new promos for season two, fans are hoping this two-hour premiere will be well worth the wait.
Because MTV clearly wants viewers to be able to watch the cast of "Jersey Shore" every week of the year, there's a summer installment of a spinoff starring JWoww, left, and Snooki in their own abode.
Easily one of the most anticipated premieres of the summer, Aaron Sorkin's "Newsroom" with Jeff Daniels offers a behind-the-scenes take on a fictional 24-hour cable news network.
Charlie Sheen is bouncing back from that "tiger blood"-fueled meltdown to play a therapist with issues of his own in a series based on the 2003 Adam Sandler movie of the same name.
If you've been overlooking this acclaimed comedy series about a stand-up comic written and directed by its star, Louis C.K., here's your chance to find out what you've been missing.
We're expecting at least a few fireworks from this late-night series, with Russell Brand offering his spin on politics, celebrities and world events while interacting with the audience.
Fans are preparing to say goodbye to Kyra Sedgwick's Brenda Johnson with this seventh and final season, which will include six episodes.
Eric McCormack and Rachael Leigh Cook (of "She's All That" fame) star in this medical drama about a neuroscientist (McCormack) with a unique gift and an FBI agent (Cook) who turns to him for help with difficult cases.
We waited all year to reunite with Annie (Piper Perabo) and Auggie (Christopher Gorham). Last season's finale left Annie in quite the predicament when Auggie told her he's headed to Africa to visit his girlfriend.
Another fan favorite is drawing to a close as Glenn Close's "Damages" heads into its fifth and final season.
If this is the season you'll get into "Big Brother," be forewarned it's a time commitment. Beginning July 18, the Julie Chen-hosted reality series will air at 8 p.m. ET Wednesdays, followed by the live-action show at 9 p.m. ET Thursdays, and then another airing at 8 p.m. ET Sundays.
It's your last chance to get your fix of Bryan Cranston as the complex Walter White as the acclaimed drama heads into its final season.
Sigourney Weaver makes her TV series debut as a divorced first lady serving as the secretary of state.
One of last summer's freshman hits, the "Alphas" return for a second 13-episode season in which they'll tap into their unique, powerful abilities to help stop crimes.
The second season will see former Confederate soldier Cullen Bohannon (Anson Mount, center) move West as he tries to gain distance from his past. Dominique McElligott, Colm Meaney and Common also star.
"The Closer" is ending this summer, but TNT isn't leaving fans high and dry. Mary McDonnell's Captain Sharon Raydor stars in this spinoff series set in the Los Angeles Police Department.
Kelsey Grammer returns as troubled Chicago Mayor Tom Kane, who's battling much more than politics thanks to his diagnosis with a degenerative brain disorder.
Summer TV: What we can't wait to watch
June 6: 'Royal Pains,' USA at 9 p.m. ET
June 7: 'Take Me Out,' Fox at 8 p.m. ET
June 7: 'The Choice,' Fox at 9 p.m. ET
June 10: 'True Blood,' HBO at 9 p.m. ET
June 13: 'Dallas,' TNT at 9 p.m. ET
June 14: 'Burn Notice,' USA at 9 p.m. ET
June 14: 'Suits,' USA at 10 p.m. ET
June 17: 'Falling Skies,' TNT at 9 p.m. ET
June 21: 'Snooki & JWoww,' MTV, 10 p.m. ET
June 24: 'The Newsroom,' HBO at 10 p.m. ET
June 28: 'Anger Management,' FX at 9 p.m. ET
June 28: 'Louie,' FX at 10:30 p.m. ET
June 28: 'Brand X,' FX at 11 p.m. ET
July 9: 'The Closer,' TNT at 9 p.m. ET
July 9: 'Perception,' TNT at 10 p.m. ET
July 10: 'Covert Affairs,' USA at 10 p.m. ET
July 11: 'Damages,' DirecTV, 9 p.m. ET
July 12: 'Big Brother,' CBS at 9 p.m. ET
July 15: 'Breaking Bad,' AMC at 10 p.m. ET
July 15: 'Political Animals,' USA at 10 p.m. ET
July 23: 'Alphas,' Syfy at 10 p.m. ET
August 12: 'Hell on Wheels,' AMC at 9 p.m. ET
August 13: 'Major Crimes,' TNT at 10 p.m.
August 17: 'Boss,' Starz at 10 p.m. ET