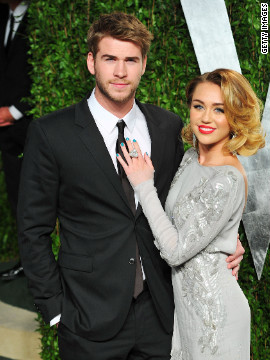 After months of a rumored commitment, Miley Cyrus, 19, is officially engaged to Liam Hemsworth, who she met when the pair co-starred in "The Last Song" in 2009. The 22-year-old Australian actor proposed to Cyrus on May 31 with a 3.5-carat diamond, according to People magazine. Cyrus isn't the only celebrity to get engaged young. We are taking a look at which other stars have accepted a marriage proposal during their teenage years.
After finding out she was pregnant at 16, Jamie Lynn Spears became engaged to the child's father, longtime boyfriend Casey Aldridge. But wedding bells never rang for the couple -- the engagement was called off about a year later.
Shirley Temple met Army Air Corps Sgt. John Agar when she was 15 and married him two years later. The couple had a daughter together before divorcing in 1949.
Bo Derek met John Derek, who was 30 years her senior, when she was just 16 and married him two years later. Despite the age difference, this pairing is one of few young celebrity engagement success stories. The couple remained together until John's death in 1998.
Fellow actors Rachel Miner and Macaulay Culkin were married in 1998 when they both were 17. The wedded bliss was short-lived. The pair divorced in 2000.
Solange Knowles married college football player Daniel Smith when she was 17, giving birth to a son less than a year later. Knowles and Smith split in 2007.
After meeting dancer Dean Sheremet, then-18-year-old LeAnn Rimes was sure she'd met the one. The two tied the knot about a year later and were together for eight years in a marriage that seemed destined to last. However, the pair divorced in 2010 after Rimes reportedly had an affair with her "Northern Lights" co-star Eddie Cibrian, who she married in 2011.
Nineteen-year-old Drew Barrymore had only known Los Angeles bar owner Jeremy Thomas for about six weeks when they were married in 1994. The couple split less than a year later. After enduring another unsuccessful marriage to actor Tom Green, Barrymore just tied the knot with art consultant Will Kopelman on June 2.
Like Cyrus, Frances Bean Cobain reportedly became engaged at 19. Her man is The Rambles' lead singer, Isaiah Silva. After dating for more than a year, the couple changed their Facebook relationship status to engaged in 2011. A wedding date has yet to be announced.
Miley Cyrus and Liam Hemsworth
Jamie Lynn Spears and Casey Aldridge
Shirley Temple and John Agar
Bo and John Derek
Rachel Miner and Macaulay Culkin
Solange Knowles and Daniel Smith
LeAnn Rimes and Dean Sheremet
Drew Barrymore and Jeremy Thomas
Frances Bean Cobain and Isaiah Silva
STORY HIGHLIGHTS
"I feel like all my dreams are coming true," the singer tweets
People magazine reports the two got engaged May 31
Liam Hemsworth proposed on May 31 with a 3.5-carat diamond
Cyrus and Hemsworth have been dating off and on for three years
(CNN) -- Miley Cyrus is engaged to her off-and-on boyfriend of three years, "The Hunger Games" star Liam Hemsworth, a representative for Hemsworth said on Wednesday.
"I'm so happy to be engaged and look forward to a life of happiness with Liam," the 19-year-old Cyrus told People magazine.
Miley Cyrus: Sex is a beautiful, magical thing
The two met when they co-starred in "The Last Song" in 2009. They broke up the next year, then reunited less than a year later.
Hemsworth, 22, proposed on May 31 with a 3.5-carat diamond in 18-karat gold with carved diamond floral motifs in an art nouveau pattern, according to Neil Lane Jewelry in Los Angeles. The center stone dates back to the late 19th century, the store said.
10 most non-traditional celebrity engagement rings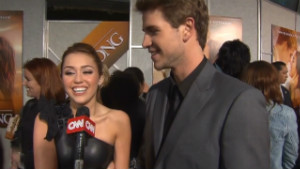 Miley Cyrus' early days of love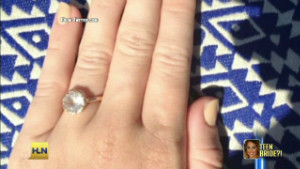 Miley Cyrus' engagement rumors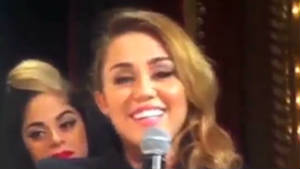 Miley Cyrus calls herself a 'stoner'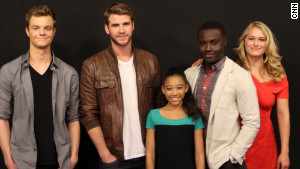 'Hunger Games' actors reveal fave foods
The couple sparked engagement rumors in March after Cyrus was seen wearing a diamond ring on her finger at an Arizona event, but representatives for both denied it.
In February, Hemsworth told Details magazine he was smitten with Cyrus.
"She makes me really happy," he said. "When you start (filming), you want to be professional, but when you're filming those scenes with someone and pretending to love them, you're not human if you don't feel something."
Meanwhile, Cyrus expressed gratitude to her supporters Wednesday on Twitter. "thank you for all the love today :)" she tweeted. "i'm happy to share this news with you all. I feel like all my dreams are coming true."
Cyrus is working on a new album, People reported, and Hemsworth is filming "Empire State" in New Orleans. He will also shoot a movie with Harrison Ford and Gary Oldman, called "Paranoia," before working on the next "Hunger Games" installment.
"All I ever hoped for as a daddy was to see my kids reach their dreams," tweeted her father, country singer Billy Ray Cyrus. "To find happiness...peace of mind...and someday know...true love."
Cyrus catapulted to international fame after starring in the "Hannah Montana" television series on the Disney Channel. She has also launched a recording career, selling out venues worldwide, and has appeared in several movies.
Born Destiny Hope Cyrus, she earned the nickname "Smiley" as a child, which was shortened to Miley. In 2008, she legally changed her name to Miley Ray Cyrus.
Cyrus has been the subject of controversy. At 15, she apologized after Vanity Fair magazine published provocative photos of her, saying she was "so embarrassed." At 18, she acknowledged that smoking a bong filled with the herb salvia was "a bad decision" after a video surfaced. And last year, she dealt with fallout after joking that she was a "stoner."
Hemsworth, a native of Melbourne, Australia, started acting in high school, according to an Internet Movie Database biography, and followed his brothers Chris and Luke into show business. He was cast last year in "The Hunger Games," which brought him international fame.
CNN's Carolyn Sung contributed to this report.