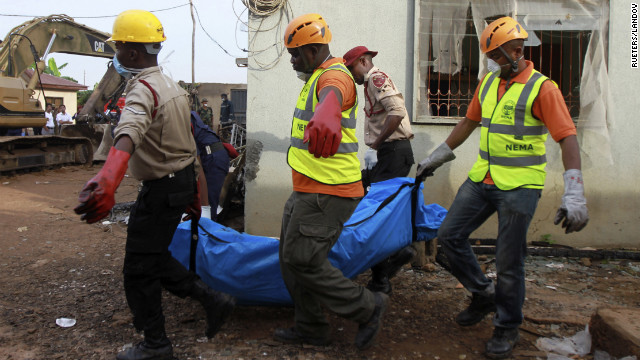 Rescue workers remove a victim of Sunday's plane crash in a Lagos, Nigeria, residential area on Monday, June 4. All 153 people aboard were killed.
President Goodluck Jonathan wipes a tear during a visit to the site of the crash in Lagos on Monday.
The scene is surrounded by onlookers as pieces of the wreckage and debris are cleared Monday.
Residents took pictures with cellphones Sunday.
Onlookers gathered around one of the plane's large engines Sunday.
At least 10 people on the ground also died in the crash.
Firefighters work at the scene of the crash. The Dana Air flight from Abuja plunged into a building several miles from the airport in Lagos.
Residents help carry a firehose as hundreds congregate around the crash site.
A helicopter hovers over the neighborhood in Lagos. Throngs of people flocked to the area despite debris, fires and thick smoke.
Rescuers carry remains to an ambulance on Sunday.
Residents stand around and in some cases on top of the mangled plane. The accident site was not cordoned off.
Soldiers disperse onlookers near the site of the crash.
The crash triggered three house fires, a rescue officer said. Femi Green-Adebo, who lives blocks away, described hearing a "loud explosion," then running outside and seeing smoke.
"It was so hot, we couldn't get close because of the fire," Green-Adebo said. "I just kept thinking about the people, if there was anyone in there."
Green-Adebo says he left the scene soon after taking pictures. The large crowds were too much to handle.
Deadly plane crash in Nigeria
Deadly plane crash in Nigeria
Deadly plane crash in Nigeria
Deadly plane crash in Nigeria
Deadly plane crash in Nigeria
Deadly plane crash in Nigeria
Deadly plane crash in Nigeria
Deadly plane crash in Nigeria
Deadly plane crash in Nigeria
Deadly plane crash in Nigeria
Deadly plane crash in Nigeria
Deadly plane crash in Nigeria
Deadly plane crash in Nigeria
Deadly plane crash in Nigeria
Deadly plane crash in Nigeria
STORY HIGHLIGHTS
Seven U.S. citizens died in the crash, the State Department says
Nigerian aviation authorities suspend Dana Air's license
153 bodies have been recovered from the crash site
Pilot Peter Waxtan, a former Spirit Airlines captain, joined Dana Air in March
Are you there? Share your story
Lagos, Nigeria (CNN) -- Nigerian aviation authorities suspended Dana Air's operating license Tuesday as torrential rain hampered recovery efforts after a deadly weekend plane crash.
"As soon as we have concluded the recertification of the airline, if they are capable, then their license will be reinstated," said Sam Adurogboye, a spokesman for the Nigerian Civil Aviation Authority.
Authorities have recovered the flight data recorder and the cockpit voice recorder, which are expected to help investigators determine what caused Sunday's crash that authorities say killed at least 153 people aboard the plane and at least 10 people on the ground.
Rescuers have recovered 153 bodies, including those of a woman and the baby she was clutching. But a downpour and a building on the verge of collapse impeded recovery efforts Tuesday.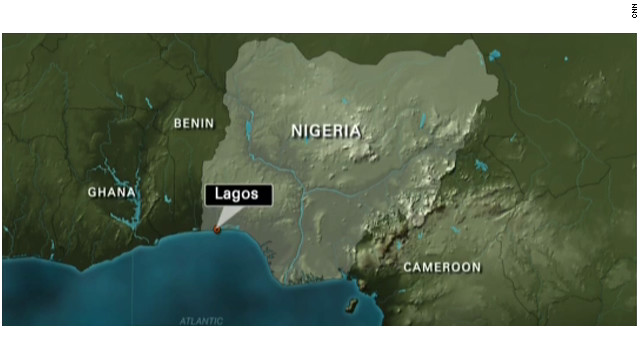 Map shows location of crash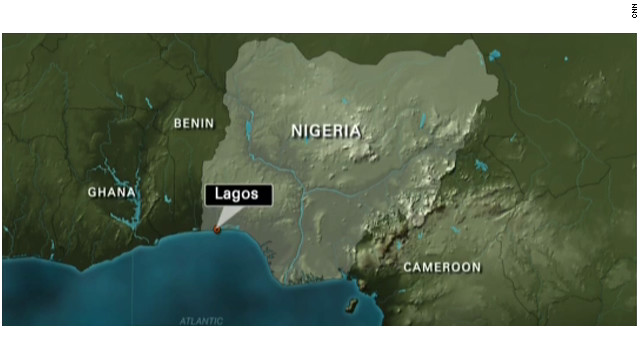 Map shows location of crash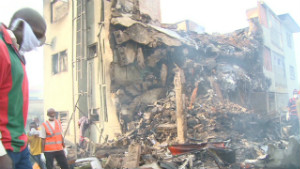 Lagos residents tell of chaotic scene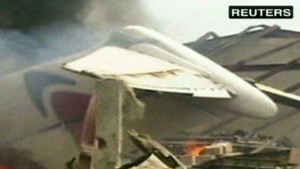 Lagos witness: 'Plane was still burning'
Rescuers said they hoped to resume work Wednesday morning.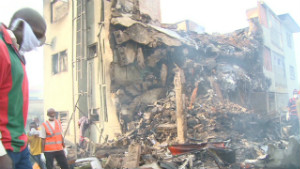 Lagos residents tell of chaotic scene
Seven U.S. citizens were aboard the flight, State Department spokesman Mark Toner said Tuesday. Officials were working to notify relatives of the dead.
Two sisters from Texas, Connecticut family perish
Dana Air's Flight 0992 slammed into a two-story residential building in a densely populated neighborhood of Lagos, Nigeria's largest city.
"The plane pushed the wall of our building in, and it hit everything," said Kingsley Okeke, who was inside at the time. "There was fire everywhere."
The pilot declared an emergency as the plane was on final approach to Murtala Muhammed International Airport, and witnesses said it appeared the plane was having engine trouble, said Oscar Wason, Dana Air's director of operations.
Wason identified the pilot as Peter Waxtan, an American, and the first officer as Mike Mahendra, from India.
Waxtan had joined Dana Air on March 26. He was a captain for Spirit Airlines based in South Florida from 1997 to 2009, the airline said.
He also flew for Falcon Air Express, a charter airline in Miami, CNN affiliate WPEC reported.
Sisters Jennifer and Josephine Onita of Missouri City, Texas, were among those killed in the crash. They were on their way back home after attending a wedding, said their sister, Christiana Onita-Olojo.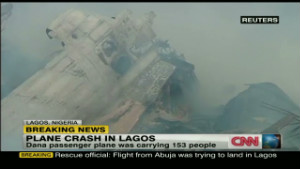 Video shows plane still smoldering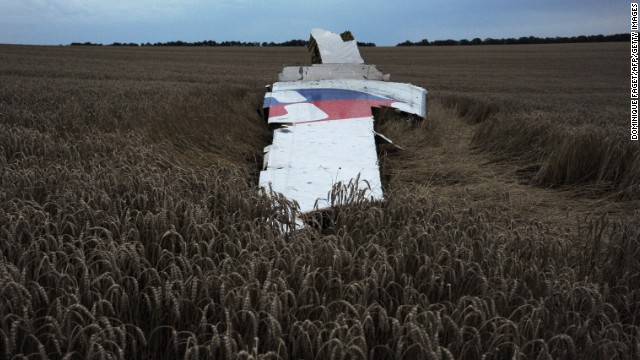 Wreckage from Malaysia Airlines Flight 17 lies in a field in eastern Ukraine on Thursday, July 17, after the Boeing 777 went down. U.S. intelligence has concluded the passenger jet carrying 298 people was shot down over Ukraine the day before but has not assigned any blame, a senior U.S. official told CNN. Ukrainian officials have accused pro-Russian rebels of downing the jet, but Russia has pointed the finger back at Ukraine, blaming its recent tough military operations against separatists.
Maylasian Airlines Flight 370 disappeared over Southeast Asia on March 8. Searchers have yet to find any trace of the Boeing 777 or the 239 people aboard. Australian officials said they believe the plane was on autopilot throughout its journey over the Indian Ocean until it ran out of fuel. Here, relatives of passengers on the missing flight take part in a prayer service at the Metro Park Hotel in Beijing on April 8.
Asiana Airlines Flight 214 crashed at San Francisco International Airport on July 6, 2013. The South Korean airline's Boeing 777 fell short of its approach and crash-landed on the runway. Three people were killed and more than 180 were injured.
A Dana Air MD-83 carrying 153 people crashed on June 3, 2012, in a residential neighborhood in Lagos, Nigeria's most populous city. No one on the plane survived, and 10 people on the ground were killed.
Indonesian relatives mourn at the airport in Jakarta after a Russian Sukhoi Superjet slammed into the side of a volcano on May 9, 2012. Russia's newest civilian airliner was on its second demonstration flight when the incident occurred, killing all 45 people on board.
A plane crash on April 20, 2012, in Islamabad, Pakistan, killed 127 people. The Bhoja Air Boeing 737 was en route from Karachi to the Pakistani capital.
A plane carrying dozens of hockey players crashed on Septemer 7, 2011, outside the Russian city of Yaroslavl, about 160 miles northeast of Moscow. Forty-three people were killed. One of two survivors later died of his injuries.
A Hewa Bora Airways plane crashed on July 8, 2011, while trying to land in bad weather at the airport in Kisangani, Democratic Republic of Congo. At least 74 of the 118 people on board were killed.
A survivor of an Iran Air Boeing 727 crash lies in a hospital on January 10, 2011. The plane went down a day earlier near the city of Orumiyeh, killing 77 of 105 passengers and crew members.
An Airblue flight carrying 152 people crashed into a hillside on the outskirts of Islamabad, Pakistan, on July 28, 2010. No one survived.
An Air India plane crash killed 158 people on May 22, 2010, after the jet overshot a runway in Mangalore, in southwestern India, crashed into a ravine and burst into flames.
A 9-year-old Dutch boy was the lone survivor of a plane crash on Afriqiyah Airways that killed 103 people near Tripoli, Libya, on May 12, 2010. His mother, father and older brother died in the crash.
A plane carrying Polish President Lech Kaczynski crashed as it tried to land at an airport near the Russian city of Smolensk on April 10, 2010. Kaczynski was among the 97 people killed.
An Ethiopian Airlines flight crashed into the sea, killing all 90 people aboard shortly after taking off from Beirut, Lebanon, on January 25, 2010.
A Caspian Airlines plane went down in a field near the north-central Iranian city of Qazvin, on July 15, 2009, killing all 168 people on board and leaving a huge, smoldering crater.
A Yemenia Airways plane carrying more than 150 people crashed in the Indian Ocean off the island nation of Comoros on June 30, 2009. The Airbus A310 was en route to Moroni, the capital of Comoros, from Yemen's capital, Sanaa.
An Air France flight carrying 228 people disappeared from radar over the Atlantic Ocean on June 1, 2009. The Airbus A330 took off from Rio de Janeiro bound for Paris and sent out an automatic signal warning of electrical problems.
Colgan Air Flight 3407 (a connector flight with Continental Airlines) crashed into a house outside Buffalo, New York, on February 13, 2009, killing all 49 aboard the plane and one on the ground. Two occupants of the house survived.
A TAM Airlines jet skidded off the runway into a gas station and burst into flames on July 17, 2007, after landing at the airport in Sao Paulo, Brazil. All 199 people on board were killed.
A Comair flight crashed in Lexington, Kentucky, while attempting to take off from the wrong runway on August 27, 2006. The plane ran off the end of the runway, drove through a fence and crashed into trees on an adjacent horse farm. Forty-nine of 50 people aboard were killed.
A Sudan Airways Boeing 737 crashed just after takeoff on July 8, 2003, killing 116 people. A 3-year-old boy was the only survivor.
An American Airlines plane crashed in Belle Harbor, Queens, shortly after takeoff from John F. Kennedy Airport on November 12, 2001. The crash killed 265 people, including five people on the ground. It remains the most deadly U.S. aviation accident.
An Air France Concorde, en route to New York, crashed into a Paris hotel shortly after takeoff on July 25, 2000. All 109 passengers and crew members died. Four people on the ground were also killed.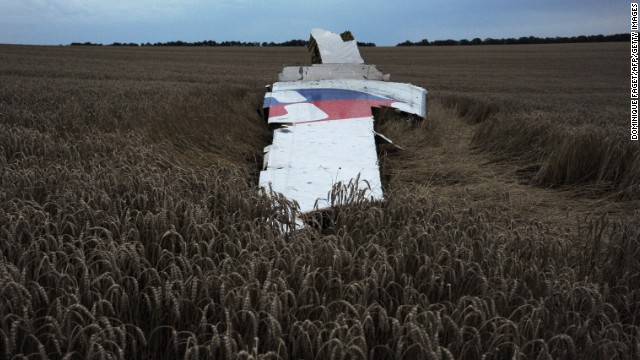 Photos: Recent major plane crashes
Also among the dead were six Chinese citizens who were on the plane, the Chinese Embassy in Nigeria said Monday.
According to witnesses, the passenger plane appeared to be approaching the vicinity of the airport in Lagos high, its nose tilted upward, when it crashed 11 miles (18 kilometers) north of the runway, hitting the ground tail first, Wason said.
The flight, which had originated in the Nigerian capital of Abuja, crashed at 3:43 p.m. in the neighborhood of Iju Ishaga, according to the Nigerian Civil Aviation Authority.
The airplane was 22 years old and had been purchased from Alaska Airlines. It had undergone routine maintenance checkups after every 200 hours of flight, and it had been inspected three days before the crash, Wason said.
Dana Air says its fleet comprises Boeing MD-83 aircraft. Boeing's website says that model can carry 155 to 172 passengers, cover up to 2,504 nautical miles and has a fuel capacity of 7,000 gallons.
The airline, which is privately owned and based in Lagos, began operations in 2008.
CNN's Jill Dougherty and Devon Sayers contributed to this report.