STORY HIGHLIGHTS
To date, Gov. Scott Walker has raised 7½ times that of Democrat, Tom Barrett
Watchdog group expects final recall tally to be $70 million-$80 million
Some 70% of Walker's donations in last month came from outside Wisconsin
Outside groups backing both candidates flooded state with some $25 million
Washington (CNN) -- Millions of phone calls have been made. Thousands of yard signs are posted on Badger State lawns. Television ads blanket the Wisconsin airwaves.
All of this frenetic activity in Tuesday's gubernatorial recall in Wisconsin comes at an unprecedented price tag: Upward of $63 million, and that doesn't take into account money raised the last three weeks that hasn't been registered yet.
"When we come up with a final tally for this race, it's going to be in the $70 (million) to $80 million range," predicted Mike McCabe, who runs Wisconsin Democracy Campaign, a nonpartisan campaign watchdog group.
Walker's fate comes down to ground game
The money raised in the recall already shatters Wisconsin's record of $37 million, set just 18 months ago when Republican Gov. Scott Walker was first elected.
It's a mind-blowing amount of money, especially for a state as small and inexpensive politically as Wisconsin.
Recall vote is judgment day for Wisconsin governor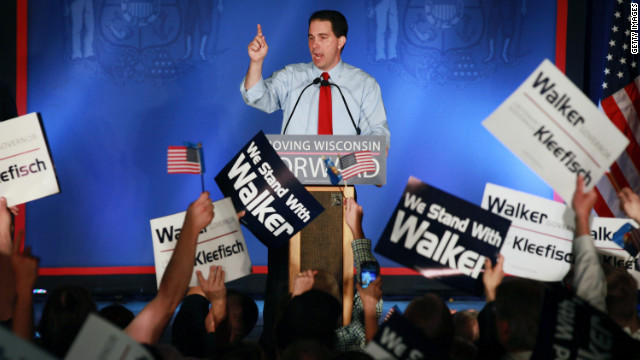 Wisconsin Gov. Scott Walker addresses supporters Tuesday night after winning the Wisconsin recall election, defeating Milwaukee Mayor Tom Barrett.
Walker supporters celebrate his victory Tuesday at Bullfeathers restaurant in Washington.
Barrett supporters watch election results come in Tuesday stacking in Walker's favor.
Barrett concedes defeat to Walker on Tuesday at an election night gathering in Milwaukee.
On March 11, 2011, Walker signs a bill that ends the collective bargaining rights of public employees as a measure to close the state's budget shortfall.
Thousands of demonstrators gather outside the Wisconsin State Capitol in Madison the following day to protest the bill signing.
Richard Trumka, national AFL-CIO president, speaks to protesters in the capital rotunda during a rally in opposition to Walker's proposal.
Union members and protesters fill the capitol rotunda in Madison.
Walker testifies at a House Oversight and Government Reform Committee hearing on Capitol Hill in Washington as protesters wave signs behind him, April 14, 2011.
The marquee at the Orpheum Theatre in Madison, Wisconsin, mocks Walker with "Total Recall" movie reference on March 11, 2011.
Farmers drive past the Wisconsin State Capitol during a rally March 12, 2011, in Madison.
Recall propnents deliver over 900,000 certified signatures in support of the recall to the Government Accountability Offices in Madison, Wisconsin on January 17, 2011.
Former president Bill Clinton campaigns for Milwaukee Mayor Tom Barrett who is running against Walker in the recall election.
Walker visits Quad Graphics during a campaign stop in Sussex, Wisconsin, on June 1.
Opposing signs along a rode in Beloit, Wisconsin, can be seen on June 4, the day before voting in the recall election.
Residents in Beloit, Wisconsin, vote in the recall election Tuesday.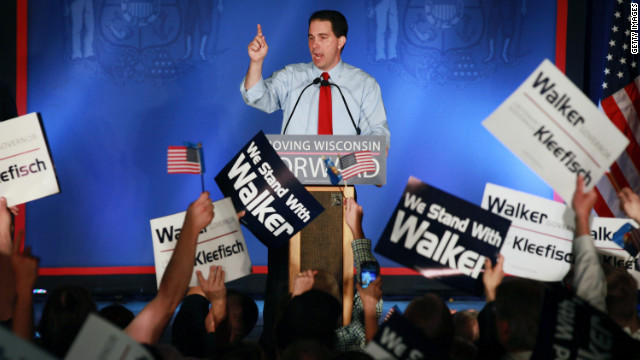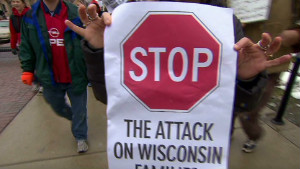 Wisconsin's 'Total Recall' gets ugly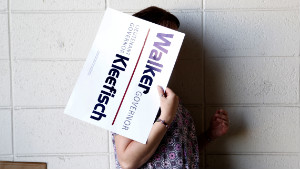 Politics gone wild in Wisconsin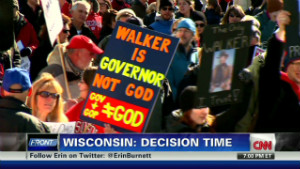 Dry run for November?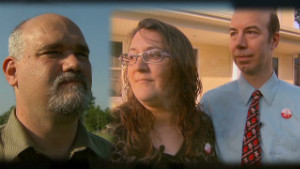 Wisconsin teachers duel over recall
"This is way out of proportion to a state this size," said McCabe, sitting in his Madison office surrounded by workers entering a continuous stream of fund-raising data onto his group's website.
What's also out of proportion: Walker has raised 7½ times that of his Democratic challenger, Tom Barrett.
To date, Barrett has raised just under $4 million. Walker has pulled in $30.5 million.
That wide disparity can be attributed in part to a quirk in the election law. Public officials in Wisconsin who are targeted for a recall are allowed to raised unlimited sums of money until the recall is formally set. In Walker's case, that was March.
So a lot of rich Republicans, seeing the Wisconsin recall battle as a preview of the presidential race, wrote Walker huge checks.
Wisconsin billionaire Diane Hendricks gave Walker more than $500,000.
Texan Bob Perry, who bankrolled the infamous 2004 "Swift Boat" attacks against John Kerry, also contributed half of $1 million directly to Walker.
Las Vegas casino magnate Sheldon Adelson and Michigan millionaire Dick DeVos each donated $250,000.
In fact, 70% of Walker's donations in the last month came from outside Wisconsin -- hundreds of thousands of contributors large and small from all over the country.
Phil Prange has raised money for Wisconsin Republicans for 25 years. He said when former GOP Gov. Tommy Thompson was on the ballot in 2000, he had 50,000 people on his donor list.
"It was actually controversial," Prange said.
Walker's list of at least 250,000 dwarfs that one.
Prange remembers potential donors laughing at him when he tried to raise money from out of state for a Wisconsin political campaign.
"Anything over $100 was a hard ask. Now apparently you can ask for a million dollars and get it in the same moment, which is amazing," Prange said.
He said he knew things were different with the recall when he went to a party in Chicago several months ago and met people from Arizona, Florida, Texas and Massachusetts who had already contributed to help Walker beat back the recall.
"I was shocked," Prange recalled.
Individual contributions only tell part of the story of big bucks in Wisconsin's recall.
Outside groups supporting both candidates flooded the state with some $25 million.
They look like a who's who of Washington special interests --- from Planned Parenthood to the National Rifle Association.
When the dollars are tallied up in this category, Democratic outside groups supporting Barrett will have outspent those backing Walker.
Labor unions, which have an enormous stake in the recall since the backlash against Walker began when he all but did away with collective bargaining rights for public employees, have given $8 million in traceable donations to help Barrett.
It's likely unions have given much more to Democratic groups not required to disclose their donors.
Opinion: Fix, don't destroy, public worker unions
The Republican Governors Association is another big contributor -- at least $9 million, including $1 million from GOP high roller David Koch.
These groups register and advertise with names that appear to be homegrown.
We are Wisconsin is organized and funded mostly by national unions in Washington.
Right Direction Wisconsin is really an arm of the Republican Governors Association.
Then there are the stealth super PACS whose donors are anonymous. They have given $8.5 million.
The Wisconsin Democracy Campaign lists eight such groups on its website. Most, such as Americans for Prosperity and the Club for Growth, are groups on the right trying to help Walker.
One, Greater Wisconsin Committee, is trying to help push Walker out.
Again, the donors are anonymous.
"Elections are being poisoned here, but the people of Wisconsin can't know who is paying for most of the poison," McCabe said.
The irony is that despite the tens of millions raised and spent on the recall election, it is an open question whether it will make a real difference.
Wisconsin's electorate is so polarized, that public and party polls suggest most people's minds are already made up.
What both parties agree on, however, is that the extra campaign cash does help where it matters most: identifying voters and making sure they get to the polls on Election Day.