What's at stake in Wisconsin?
updated 1:28 PM EDT, Tue June 5, 2012
STORY HIGHLIGHTS
Wisconsin votes on Tuesday to recall Gov. Scott Walker
The vote pits Democrats and big unions against Republicans and fiscal conservatives
The recall vote has taken on national importance for both parties
Washington (CNN) -- Embattled Wisconsin Republican Gov. Scott Walker, an anti-union darling of the tea party and other fiscal conservatives, faces off Tuesday against Democratic Milwaukee Mayor Tom Barrett in a high-stakes recall election that politicos say could foreshadow the contentious November general contest.
Recall vote is judgment day for Wisconsin governor
The fight to recall Walker after only an 18-month tenure in office speaks to some in the blue-leaning state's frustration over Republican-led efforts to keep unions in check. Walker and his GOP colleagues in the state legislature voted last January to restrict public employee unions' collective bargaining rights and keep their raises -- except those of police and firefighters -- at inflation rates. Protests and a union backlash ensued along with efforts to recall Walker from office.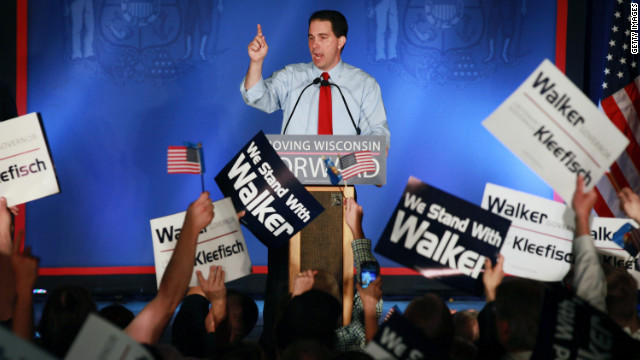 Wisconsin Gov. Scott Walker addresses supporters Tuesday night after winning the Wisconsin recall election, defeating Milwaukee Mayor Tom Barrett.
Walker supporters celebrate his victory Tuesday at Bullfeathers restaurant in Washington.
Barrett supporters watch election results come in Tuesday stacking in Walker's favor.
Barrett concedes defeat to Walker on Tuesday at an election night gathering in Milwaukee.
On March 11, 2011, Walker signs a bill that ends the collective bargaining rights of public employees as a measure to close the state's budget shortfall.
Thousands of demonstrators gather outside the Wisconsin State Capitol in Madison the following day to protest the bill signing.
Richard Trumka, national AFL-CIO president, speaks to protesters in the capital rotunda during a rally in opposition to Walker's proposal.
Union members and protesters fill the capitol rotunda in Madison.
Walker testifies at a House Oversight and Government Reform Committee hearing on Capitol Hill in Washington as protesters wave signs behind him, April 14, 2011.
The marquee at the Orpheum Theatre in Madison, Wisconsin, mocks Walker with "Total Recall" movie reference on March 11, 2011.
Farmers drive past the Wisconsin State Capitol during a rally March 12, 2011, in Madison.
Recall propnents deliver over 900,000 certified signatures in support of the recall to the Government Accountability Offices in Madison, Wisconsin on January 17, 2011.
Former president Bill Clinton campaigns for Milwaukee Mayor Tom Barrett who is running against Walker in the recall election.
Walker visits Quad Graphics during a campaign stop in Sussex, Wisconsin, on June 1.
Opposing signs along a rode in Beloit, Wisconsin, can be seen on June 4, the day before voting in the recall election.
Residents in Beloit, Wisconsin, vote in the recall election Tuesday.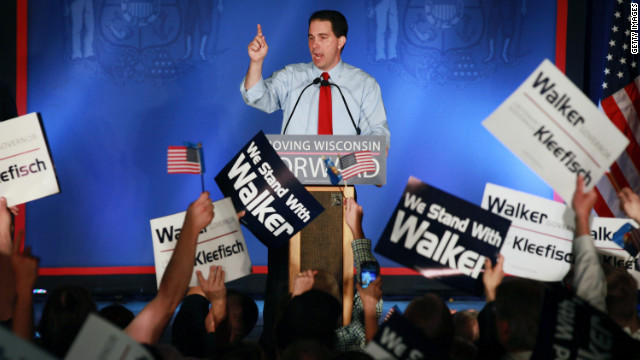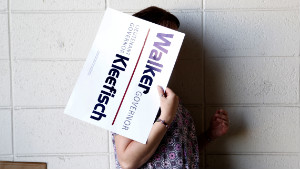 Politics gone wild in Wisconsin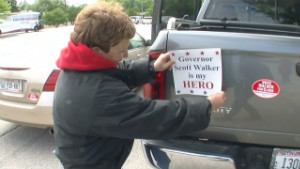 Wisconsin recall workers face hostility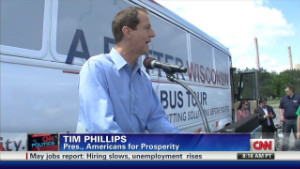 Conservatives rally for Scott Walker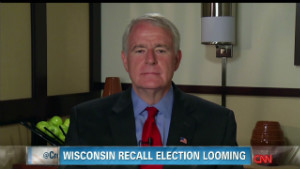 Barrett downplays lack of natl. support
Meet Scott Walker: From the archives, watch Gov. Walker in 2011 make his case: "we don't have any more money.'
Walker and his supporters argue that unions are making it difficult to take the steps needed to shrink the state's mushrooming debt. Unions and their supporters counter that collective bargaining has helped ensure safe working conditions, fair treatment and wages and adequate health care.
The deeply polarized Wisconsin recall race also pits Democrats and their Big Labor allies against Republicans and impassioned tea party supporters in a multi-million dollar showdown that's drawn such political stars as former President Bill Clinton and Sen. Marco Rubio, R-Florida, into the fray.
A loss for either party in the close race could start a domino effect in swing states.
As CNN's Candy Crowley pointed out Monday in an analysis: If Walker sidesteps a recall, it would speak to conservative's grassroots power, the waning power of unions -- which typically ally with Democrats -- and could further Romney's efforts in the state.
A Walker recall would mean conservatives were roundly chastised, the tea party suffered a blow and Obama has strong footing in Wisconsin.