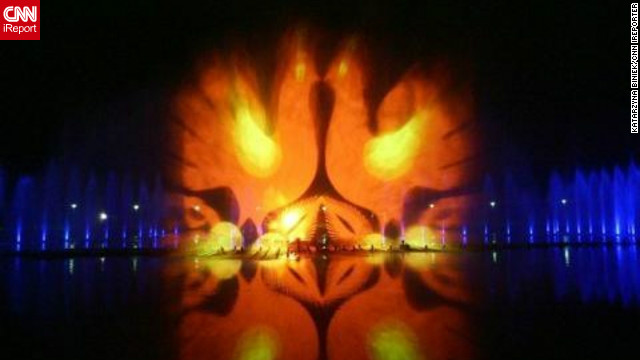 Katarzyna Biniek captured this image of a spectacular light show at a fountain in central Wroclaw. The city is known as Poland's "little Venice," she says, and with displays like this it effortlessly "captures the modern, fun face" of the country.
A peaceful summer sunset in the city of Gdynia on Poland's Baltic Sea coast is photographed by iReporter Monika Sobiechowska. For hundreds of years fishermen have set off from this very spot in search of their daily catch, a tradition that persists to this day, she adds.
Poland is "resilient, brave and owns a brutal history," says iReporter, Doug Simonton. A fact emphasized by the eerie entrance to Auschwitz-Birkenau, the camp where the Nazi's put between 1.1 million and 1.5 million people to death during World War II. "As somber and depressing as it is meant to be, the entire world needs to visit the Auschwitz concentration camp," says Simonton.
Mary Skull of Milwaukee, Wisconsin, took this photo of "cabbage looking flowers" being sold by a street vendor in downtown Warsaw in 2011. "Poland is a less traveled European country, but full of beautiful architecture, interesting artwork and unusual flowers," she says.
CNN's Linnie Rawlinson captured this image of a vibrantly colored Trabant on a trip to Krakow in April 2012. Visitors can take historic tours of the city in the communist-era vehicles, exploring Krakow's rich architectural and cultural history.
The Zuraw Crane in Gdansk is a hulking testament to the Baltic city's history as a major port and ship building hub, says Monika Sobiechowska. Today however, Gdansk is just as famous for its scenic waterfront boulevards, she adds.
American student Caroline Summers took this image of the padlocks which have come to adorn Tumski Bridge in Wroclaw. Young romantics write their names on the locks before fastening them to the bridge and throwing the keys into the river as a sign of their enduring love.
The Nicolaus Copernicus Museum in Torun offers an insight into the life and times one of Poland's most famous sons, says to iReporter Avinash Dhital. A testament to 15th century astronomer and mathematician, who was born in the city, the museum is indicative of Torun's "artistic and culturally rich" Old Town area, he says.
Tiny gnomes scattered throughout Wroclaw are a cool and unique feature of the city's streets, says iReporter Mary Skull. Some are placed in obscure locations and it becomes a fun challenge for visitors to try and find them all, she adds.
The psychedelic shapes of the "Crooked House" -- or Krzywy Domek to give its Polish name -- in the northern city of Sopot caught the attention of iReporter Caroline Summers during a visit as an exchange student in 2011.
Wroclaw light show
Baltic coast beach
The gates of Auschwitz
Poland in bloom
Trabant tours
Maritime past and present
Lover's bridge
Home of Copernicus
Miniature city guides
The Crooked House