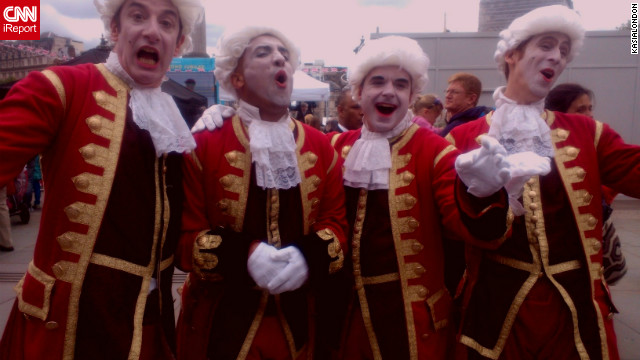 kasialondon stumbled upon court jesters entertaining at London's iconic Trafalgar Square in celebration of the queen's Diamond Jubilee. "The jesters were joking, laughing and making merriment for people," she says. "It was a lot of fun."
Kasialondon sent in this shot to iReport of their Diamond Jubilee celebrations including a jubilee street picnic in London.
Susanvel60 will be having a tea-riffic weekend celebrating the queen's Diamond Jubilee at several tea houses in New Jersey and New York. "I love the Queen. She has been the pillar of stability for all these years and I feel like she really loves her job. 60 years is a long time and I just really admire her dedication to her country and her love for her country."
A group of American Airlines international flight attendants gather in London for the Thames Jubilee pageant on Sunday. Last year they attended the wedding of Prince William and Kate Middleton on the Mall. They told iReport: "This year we couldn't wait for the flotilla. It is was amazing and beautiful day, even in the rain."
Britons around the world celebrate the queen's 60-year milestone by throwing street parties and jubilee events at home. Here a group of expatriates living in Hong Kong celebrate the Diamond Jubilee with a British-themed dinner of Coronation chicken salad and Toad in the Hole.
A portrait of the queen by expressionist painter Stephen B. Whatley. Whatley, who has completed several works for the Royal Collections, says he made the queen laugh when he told her how he was locked in the Tower of London to paint the Crown Jewels. "As she moved away, she looked over her shoulder and said: 'I'm pleased they let you out.'" He adds: "She came across with a great humility, open-heartedness and willingness to learn."
James Mills poses in the uniform he wore while working for the queen from 2002 to 2006. Mills, from Scotland, says: "I had some fantastic memories from my time including dancing the St. Bernard's Waltz with the queen at the 'Ghillies Ball' -- a dance held at Balmoral Castle. Mills also attended the wedding of Prince Charles and Camilla at Windsor Castle, the queen's 80th birthday party, and met President George W. Bush during a state visit in November 2003."
Tatum Botha, then aged nine, waits to meet the queen in Brisbane, Australia on October 24, 2011. Tatum had previously written to the queen and wanted to meet her for as long as she could remember, mom Chaleen Botha told CNN.
Queen Elizabeth II accepts a bouquet from nine-year-old Tatum Botha, October 24, 2011. Tatum's mom Chaleen says the meeting was a dream come true for her daughter. "The Queen said, 'Thank you.' Tatum replied, 'It's a pleasure.'"
Christine E. Denicola, an attorney from Lincoln, Nebraska, has an unexpected encounter with the Queen Mother at an event to honor military veterans on November 08, 1997. "While the meeting was unplanned, I was thrilled to meet the Queen Mother because I knew about how brave she'd been during World War Two, how supportive she'd been of her husband during the time he was king -- and this was prior to the movie, 'The King's Speech,' -- and how she'd not expected to be the queen consort. "
Britain's Queen Elizabeth II during a visit to Brisbane, Australia, October 24, 2011. This photo was taken by Chaleen Botha shortly after the monarch met her daughter, nine-year-old Tatum.
Queen Elizabeth II and Prince Philip tour a college in Burnley, England on May 16, 2012. CNN iReporter Mohammed Seedat, an education ambassador who took the photo, said: "She came in and talked to some of the students. I was taking snaps from the front seat when she turned and looked at me. I was quite scared, I didn't know if I was supposed to be taking photos, but in the end she seemed fine."
The queen inaugurates the headquarters of the London Fire Brigade, February 22, 2008, photographed by iReporter Jacob Varughese. He said: "Before I came down to the UK to do my studies and I had a dream that I would meet the queen once in my life, so when I did it was a dream come true."
Celebrating Queen Elizabeth II
Celebrating Queen Elizabeth II
Celebrating Queen Elizabeth II
Celebrating Queen Elizabeth II
Celebrating Queen Elizabeth II
Celebrating Britain's royals
Celebrating Queen Elizabeth II
Celebrating Queen Elizabeth II
Celebrating Queen Elizabeth II
Celebrating Queen Elizabeth II
Celebrating Queen Elizabeth II
Celebrating Queen Elizabeth II
Celebrating Queen Elizabeth II