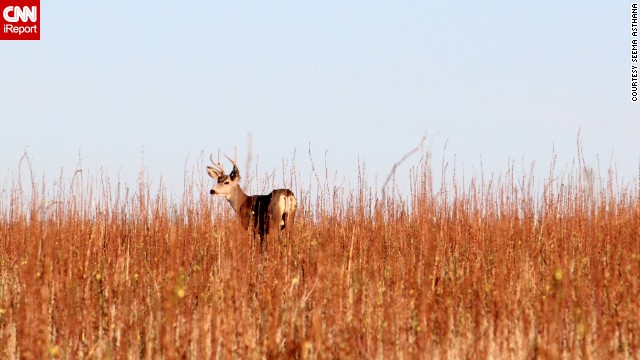 Seema Asthana waited all day to spot an antelope at Antelope Island State Park. She eventually captured this image from her car on the way out -- although it turned out to be a deer!
If you ever visit Singapore, says Gregorius Suharsono, "don't just stay around the city center because you will only ever see typical 'postcard' scenes." See more photos from around the city on CNN iReport.
Teams from around the world participate in a medieval martial arts tournament held in the walled city of Aigues-Mortes. Find out more on CNN iReport.
Brilliant yellow leaves glow near the Vietnam Veterans Memorial on the National Mall.
A polar bear swims in the open waters of Canada's Repulse Bay. Douglas Kahle captured this underwater image by hanging off the back of a boat -- in a very thick wetsuit, of course.
Row after row of cluster amaryllis bloom during fall in Kyoto.
Majestic ancient ruins crowd Luxor, Egypt. See more photos on CNN iReport.
The lights of the aurora borealis shine bright in this 2012 photo by Tina Ball, who stayed out in the snow for almost four hours "watching the sky dance."
A full moon glows over the Acropolis in Athens.
"Natural beauty is always ready and waiting," says Jason Asselin, who captured this beautiful fall color along the Menominee River in Michigan. See more photos on CNN iReport.
Boats line Sohoton Cove on Bucas Grande Island. The island is home to "a plethora of powdery white sand beaches and secret lakes," says Maritess Garcia-Reyes.
Autumn color surrounds Skye Lake and Green Mountain in Alabama. See more beautiful photos on CNN iReport.
Military armaments are juxtaposed with Reykjavik's idyllic scenery as Navy ships from five countries practiced exercises with the Icelandic Coast Guard. See more photos on CNN iReport.
Tea plants cover a mountainside in China's Fujian province. Vladimir Hrubsa captured this photo while traveling through China on a quest to find the perfect cup of tea. Read more about his journey and see additional photos on CNN iReport.
Since moving to Montana in 2003, Stephan Ferry has spent almost every birthday inside the boundaries of Glacier National Park. "I really wish there were some camera that could relay feelings because the place is totally magical," he said.
A tiger rests amongst the brush in Ranthambore National Park. The park is famous for its free-roaming diurnal tigers. This one "crossed the trail ... and settled down in a puddle located in the brush. I had to steady myself because of the adrenaline rush," said Nikhil Kikkeri, who shot this photo.
The sun sets over Bali's Uluwatu beach.
Pumpkins and gourds await sale at an Amish market in southern Maryland. "Fall just would not be fall without a weekly visit to the Amish market," says Janie Lambert, who lives nearby. See more photos on CNN iReport.
Birds take flight above a silhouetted Sydney, including the famed Sydney Opera House.
Autumn color fills Utah's Little Cottonwood Canyon. "Here in Utah, we love to drive in the canyons this time of the year to appreciate nature's glorious beauty," said Netra Ghosh.
A traditional wooden sailboat, called a dhow, makes its way into the crystal waters of Zanzibar's Menai Bay.
Cambodia's Banteay Srei temple looks like something out of a movie, but the country is filled with similarly picturesque temples and ruins. See more photos on CNN iReport.
Amber leaves reflect on the surface of a lake at sunrise at the Fontana Nature Center near Hazleton, Iowa. "The orange glow made for some wonderful morning pictures," said Danny Murphy, who shot this photo on a crisp, fall morning.
"I hesitate to share this photo because it really does feel like a secret jewel of a place," says Angelo Greco of this corner of Sicily. "The water is crystalline and the rock formations protruding from the Mediterranean are stunning."
The world's tallest building, the Burj Khalifa, towers over the rest of Dubai. See more photos on CNN iReport.
A Bolivian woman tends to her sheep in the small community of Sicuani.
Chrysanthemums take center stage at the New York Botanical Garden's annual Kiku: The Art of the Japanese Garden exhibition. "Kiku" means "chrysanthemum" in Japanese.
"Imposing mountains tower over charming villages that dot the various arms of the lake," said Shelley Seale, who shot this photo while on a boat crossing Lake Lucerne.
Happy Halloween! Tour one of New Orleans' famed spooky cemeteries in honor of the occasion. See more photos on CNN iReport.
London's Tower Bridge glows at twilight. Vanessa Reyes shot this photo just before having her first-ever Guinness in a nearby pub.
Reporter Erin Carson was hiking at Kruger Farms when this trio of Rothschild's giraffes appeared. They're one of the most endangered giraffe subspecies. "They were so close, it was unreal. I walked a few meters into the grassy area to get closer and just started snapping pictures."
Lava flows down the surface of Kilauea volcano on Hawaii's Big Island.
Autumn colors and mist provide a stunning backdrop to the village of Hallstatt.
Lightning strikes near Florida's Sebastian Inlet at sunset.
A young Japanese snow monkey "hangs out" at Iwatayama Monkey Park. See more portraits of the monkeys eating, grooming and relaxing on CNN iReport.
Simferopol is part of the Crimea republic in southern Ukraine. Antonina Reshef, who lived there as a child when the area was part of the Soviet Union, went back to visit this year and found that "almost nothing" had changed - right down to the statue of Lenin in the city center! See more of her photos from around Simferopol and read her reflections on CNN iReport.
Colorado's aspen trees glow a bright autumn gold in this shot from the Cumbres & Toltec Scenic Railroad, which runs along the border between Colorado and New Mexico.
Tourists take in the Eiffel Tower on a hazy spring day. "There really is just something amazing about Paris in the springtime," said Jessica Ann Baker.
A "leg spinner" paddles across Inle Lake. The unique style of paddling involves using one leg to power the boat while balancing on the canoe's edge with the other. This traditional method frees up the hands for fishing. See more photos of leg spinners in action on CNN iReport.
A mother cow and her calf share a moment on a Nevada ranch. See more photos of the pair on CNN iReport.
Finnur Andresson photographed this stunning display of the northern lights in Akranes, Iceland, while visiting an abandoned farm in the area.
Walking along the beach on Malaysia's Lankayan Island, Rachel Geesa and her friend stopped for a minute to enjoy the view when they looked down to see this little hermit at their feet.
More than 500 brightly colored tractors and plows are on display in the "field of plows" at the Schneider Farm in Chesaning, Michigan. Many are more than 100 years old, renovated by Elmer Schneider himself.
Handcrafted fans are some of the many souvenirs to be found in the street markets of Hong Kong's most crowded neighborhood.
Untouched beauty and clear blue waters make St. John's Trunk Bay a traveler's paradise, says Michele Kontaxes Naurock. She shot this photo using a polarized filter.
The tranquil scene of a lush field of grass growing along an Egyptian countryside inspired iReporter Mahmoud Gamal El-Din to capture this photograph.
Several of Australia's legendary 12 Apostles -- those limestone rock formations on the shore -- are seen in Port Campbell National Park.
Leaves in Front Royal, Virginia, turn red for autumn. ' I was surprised to see the leaves changing so quickly, but I welcome it,' iReporter Candice Trimble said.
Jessica Klatt met this owl, named Spock, at Vancouver Island's The Raptors Center, which works for the conservation of birds of prey.
Anna Mikaelyan describes this village in the country of Georgia as "one of the most tranquil places on Earth." "Being here makes you feel like you went back in time," she added.
Randy Lathrop shot this photo of Alaska's "majestic mountains" from a cruise ship in Glacier Bay. He felt like the ship was "dwarfed" by the snow-capped peaks.
This large, golden Buddha statue is part of the Dambulla Temple Complex, which is one of Sri Lanka's heritage landmarks. These temples celebrate Buddha and former Sri Lankan kings.
Is there anything like autumn in New York? In Central Park, "the sun lit all the fall leaves on fire with its late-afternoon brilliance," said Thomas Denman.
These nomadic Mongolian hunters raise eagles to hunt for foxes and wolves. Read more on CNN iReport.
A boat travels along a fjord in Geiranger. "It is difficult to imagine that a more pristine, gorgeous land exists than what we saw in Norway," said Michael Gannon.
A smiling woman fishes for the day's catch in northern Laos. L. Craig Smith spent four days visiting various villages of the hill tribe people, who "received us with open arms," he said.
James Amerson spotted this field of sunflowers while traveling from Portofino to Florence. "I loved everything about Italy," he said. See more photos from his journey on CNN iReport.
An attentive group of zebras stares into the camera as wildebeest graze in the background. "It's a bit invigorating to know that a hyena or lion could happen by at any moment," said Lynda Hanwella, who shot this photo while on safari.
Travelers who make the challenging walk to La Fortuna waterfall, near the base of two volcanoes, are rewarded with the chance to swim in the clear blue pool below.
Ronald de Jong photographed roadside fruit vendors in Tupi, Philippines. He says the town is known as the "fruits, flowers and vegetables basket of the South."