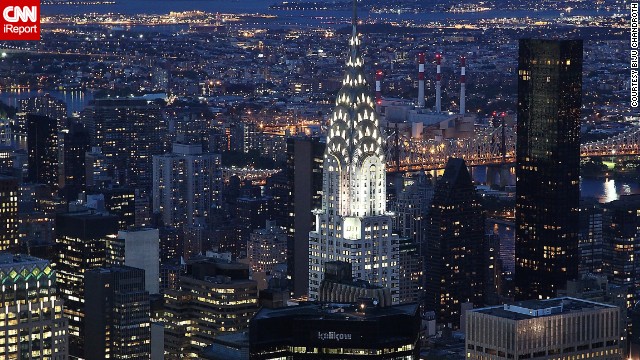 The art deco Chrysler Building shines brightly in the New York skyline in this view from the Empire State Building.
In a traditional sport, Mongolian riders try to find and pick up a coin from the ground without falling off their galloping horse. See more photos and learn about the event on CNN iReport.
The island of Thira, colloquially known as Santorini, lies off the southeast tip of Greece and is known for its sunsets. See more images from around Greece on CNN iReport.
Photographer Antonina Reshef is on a mission to revisit the former USSR towns of her youth. See more of her photos from the isolated Kamchatka peninsula in eastern Russia on CNN iReport.
Tracy Bond captured an orange sunrise that engulfed the morning sky while on vacation in Destin, Florida.
While spending a day of solitude in northern Israel, Joel Camaya captured this wondrous image of two rock badgers basking in the sun.
A little girl waits for her playmate in the vibrant streets of Havana, Cuba.
While visiting the Taj Mahal in Agra, India, Michael Pagedas noticed a unique view of a mosque situated next to the iconic mausoleum. He photographed the mosque through the Taj Mahal's craved marble screen.
The giant trees of Sequoia National Park overwhelm a building. "At times, you lose perspective of their size," said Pat Kessler. "Occasionally seeing a human or a building nears the trees brings their awesomeness back into focus." See more photos on CNN iReport.
Water mills stand in the historic town of Huanglongxi. "I felt like I was back to the olden days," said Ter Chieng Chuan. "The unique infrastructure really impressed me."
Hot air balloons float over the otherworldly valleys of Cappadocia at dawn.
Flowers spill from the window boxes of ancient buildings in La Alberca, about an hour from Salamanca in western Spain.
"The town of Saint-Louis...is teeming with bold colors," says Lauren Levine, who shot this photo. "Walls are saturated in reds, yellows and greens." See more of her colorful images on CNN iReport.
The Tidal Basin reflects the Washington Monument. Surrounding it are the famed cherry trees, a 1912 gift to the United States from Japan, in full bloom.
A shell rests on the shoreline of Tonga's Pangaimotu Beach in the South Pacific.
Farmers and monks process in a blessing of the crops in mountainous Tibet, north of Lhasa. "Incense is being burned in the large pot at the front. Prayers and the parade are the bulk of this ceremony and all traffic must halt for the holy procession to pass," says Lee Gunderson, who shot this photo.
London's Tower Bridge is reflected in the Thames at dawn.
"As far as exotic yet relatively inexpensive vacations go, you will be surprised by this place," says Erich Ludwig. He and his wife took a day trip to the Phi Phi Islands on one of these boats while vacationing in Phuket, Thailand.
Kite skiers and cross-country skiers enjoy frozen Portage Lake near Anchorage, Alaska.
Egyptian tour guide Khaled Mohamed ElSamman captured this woman in an early morning moment of quiet contemplation in Cairo's Mosque of Mohammed Ali. "As a tour guide, I have the chance to see some very unique moments, and this is one of them," he said.
The Sydney Opera House, opened in 1973, is an architectural icon. See photos of the inside on CNN iReport.
The village of Hallstatt sits amongst the gorgeous mountains and lakes of Austria. See more stunning views of the town on CNN iReport.
Horses pose in their pasture in front of the snow-capped Tetons.
Geishas stand among a few of Japan's famed cherry trees during peak cherry blossom season.
People live in ancient cave dwellings in Maymand. "I think Americans should see the real side of Iran -- not the political side," said Holly Yazdani, who shot this photo. See more images on CNN iReport.
A performer wears a brightly colored costume at the 2013 Sinulog Festival, which celebrates the Philippines' religious history. See more photos on CNN iReport.
A surfer enjoys the sun on Swami's Beach before swimming out to sea.
Neuschwanstein Castle sits on a hill just outside of Fussen, Germany. Though it looks ancient, the castle was built in the second half of the 19th century as a tribute to composer Richard Wagner.
The morning sun casts a glow over the sand dunes of Namibia.
"I think anyone who wants to see a place like this should go while they can," says Daniel Surette, who shot this photo with an underwater camera. "All I heard...from the locals was how we should have seen the reef when it 'was really something.'"
Temples and pagodas fill the peaks and valleys of Myanmar. This image was captured from the top of Shwesandaw Pagoda.
"Exploding" bursts of colorful wildflowers fill the Arizona desert in spring, says Andrew Pielage. See more photos on CNN iReport.
This photo of Machu Picchu (at left) and its surrounding peaks was taken from Huayna Picchu, which towers over the ancient Incan site.
The Sultan Ahmed Mosque -- commonly called the "blue mosque" because of its vibrant blue tiles -- is silhouetted against the evening sky. See more photos from around Istanbul on CNN iReport.
Jon Tjader captured this photo as the sun set in Antarctica. "I have been to over 60 different countries, and Antarctica hands down takes the cake as the most spectacular landscape on the planet," he said.
Joshua Rubin waited on the beach for half an hour before getting this perfect shot of two laughing gulls.
Pink blossoms surround the Summer Palace in Beijing. "We had no idea how absolutely beautiful China would be in spring, or any time for that matter," said Kim Jativa.
Durham Cathedral dates to the 11th century. See other landmarks from around the northern English city on CNN iReport.
This stunning rock formation stands in Valley of Fire State Park, Nevada's oldest and largest state park.
Steam rises from food stalls in Jemaa el-Fna, a popular outdoor market in Marrakech.
Snow geese migrate over Missouri. "They were impossible to miss based on the sheer quantity," said Bill Tiepelman, who thinks there must have been thousands.
The Milky Way galaxy shines in the sky above the desert outside Abu Dhabi.
A family of cheetahs enjoys the early morning light in Tanzania's Ngorongoro crater.
The sun sets behind Detroit's skyline in this lovely shot from the riverfront. See more images on CNN iReport.
The beautiful beaches of Caramoan have been a favorite of the "Survivor" franchise. Maritess Garcia-Reyes, who shot this photo, describes them as "untouched and serene."
A dusting of snow rests on Jerusalem's Dome of the Rock. See other sites from around the Old City in the snow on CNN iReport.
Snow covers the central highlands region of Afghanistan. Iqbal Ahmad Oruzgani captured this and other stunning views from a plane.
Even in the middle of winter, "a walk on the beach at the national seashore is always something to look forward to," says Marie Sager, who shot this photo. See another view of the dunes on CNN iReport.
In a traditional Chinese method, a fisherman uses a cormorant to catch fish. Learn how man and bird work together on CNN iReport.
On her way to the Black Sea coastal town of Balchik, Bulgaria, Nora de Angelli snapped a collection of photos from this field covered in bright red poppy flowers.
"Auckland is called 'City of Sails' because of the terribly disproportionate number of boats to people," says Roberto Victoriano, a design engineer in Auckland, New Zealand. Auckland is said to have more boats per capita than any other city in the world.
The Indre River runs through Azay-le-Rideau, serving as a natural moat for its chateau.
Ketan Tirodkar captured this photo while feeding the monkeys at sunset in Matheran.
The Mreznica river, known for its many waterfalls, flows through Croatia. See more photos on CNN iReport.
Camels walk through the Gobi Desert. See more photos on CNN iReport.
The Aurora Borealis, or Northern Lights, fill the sky with color above Iceland.
"In Cartagena, I felt like I stepped back in time," said Monika Dudek, who shot this photo. "The buildings are so old, yet many of them are so well preserved. It was a treat just to walk the city's streets."
"This beach is one of the hidden gems of the Big Island of Hawaii," said Jessica Garcia of Wailea Bay. "The water was the most beautiful turquoise I'd ever seen."
Evening light flatters the majestic Omar Ali Saifuddin Mosque. "People were starting to gather around the mosque for evening prayers...It was very humbling," said Christopher Foss, who shot this photo.
Snow and fog blanket Yosemite National Park in this stunning view from the Merced River.