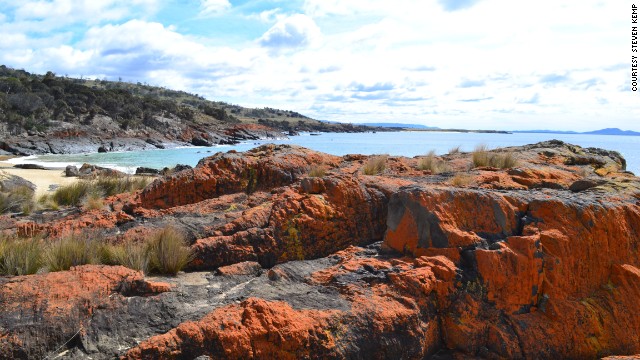 Lichen-tainted rocks at Spikey Beach in Tasmania, Australia, "paint the world in peaceful orange," writes Steven Kemp, a retired air traffic controller. "In a world of turmoil, orange can be meditative."
Each year, the Capitol Christmas Tree is hung with some 5,000 handmade ornaments made mostly by school children in the tree's home state.
Monsoon season in the American Southwest comes with extreme heat, crackling thunder and booming lightning. Photographer Andrew Pielage captured this shot at exactly midnight in Scottsdale, Arizona, on July 12, 2012.
Bright Christmas decor adorns Puerto del Sol, a bustling square in Madrid, Spain.
Independence, reclaimed: After two years of loss and change, Tiffany Cecil took a West Coast holiday by herself. Sand flew in her face as she watched the crashing surf at Point Reyes National Seashore in California. "Even when you feel like your world is crashing down around you, there's still beauty left to be seen and felt."
A serene walk through Battery Park after dinner is the perfect way to end the day, says Julie Schao.
Snow-covered mountains offer a dramatic backdrop to the roads running through Banff, Alberta.
A surfer rides a wave off the coast of San Diego, California.
A horse grazes in front of the ancient Khmer landmark of Angkor Wat in Siem Reap, Cambodia.
The Dome of St. Peter's Basilica offers a stunning view of the Vatican from above. Archaeologist and journalist Irene Fanizza, who lives in Venice, snapped this photo during her annual visit to Rome in January 2014.
Edyta Soriano captured a candid moment in her photo of four nuns peering into the window of a jewelry shop near Plac Zamkowy in Warsaw, Poland.
A red-bellied piranha shows off its razor-sharp teeth after being caught in a shallow lagoon in Peru's Amazon Basin.
The mountains, lakes and glaciers of the Canadian Rockies rival the beauty of New Zealand, says Sameer Rohatgi, who visited Banff National Park in September.
Dancers in General Santos City, Philippines, celebrate the Kalilangan Festival in February 2013. The event shows "the unity of every tribe here in our country," said the photographer, Eli Ritchie Tongo.
After a winter storm in Columbus, Indiana, Adam Aniz Sarbudeen captured this colorful sunset as seen through an icicle.
The Monument Valley Navajo Tribal Park, located on the Arizona-Utah state line, is known for its towering sandstone formations and panoramic views.
Ancient tower-houses peek out from the village of Ushguli in the Upper Svaneti region of the Caucasus in Georgia. The area was designated as a UNESCO World Heritage site in 1996.
Wondrous rock formations fill Luray Caverns in the Shenandoah Valley of Virginia.
Dusk settles over the river Seine in Paris, France, in this HDR shot.
Alicia Kwoka captured this shot in January of pedestrians in the streets of Queens in the midst of a steady snowfall. Kwoka said the peaceful street was a stark contrast to the usually busy New York environment.
The sun rises over the mountains in Davao, Philippines.
Happy Thanksgiving! These ducks sure look like they're enjoying a cranberry bog in Yarmouth, Massachusetts.
Morning sun lights up the Ganges in Varanasi, India.
Namita Azad hiked through misty Machu Picchu, Peru, on a visit back in August. "As the minutes went by, the mist slowly rose and the sun started seeping through, giving it a magical feel," she said.
Be sure to look down as you wander the coast of Malibu, California. Marie Sager says each tidepool holds "a new discovery of little sea creatures."
The morning sun warms the Jatiluwih Rice Terrace in Bali, Indonesia. Mount Agung, the highest point on the island, rests in the background.
The Oude Kerk stands just beyond an icy bridge in Amsterdam. The 800-year-old building was constructed in the early fourteenth century as a Roman Catholic church, but also has Protestant influences in its architecture.
An abandoned ship rests on the shores of the Kamchatka Peninsula in the Russian Far East. The 900 mile-long peninsula is roughly the size of California and is home to a large collection of volcanoes.
The Milky Way twinkles over the Ancient Bristlecone Forest near Big Pine, California. The tree near the center of the photograph is the Great Basin bristlecone pine tree. The oldest known tree of this type is more than 5,000 years old.
A trip to Paris isn't complete without a visit to the Sacre-Coeur Basilica, which -- besides being a beautiful, historic church -- affords stunning vistas of the city of lights.
Ever heard of a snowfield? It's permanent snow that fell in the winter and is thick enough to stick around the rest of the year. During the summer, the melting snow can create a maze of tunnels under the snowfield. This one is near the gates of Yellowstone National Park in Gardiner, Montana.
Colorful bangles fill a street vendor's table in Jaipur, India.
It took photographer Tim Durkan "a lot of prep, hard work, and just plain good luck" to capture the crescent moon behind Seattle's Space Needle in July 2014.
As the sun set around Washington, D.C., Richard Barnhill caught this shot of the Marine Corps War Memorial against the pink fall sky. The Marine Corps War Memorial inscription reads: "In honor and in memory of the men of the United States Marine Corps who have given their lives to their country since November 10, 1775."
Deepak Yalamanchi and his friends were rewarded for their hourlong wait at Mesa Arch in Utah's Canyonlands National Park with this beautiful sunrise. "It filled the place with a brilliant golden hue that was breathtaking!" he said.
Laneda Rose Smith photographed this stunning image of her friend, Patrick, standing on Flattop Mountain in Anchorage, Alaska, at sunset. "Being above the clouds while not in an airplane was one of the most remarkable things I have ever witnessed."
Colorful boats float along a lake at the Summer Palace in Beijing, China. The historic site, which was restored in 1886 after being ravaged by war, is dotted with beautiful gardens, pavilions and temples.
Malaysia's Mount Kinabalu lies within the confines of Kinabalu Park. The region's indigenous Kadazan and Dusun tribes believe spirits dwell on top of its peak.
Fall leaves frame a tunnel at Skyline Drive in Shenandoah National Park. This 105-mile byway makes its way along the Blue Ridge Mountains.
"These are the very best Northern Lights I have seen in my whole life (and I see them very often)," said Francisco Damm, who runs the Tromso, Norway, branch of the Arctic Guide Service.
Jim Heston takes nightly swims at a pool near Cambodia's Mekong River but he's rarely swimming alone. During the hot and dry months of March to May, the insects and bats know to head to the pool. Heston says he doesn't mind the company. "Swimmers will do their laps while the bats feed," he said.
Welcome to Blarney Castle, an Irish landmark near the city of Cork. Visitors from all over the world come to kiss the Blarney Stone, a 200-year-old stone said to give any kisser the gift of eloquence.
It was a cold morning when Jannet Walsh remembers seeing Murdock, Minnesota, farmers starting to harvest their crops in September 2012.
It may look like we've gone back in time to the '70s, but that's Jeremy Nix's VW bus -- called "The Pig" -- in Williams Fork Reservoir, Colorado, a few summers ago. "The reservoir is extremely low due to drought conditions, which gives the whole area that desolate landscape look. It was like we had the entire place to ourselves," he said.
A rhino takes a drink from a pool at Khama Rhino Sanctuary in Serowe, Botswana. The sanctuary's wildlife project aims to save rhinoceroses.
Meet the Australian Aboriginals. At the Currumbin Wild Sanctuary, Jerry Gonzales captured their demonstration on how to create fire, complete with song and dance.
Harrisburg, Pennsylvania might not be the first place that comes to mind when you think of tourist destinations, but it does boast the state's beautiful capitol building, seen here at night.
Colorful boats dock along the banks of Taungthaman Lake near Amarapura, Myanmar. Locals from nearby villages use these boats to commute to work daily.
Nevada's Valley of Fire State Park gets its name from its towering red sandstone formations. Founded in 1935, it's the state's oldest and largest park.
Located in Iceland, Thingvellir National Park receives thousands of visitors per year. The park offers many activities including camping, horseback riding and even diving in its famous waters. Thingvellir's waters are known for its great visibility between tectonic plates.
Snow covered peaks of the Andes Mountain line the Inca Trail that runs through Peru. The 26-mile path offers a unique view of the region's varied landscape, with sights of the forest, jungle and mountain scenery.
The Heidelberg Project is an outdoor art installation in Detroit. The art project is also a nonprofit, working to inspire people to use and appreciate artistic expression around the city.
Mount Fuji, an active volcano, is also Japan's highest mountain. It stands at more than 12,000 feet.
The Tian-Shan, Central Asia's longest system of mountain ranges, is set aglow by the pastel sky draping over Almaty, Kazakhstan.
A canopy of crisp yellow and red leaves shade a lonely road in Harriman State Park. With 200 miles of hiking trails, it is the second largest state park in New York.
A warm sunset settles over the Galle Face Green promenade in the business district of Colombo, Sri Lanka. The ocean-side urban park is a popular destination for residents and tourists.
These birds are called redpolls after the distinctive red marking on their head. Lee Gunderson says they are one of winter's passing joys in Canada.
Waves crash ashore at Point Mugu State Park, located in the Santa Monica Mountains. This California park features typical beach activities like swimming but also offers body surfing and surf fishing.
Stefania Grasso captured this shot of picturesque Fussen, Germany. She described the Bavarian landscape as peaceful, quiet and romantic.
The Lake Superior ice caves were reopened this year for the first time since 2009. Cindy Schultz and her daughter Elizabeth recently made an 8-hour trip just to see the icy sight.
Every autumn, the hills of Aspen, Colorado, turn a beautiful gold. See more photos on CNN iReport.
An artisan creates traditional statues of Hindu gods and goddesses in Kolkata, India. One idol takes 10 to 15 days to be completed.
Joana Maranan described Istanbul's Grand Bazaar as "a rainbow-colored candy heaven." She captured this delectable sight during her honeymoon earlier this year in Turkey.
Incense and candles set the mood at Longshan Temple in Taipei, Taiwan. Walking through the temple "felt as if I traveled back hundreds of years to a time long forgotten," said Jeremy Aerts.
This is what you see from the top of Dante's View at Death Valley National Park in California. Badwater Basin is 282 feet below sea level, making it the lowest point in North America.
The vibrant glow of Pudong, a waterfront area in central Shanghai, reflects against the calm waters of China's Huangpu River. Get to know Shanghai better during the premiere of CNN's "Anthony Bourdain: Parts Unknown" on Sunday, September 28, at 9 p.m. ET.
The colorful Regata Storica takes over Venice's Grand Canal in September 2013. The annual event features a parade of 16th century-style boats with gondoliers in period costume.
Green leaves just starting to color dangle in front of Christ Church Cathedral. The church, located in Dublin, Ireland, is one of the city's two medieval cathedrals.
The Northern Lights, or aurora borealis, put on a fantastic display near Alaska's Bering Strait. Jeremy La Zelle, who traveled Alaska for two months in 2012, used an eight-second exposure to capture this stunning image.
Happy first day of fall! Autumn leaves glow at Nike's headquarters in Beaverton, Oregon. See more gorgeous fall photos from around the U.S.
Those aren't leaves overhead. Sleeping bats hang listlessly from a tree in Tongatapu, Tonga.
One of Scotland's most recognizable icons is majestic Edinburgh Castle. The historic fortress sits on top of volcanic rock, towering over the city of Edinburgh. See more stunning photos of Scotland here.
Fishing boats gently bob in the evening waters of Klong Prao Beach in Koh Chang, Thailand.
A mallard duck waddles through the grass at Toogood Pond in Unionville, Ontario. The pond is home to several types of ducks and Canadian geese.
The San Francisco-Oakland Bay Bridge illuminates the San Francisco Bay in California. Paul Heller, who shot this photo in November 2013, described it as "a beautiful scene."
A baby alligator peers out from the Davis Bayou in Mississippi. "Taking pictures of wildlife by kayak allows you to approach the shot in ways you just can't when on foot," says photographer Mark Caputo.
Skewers of sweet pineapple, tart green grapes, and other colorful arrangements of fruit line a concession stand in Beijing, China.
Every May during Vesak, a holiday that marks Buddha's birthday, Buddhists celebrate with prayers and other events, Uday Sripathi said. Young monks like those pictured here from the Tawang Monastery in Arunachal Pradesh, India, help in the festivities.
A bundle of white flowers blooms in the state of Tlaxcala, Mexico, with the inactive La Malinche volcano looming in the background.
The Kremlin glows against the evening sky in the heart of Moscow. "I completely fell in love with the amazing architecture and the warm and friendly people I met," said Rick Cordsen, who visited Russia in 2011.
At Bolivia's otherworldly salt flats, or Salar de Uyuni, it can be hard to distinguish the ground from the sky. "Out of all of my travels this could be the most amazing place I've ever been," said Neal Piper.