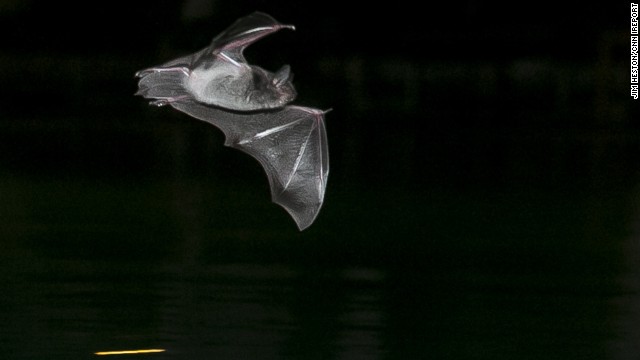 Jim Heston takes nightly swims at a pool near Cambodia's Mekong River but he's rarely swimming alone. During the hot and dry months of March to May, the insects and bats know to head to the pool. Heston says he doesn't mind the company. "Swimmers will do their laps while the bats feed," he said.
Welcome to Blarney Castle, an Irish landmark near the city of Cork. Visitors from all over the world come to kiss the Blarney Stone, a 200-year-old stone said to give any kisser the gift of eloquence.
It was a cold morning when Jannet Walsh remembers seeing Murdock, Minnesota, farmers starting to harvest their crops in September 2012.
It may look like we've gone back in time to the '70s, but that's Jeremy Nix's VW bus -- called "The Pig" -- in Williams Fork Reservoir, Colorado, a few summers ago. "The reservoir is extremely low due to drought conditions, which gives the whole area that desolate landscape look. It was like we had the entire place to ourselves," he said.
A rhino takes a drink from a pool at Khama Rhino Sanctuary in Serowe, Botswana. The sanctuary's wildlife project aims to save rhinoceroses.
Meet the Australian Aboriginals. At the Currumbin Wild Sanctuary, Jerry Gonzales captured their demonstration on how to create fire, complete with song and dance.
Harrisburg, Pennsylvania might not be the first place that comes to mind when you think of tourist destinations, but it does boast the state's beautiful capitol building, seen here at night.
Colorful boats dock along the banks of Taungthaman Lake near Amarapura, Myanmar. Locals from nearby villages use these boats to commute to work daily.
Nevada's Valley of Fire State Park gets its name from its towering red sandstone formations. Founded in 1935, it's the state's oldest and largest park.
Located in Iceland, Thingvellir National Park receives thousands of visitors per year. The park offers many activities including camping, horseback riding and even diving in its famous waters. Thingvellir's waters are known for its great visibility between tectonic plates.
Snow covered peaks of the Andes Mountain line the Inca Trail that runs through Peru. The 26-mile path offers a unique view of the region's varied landscape, with sights of the forest, jungle and mountain scenery.
The Heidelberg Project is an outdoor art installation in Detroit. The art project is also a nonprofit, working to inspire people to use and appreciate artistic expression around the city.
Mount Fuji, an active volcano, is also Japan's highest mountain. It stands at more than 12,000 feet.
The Tian-Shan, Central Asia's longest system of mountain ranges, is set aglow by the pastel sky draping over Almaty, Kazakhstan.
A canopy of crisp yellow and red leaves shade a lonely road in Harriman State Park. With 200 miles of hiking trails, it is the second largest state park in New York.
A warm sunset settles over the Galle Face Green promenade in the business district of Colombo, Sri Lanka. The ocean-side urban park is a popular destination for residents and tourists.
These birds are called redpolls after the distinctive red marking on their head. Lee Gunderson says they are one of winter's passing joys in Canada.
Waves crash ashore at Point Mugu State Park, located in the Santa Monica Mountains. This California park features typical beach activities like swimming but also offers body surfing and surf fishing.
Stefania Grasso captured this shot of picturesque Fussen, Germany. She described the Bavarian landscape as peaceful, quiet and romantic.
The Lake Superior ice caves were reopened this year for the first time since 2009. Cindy Schultz and her daughter Elizabeth recently made an 8-hour trip just to see the icy sight.
Every autumn, the hills of Aspen, Colorado, turn a beautiful gold. See more photos on CNN iReport.
An artisan creates traditional statues of Hindu gods and goddesses in Kolkata, India. One idol takes 10 to 15 days to be completed.
Joana Maranan described Istanbul's Grand Bazaar as "a rainbow-colored candy heaven." She captured this delectable sight during her honeymoon earlier this year in Turkey.
Incense and candles set the mood at Longshan Temple in Taipei, Taiwan. Walking through the temple "felt as if I traveled back hundreds of years to a time long forgotten," said Jeremy Aerts.
This is what you see from the top of Dante's View at Death Valley National Park in California. Badwater Basin is 282 feet below sea level, making it the lowest point in North America.
The vibrant glow of Pudong, a waterfront area in central Shanghai, reflects against the calm waters of China's Huangpu River. Get to know Shanghai better during the premiere of CNN's "Anthony Bourdain: Parts Unknown" on Sunday, September 28, at 9 p.m. ET.
The colorful Regata Storica takes over Venice's Grand Canal in September 2013. The annual event features a parade of 16th century-style boats with gondoliers in period costume.
Green leaves just starting to color dangle in front of Christ Church Cathedral. The church, located in Dublin, Ireland, is one of the city's two medieval cathedrals.
The Northern Lights, or aurora borealis, put on a fantastic display near Alaska's Bering Strait. Jeremy La Zelle, who traveled Alaska for two months in 2012, used an eight-second exposure to capture this stunning image.
Happy first day of fall! Autumn leaves glow at Nike's headquarters in Beaverton, Oregon. See more gorgeous fall photos from around the U.S.
Those aren't leaves overhead. Sleeping bats hang listlessly from a tree in Tongatapu, Tonga.
One of Scotland's most recognizable icons is majestic Edinburgh Castle. The historic fortress sits on top of volcanic rock, towering over the city of Edinburgh. See more stunning photos of Scotland here.
Fishing boats gently bob in the evening waters of Klong Prao Beach in Koh Chang, Thailand.
A mallard duck waddles through the grass at Toogood Pond in Unionville, Ontario. The pond is home to several types of ducks and Canadian geese.
The San Francisco-Oakland Bay Bridge illuminates the San Francisco Bay in California. Paul Heller, who shot this photo in November 2013, described it as "a beautiful scene."
A baby alligator peers out from the Davis Bayou in Mississippi. "Taking pictures of wildlife by kayak allows you to approach the shot in ways you just can't when on foot," says photographer Mark Caputo.
Skewers of sweet pineapple, tart green grapes, and other colorful arrangements of fruit line a concession stand in Beijing, China.
Every May during Vesak, a holiday that marks Buddha's birthday, Buddhists celebrate with prayers and other events, Uday Sripathi said. Young monks like those pictured here from the Tawang Monastery in Arunachal Pradesh, India, help in the festivities.
A bundle of white flowers blooms in the state of Tlaxcala, Mexico, with the inactive La Malinche volcano looming in the background.
The Kremlin glows against the evening sky in the heart of Moscow. "I completely fell in love with the amazing architecture and the warm and friendly people I met," said Rick Cordsen, who visited Russia in 2011.
At Bolivia's otherworldly salt flats, or Salar de Uyuni, it can be hard to distinguish the ground from the sky. "Out of all of my travels this could be the most amazing place I've ever been," said Neal Piper.
A Florence, Italy, street glows at night. Michelle McLemore says Florence has "retained the charm of a city full of history and culture without becoming too much of a tourist trap."
"Just sit back with a cup of hot tea and enjoy the chilly wind and green scenery," says Hema Sekaran of Malaysia's Cameron Highlands. The cool weather makes it a popular escape from the heat in much of the country.
Birds flutter through the bright blue sky above Waterton Lakes National Park in Canada. See more stunning bird photography.
Jutka Emoke Barabas has visited many beaches around the world, but says Hawaii's Waikiki has a "special place" in her heart. "I love the friendly atmosphere, the laid-back lifestyle, the sweet scent of the tropical flowers in the air, the Hawaiian music, the happy laughter of the children and there are always weddings to admire," she said.
A girl retrieves water from a man-made pond at Wat Preah Theat in the Kampong Cham province of Cambodia. Jim Heston photographed many locals in Cambodia between 2003 and 2005 while traveling the country by motorbike.
South African anti-apartheid activist Ruth First is immortalized in this mural by British graffiti artist Ben Slow. First died in 1982, but remains one of the most iconic figures of the country's struggle against the former regime. "Street art, I believe has an especially political manifesto," said Shafiur Rahman, who took this photo in Soweto in 2012.
"The awesome view of this mountain just makes the soul want to relax," said Lee Gunderson, who photographed Mount Rundle during a trip to Banff National Park in Alberta, Canada, in August 2013.
World traveler Kris Dreessen captured this tender moment between two llamas during a visit to Machu Picchu in June. The iconic mountain ruins are a popular destination for tourists.
The towering glaciers of Alaska are "a sight to behold," according to Eric Rossicci, who shot this photo during a 2013 cruise. Most visitors to Alaska's 3.3-million acre Glacier Bay National Park travel by boat.
Hundreds of tourists flock to the ancient city of Angkor Wat in Cambodia each morning to watch the sun rise over its iconic temple.
These traditional mud stick homes with thatched roofs belong to the Omo Borana tribe of southern Ethiopia.
Two turtles relax on a log in the Santa Fe River, which is, confusingly, in Florida. See more photos from the river on CNN iReport.
Even the stunning footage in "The Hobbit" doesn't do justice to the beauty of New Zealand, says Nate Hovee, who shot this photo on the South Island. See more of his beautiful images on CNN iReport.
A setting sun fills the sky with color above the Roue de Paris. See more beautiful photos of the city on CNN iReport.
Children perform at the colorful Kadayawan Festival in Davao City in the Philippines in August 2013. The event, known as the "King of Festivals" for its grandness, celebrates the season's harvest.
A red-tailed hawk hunts rodents in a freshly cut hay field on Whidbey Island in Washington. See more glorious photos of birds here.
A bright sunset sneaks through the wispy clouds hanging over Singapore's Marina Barrage, a dam at the heart of the city that stretches over the mouth of the Marina Channel.
Overgrown chapels, like this upward shot of the "Old Graveyard," are just some of the historic buildings that stud the village of Cloghane, which is located on the Dingle Peninsula in County Kerry, Ireland.
This trio of cheetahs is practically posing for the camera in South Africa's Kruger National Park. "Something in the distance sparked their interest and they all sat up at the same time, allowing me to get this shot," said Tricia Crider. "A safari experience in this exquisite country should be on everyone's bucket list."
Dwayne Bethea experienced this amazing view while riding in an aerial cable car to the top of the Klein Matterhorn Peak located in the Alps of Zermatt, Switzerland. The Klein Matterhorn Aerial Tramway is the highest cable car system in Europe.
Today is National Lighthouse Day. This miniature lighthouse located on Prince Edward Island near Nova Scotia, Canada, once helped guide seamen in the dark of night. See more gorgeous lighthouses here.
The Punakha Dzong in Bhutan features elaborately painted wooden sculptures in bright colors and is surrounded by breathtaking landscapes that come alive in the spring. See more photos here.
The Indus and Zanskar rivers come together in Leh, India, a mountainous region known for its breathtaking views of the Himalayan mountain range.
The White Sands National Monument is a natural wonder located in the heart of the Tularosa Basin in New Mexico. With 275 square miles of white gypsum sand and wavelike dunes, it is the world's largest gypsum dunefield.
Lee Gunderson was chasing wild ponies in Buffalo, Alberta, when he captured this image of them galloping away. Wild ponies still run free throughout various parts of North America.
Mrauk U is a town in the Rakhine State of Myanmar, known for its collection of ancient Buddhist temples. Anne Dirkse photographed the interior of one temple that houses more than 80,000 images of the Buddha.
In the middle of the old-world charm of Valencia, Spain, lies an oasis of modern architecture. The City of Arts and Sciences was inaugurated in 1998 with the opening of the Hemisfèric, a large viewing hall featuring a state-of-the-art IMAX projection system.
Berchtesgaden National Park boasts more than 80 square miles of mountain landscape in the south of Germany near the Austrian border. St. Bartholomew's Church, pictured here, sits on Lake Konigssee and is a major cultural attraction at the park.
The Arthur R. Marshall Loxahatchee National Wildlife Refuge in South Florida comprises more than 145,000 acres of northern Everglades habitat. "It's beautiful here, but full of alligators," said Ricky Cruz, who braved the wetlands with his kayak last summer.
Parul Kapur came across a man and monkey performing in Ueno Park while searching for cherry blossoms in Tokyo, Japan. Kapur said, "The joy and enthusiasm on the man's face was exceptionally contagious, bringing a moment of happiness to every adult and kid in the area."
Los Tres Ojos consists of limestone caves and freshwater lagoons connected by stalactite-filled passages. It is a popular destination for tourist visiting Santo Domingo, Dominican Republic.
The Sanghwangbong peak of the Gayasan Mountain is one of the highest points in Gayasan National Park in South Korea.
Some homes in Amsterdam are famously narrow, like these canal-side houses photographed by Lulis Leal. The trend of narrow homes dates back to a time when the government taxed residents based on the width of their houses.
The Pyramids of Giza include the three ancient pyramids of Menkaure, Khufu, Khafre. Khufu is the largest pyramid on earth and one of the seven wonders of the ancient world. "They have such unique energy," said Edina Papp, who photographed the historic site during a camel ride.
Srinagar is considered the summer capital of Kashmir in India. The region is a popular tourist destination and is known for its gorgeous lakes, historic gardens and beautiful houseboats.
The Asakusa Samba Carnival in Tokyo, Japan, is an annual festival modeled after Rio de Janeiro's Carnival. The festival is held at the end of August each year and has been serving up samba since 1981.
An elephant relaxes in the mud and dirt at the David Sheldrick Wildlife Trust, an elephant orphanage in Nairobi, Kenya. Visitor Edina Papp says that tourists, too, "will be covered with some mud or sand by the end" as the animals play.
The Arch Rock is a famous rock formation just off the coast of Corona del Mar State Beach in California. iReporter Toby Dingle said the feeling of peace and tranquility, "as well as the fury of the ocean's power, came together in perfect harmony" for this shot.
The Sheikh Zayed Grand Mosque in Abu Dhabi, United Emirates, is a testament to Islamic architecture with more than 80 marble domes, 24-carat gilded chandeliers and the world's largest hand-knotted carpet.
The Pintados-Kasdayaan Festival in late June is one of the best festivals in the Philippines, says Filipino photographer Rolan Garcia, who has been covering festivals for years. The cultural and religious celebration in Tacloban City celebrates the body-painting traditions of the ancient tattooed "pintados" warriors.