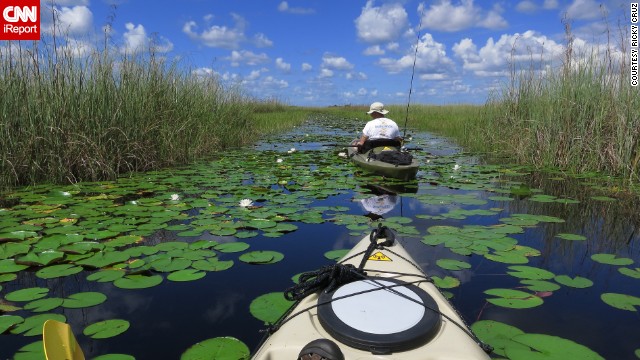 The Arthur R. Marshall Loxahatchee National Wildlife Refuge in South Florida comprises more than 145,000 acres of northern Everglades habitat. "It's beautiful here, but full of alligators," said Ricky Cruz, who braved the wetlands with his kayak last summer.
Parul Kapur came across a man and monkey performing in Ueno Park while searching for cherry blossoms in Tokyo, Japan. Kapur said, "The joy and enthusiasm on the man's face was exceptionally contagious, bringing a moment of happiness to every adult and kid in the area."
Los Tres Ojos consists of limestone caves and freshwater lagoons connected by stalactite-filled passages. It is a popular destination for tourist visiting Santo Domingo, Dominican Republic.
The Sanghwangbong peak of the Gayasan Mountain is one of the highest points in Gayasan National Park in South Korea.
Some homes in Amsterdam are famously narrow, like these canal-side houses photographed by Lulis Leal. The trend of narrow homes dates back to a time when the government taxed residents based on the width of their houses.
The Pyramids of Giza include the three ancient pyramids of Menkaure, Khufu, Khafre. Khufu is the largest pyramid on earth and one of the seven wonders of the ancient world. "They have such unique energy," said Edina Papp, who photographed the historic site during a camel ride.
Srinagar is considered the summer capital of Kashmir in India. The region is a popular tourist destination and is known for its gorgeous lakes, historic gardens and beautiful houseboats.
The Asakusa Samba Carnival in Tokyo, Japan, is an annual festival modeled after Rio de Janeiro's Carnival. The festival is held at the end of August each year and has been serving up samba since 1981.
An elephant relaxes in the mud and dirt at the David Sheldrick Wildlife Trust, an elephant orphanage in Nairobi, Kenya. Visitor Edina Papp says that tourists, too, "will be covered with some mud or sand by the end" as the animals play.
The Arch Rock is a famous rock formation just off the coast of Corona del Mar State Beach in California. iReporter Toby Dingle said the feeling of peace and tranquility, "as well as the fury of the ocean's power, came together in perfect harmony" for this shot.
The Sheikh Zayed Grand Mosque in Abu Dhabi, United Emirates, is a testament to Islamic architecture with more than 80 marble domes, 24-carat gilded chandeliers and the world's largest hand-knotted carpet.
The Pintados-Kasdayaan Festival in late June is one of the best festivals in the Philippines, says Filipino photographer Rolan Garcia, who has been covering festivals for years. The cultural and religious celebration in Tacloban City celebrates the body-painting traditions of the ancient tattooed "pintados" warriors.
The prehistoric caravan city of Petra, Jordan, was once an important crossroad in the Middle East, and was literally carved into the mountain rock that surrounds it. Located between the Red and Dead seas, it's considered one of the world's most famous archaeological sites.
"The Kimberleys are hot, primitive, the way parts of the earth must have looked millions of years ago. No people, just nature," said Craig Smith, who traveled to the Kimberley, a remote region of Western Australia, in April. The region is known for its complex landscapes and wildlife, like this saltwater crocodile.
Abstract animals entertain passersby from an urban art project in the East Williamsburg section of Brooklyn, New York. Artists have been putting up murals like this to revitalize the neighborhood.
Deep caves, natural stone bridges and spontaneous waterfalls await at Wulong Karst Geological Park in Chongqing, China, as seen in this photo by Edina Papp.
Happy Fourth of July! In Seattle, fireworks explode near the Space Needle in 2009.
The ancient Library of Celsus in Ephesus, Turkey, was once one of the largest in the ancient world. "I loved walking through the ancient city and all the ruins, and the feeling of being connected to something so old that had survived and seen so much over the centuries," said Danielle Davis, who visited the site in May 2012.
"I had a smile on my face the entire time as the children jumped in and out, splashing each other and laughing non-stop," said Sarah Lahti, who captured this image outside of Kiwanja, a small town in the Democratic Republic of the Congo.
The summer solstice bonfire known as Slinningsbålet is an old tradition in Ålesund, Norway, in which pallets are stacked over 100 feet high and then set on fire.
On June 30, 150 years ago, President Abraham Lincoln signed the Yosemite Land Grant Bill laying the foundation for the establishment of Yosemite National Park. Today we celebrate this national treasure that boasts 1,200 square miles of pristine land, and hosts 3.7 million visitors each year.
Worshippers at Karachi's Memom mosque in Pakistan perform Tarawih, or extra evening prayers, for the holy Muslim festival of Ramadan in 2013. See more photos on iReport.
Bruges, Belgium "is the perfect combination of medieval architecture, wonderful food and chocolate," said Craig Richardson, a U.S. Naval officer who captured this image in the subdivision of Zeebrugge during a deployment in the Mediterranean.
The Ngorongoro Conservation Area in Ngorongoro, Tanzania, was declared a World Heritage Site by UNESCO in 1979. It remains a safe haven for both humans and wildlife, with more than 3,200 square miles of gorgeous savannas, forests and bushland. You can see more wildlife photos here.
The Upside Down House in Niagara Falls, Ontario, is a dizzying display for tourists seeking an attraction that is out of the ordinary.
Two surfers survey the waves in Desert Point, Lombok, Indonesia. The spot is known for its massive waves and amazing view of Mount Agung, an active volcano and the highest point in Bali.
Considered the heart of Prague for more than 600 years, Old Town Square is a popular historic location in the Czech Republic. The square, which has remained virtually untouched, dates back to the 10th century.
The walls of Kumbhalgarh, a fortress in the Rajsamand district of Rajasthan state in India, extend more than 23 miles. It's believed to be the second longest continuously running wall after the Great Wall of China.
William Helms took this photo at the 2013 World Ice Art Championships in Fairbanks, Alaska. Colorful light is projected onto the intricate ice sculptures to create dazzling works of art.
Ng Ngok Swee took this photo this year during a trip to the Danakil Depression in Northern Ethiopia. The landscape is one of harshest on earth, with wastelands of salt and sweltering temperatures that remain well more than 100 degrees Fahrenheit.
Doug Simonton took this photo during his first trip to Australia this year. The Sydney Opera House is illuminated each night during Vivid Sydney, an annual event filled with lights, music and ideas.
A warm sunset falls on the Red Cliffs of Moab, Utah. Mary Umbricht took this photo while on vacation and says the area is just magical. Visitors can also do some sightseeing at Arches and Canyonlands National Parks, which are nearby.
Eric Esperat was attending the Sto. Niño Festival in Malolos City, Bulacan, Philippines when he took this photo. The festival is held each year on the last Sunday of January to honor the Holy Child.
Ted Perillo snapped this photo in a fishing village on the island of Malta, the largest of the three Maltese islands located in the Mediterranean Sea.
Gyanendra Vardhan photographed this Indian spotted deer, also known as a chital, while visiting the Pench Tiger Reserve in Seoni, India.
Jeff Lloyd knew that he had captured something amazing when he took this photo of the SkyView Ferris Wheel in Atlanta, Georgia. The SkyView is nearly 20 stories high and offers an impressive alternating light show when the sun sets.
Agata Mleczko, like many people, was inspired to travel to New Zealand by the "Lord of the Rings" movies. An avid traveler and blogger from Poland, Mleczko visited the country's South Island in 2013. "It was one of these lifetime journeys that we all dream about but only few pursue," she said.
The moon shines on Ondina Beach in Salvador, the capital of the state of Bahia and known to many as the African heart of Brazil.
Death Valley National Park, which straddles Nevada and California, is the lowest point in North America. Thomas J. Corbett visited in February 2014 and found it "mostly void of life but beautiful in geological colors."
Locals walk with their horses through Vaser Valley in Viseu de Sus, Romania, where the only other way up the mountain is by scenic stream train.
It's already summer in Iceland, where the country has a public holiday in April to mark the season's arrival. The early start date has its origin with the old Norse calendar, which divided the year into only two seasons, winter and summer.
Allison Maykuth couldn't pass up the opportunity to shoot this colorful Ferris wheel from below at a festival in Passau, Germany.
A man follows in the footsteps of a baby elephant on Mai Khao Beach in Phuket, Thailand.
Florida's Everglades National Park covers 1.5 million acres in South Florida and has entrances in three different cities. Venkat Satagopan took this photo of a vibrant sunset reflected in the Pine Glades Lake after hiking the Ahinga Trail near the Homestead entrance.
Prizren is a cultural hub in Kosovo, with Orthodox Christian churches that date back to the 9th century and museums that give visitors a chance to look back at the city's history.
A colorful hot air balloon floats over the city of Leon in the Mexican state of Guanajuato during 2013's International Balloon Festival. Since the festival began in 2002, it has become a large international event.
A sunrise gently illuminates Riva degli Schiavoni, a wide promenade in Venice, Italy. Ted Perillo and his wife visited the city to celebrate their wedding anniversary. "Venice is such a beautiful city with such a close, friendly feeling, we never wanted to leave," the Washington resident said.
How long can they stay like that? Stilt fishermen balance themselves on poles in Colombo, Sri Lanka, at sunset to get their catch.
Gullfoss, or "Golden Waterfall," is one of the most popular tourist destinations in Iceland. It gets its name because on a sunny day the plunging waterfall catches the light and looks golden. "We were fortunate to be there on a sunny day when it sparkled and produced a rainbow," Daniel Friesen said.
Lunch, anyone? Take in the majestic view of Rome's St. Peter's Basilica through a window at this restaurant in Castel Sant'Angelo.
Travel blogger Daniel Moore took this photo of a flaming wooden boat at the King Boat Festival in Donggang, Taiwan. The religious festival happens only once every three years and is thought to rid the town of illness and misfortune.
Billy Ocker photographed this lone deer bathed in sunlight at St. Sebastian River Preserve State Park in Fellsmere, Florida.
The sun rises on Island 67 in the Mississippi River, 17 miles south of Clarksdale, Mississippi. iReporter Neal Moore spent five months paddling the Mississippi in 2009.
Feeling peckish, this rainbow lorikeet helped itself to some cake in Brisbane, Australia. Rainbow lorikeets are "intelligent birds who 'work' the tourists having tea in the local cafe and have a real liking for sweets," Andy Hamilton said.
Marie Sager traveled to Salzburg, Austria, in 2008 where she actually went on a "Sound of Music" tour, visiting the different sites featured in the 1965 film. "The tour guide was singing almost the entire time," she said.
Larry Martino visited the world's southernmost city, Ushuaia, Argentina, while on an Antarctic cruise. "This picture epitomizes the beauty of our planet. Everything we saw was clean and unpolluted by man."
A fisherman casts his line into a lake reflecting the colors of fall in the Cohasset Reservoir of Wompatuck State Park in Hingham, Massachusetts. iReporter Debra Roffo considers herself lucky to live near such a beautiful place.
Doug Simonton remembers the "blistering cold" when he captured the intricate details of the recently renovated Church of Our Savior on Spilled Blood in St. Petersburg, Russia.
When people think of the Bay Area, they think of the great cities like San Francisco, "but there is a surprising amount of wild space" mixed in with the urban areas, says Gary Ashley. He found these goldfields at Edgewood Park in Redwood City, on the peninsula between San Francisco and San Jose. He says citizens have worked hard to preserve the area's wilderness.
Brian Crews says the water at West Bay Beach in Roatan, Honduras, was really that clear "and looked even better in person."
The New Orleans Jazz & Heritage Festival draws music fans from all over, like Judy Glova, who shared this image from 2013. It was her first time visiting the vibrant city, which she said had a true appreciation for music and art.
Every morning in Bungendore, Australia, Steven Kemp and his wife watch the local parrots that descend on the fountain in their front yard to bathe. "Their antics and social hierarchy are a joy to watch," he said.
Mexico City's gay pride parade draws thousands of people each June, like this gathering at the Presidential Palace and the Cathedral of the Americas.
Cadillac Ranch, located just west of Amarillo, Texas, on the south side of Interstate 40, was built by an artist collective in 1974. Motorists stop daily to gawk or spray messages on the 10 half-buried vintage cars.
Molly Lazaron passed the Segovia Cathedral in Spain everyday on her way to class while she was studying abroad. On the day she took this photo, the cathedral "appeared more beautiful than I had ever seen it before," she said.
Some friendly dolphins come up from the water to play in Koh Tapu, Thailand.
When Satpreet Dhillon visited the Grand Canyon in Arizona, she was initially disappointed to see its caverns obscured by a thick blanket of fog. But park rangers say this unique phenomenon happens around once a decade. Once Dhillon discovered how rare this event is, she became more appreciative of her visit, and this photo. Share your best national park photos with CNN iReport.
Sandy Major beautifully captured the street life of Lyon, France.
Judi Raich said visiting Stonehenge in Wiltshire, England, "was a bucket list dream come true." The stone circle was erected around 3000 B.C. and stands as a relic of funeral practices during Britain's Neolitihic and Bronze Age. Stonehenge became a World Heritage Site in 1986.
The Temple of Heaven in Beijing, China, was the site of Heaven worship ceremonies during the Ming and Qing dynasties. The temple is the largest of China's ancient sacrificial buildings and first opened to the public in 1918.
A beautiful double rainbow lights up the clouds over Glacier Point overlook in California's Yosemite National Park. "Yosemite, and Glacier Point specifically, is probably my favorite place in the world," Aaron Keigher said.
The dancing fountains at the Bellagio Hotel in Las Vegas are a free show well worth watching, says Alex Egeland.
Clouds descend on a mountain pass in the French Pyrenees near Cauterets, France. "I had just taken a break in the middle of my hike," Chad Laywell Hampton said. "I was four hours into the hike, and I looked back to see how far I had come."
Praslin is Seychelles' second largest island, and the home of two UNESCO World Heritage sites.
iReporter Wanda Gemson says that roadrunners often hang around outside her home in Yucca Valley, California. "This little one actually hangs out a bit sitting on the wall or rock nearby the patio," she said. The roadrunners she's encountered are actually "quite social."
While the Golden Temple (Gurdwara Hamandir Sahib) in Punjab, India, is the central worship place for Sikhs, Julee Khoo says the smaller Gurdwara Sri Tarn Taran Sahib was just as beautiful. "You're immediately transported into a world of relative peace and tranquility."
Take a look inside Ura Kidane Mihret Monastery in Lake Tana, Ethiopia, where lively paintings of Ethiopian iconography cover the walls. "The liturgical painting style and choice of colors was very similar to what I saw in other churches, but the colors were so vibrant here," Julee Khoo said.
Forward march! Leafcutter ants at the Pacuare Jungle Lodge in San Jose, Costa Rica, soldier on with the weight of these leaves on their backs.
Step inside the ruins of the burg Stari Grad, which overlook the town of Samobor in Croatia. Built in the 13th Century and abandoned in the 19th Century, the burg was once owned by prominent families such as the Babonics. "It was a nice scene. Great place for spending time with your friends far away from the city," Ivan Klindic said.
These sunflowers are making wishes come true at a fundraiser on Buttonwood Farm in Griswold, Connecticut, for the Make-A-Wish Foundation.