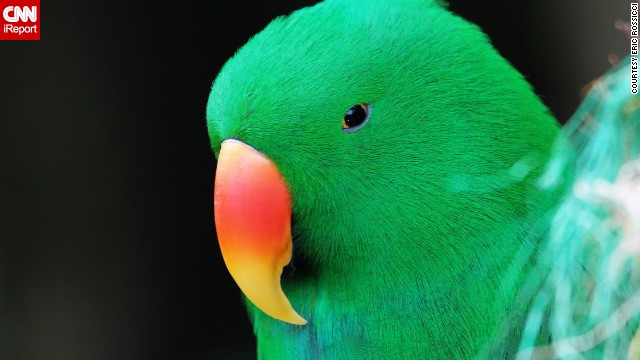 More than 200 exotic birds fly freely inside the Vancouver Bloedel Conservatory, a popular spot inside the city's Queen Elizabeth Park. See more photos on iReport.
Howard Koons visited Siem Reap, home of the ruins of Angkor Wat, in 2004. The ancient ruins are not to be missed, he said, but the real vibrancy of Cambodian life extends beyond the confines of the ancient city. See more of his photos on CNN iReport.
Along the shore of Lake Superior, you can almost hear the the sound of frozen waves crack on the shore as the lake's current breaks up the sheets of ice.
You'll have to crane your neck to study the carvings on the underside of the Arc de Triomphe in Paris, standing 164-feet tall at the center of Place Charles de Gaulle.
Schools of fish swarm the coral and rocks under the sea in Cozumel, an island off the eastern coast of Mexico's Yucatan Peninsula and a mecca for scuba divers. See more photos on iReport.
This elephant-shaped rock in the Ibaraki Prefecture dips its trunk into the sea.
The Orlando Towers draw adventure enthusiasts to Johannesburg's Soweto neighborhood to test their courage on the bungee jump. See more photos of Johannesburg on CNN iReport.
The sun slowly climbs above Dead Horse Point State Park to illuminate the lively colors of the canyon.
Follow this meteor trail through a glowing sky over a lighthouse in Reykjavik, Iceland. See more photos on CNN iReport.
This barred owl sits like a statue of wisdom on a crisp fall day at the World Bird Sanctuary in Valley Park, Missouri.
A barn red building stands out in snow-covered Oulu. See more photos on CNN iReport.
Bath time! Elephants prepare to bathe in a river at Pinnawala Elephant Orphanage. "What struck me the most was how revered this animal is to Sri Lankans," said Julee Khoo. "I can honestly say that these animals are truly well cared for." See more photos of the elephants on CNN iReport.
Sadhana Rajamoorthi captured this photo during a bus tour of the Scottish Highlands. "As I sat on the bus trying to capture as much as I could on camera, this spot of the Highlands forced me to pause," she said. "I was mesmerized by its unreal grandeur."
The soft hues of the Painted Hills in Oregon are as picturesque as a watercolor painting. Gary Piazza photographed the mountains from a designated trail. "The soil is very fragile and will degrade and erode if humans were to gain access," he said.
The moon glows above Cordoba's alcazar, or castle. Lynda Hanwella says Cordoba was a highlight of her trip to Spain and Portugal. See more of her photos on CNN iReport.
Keith Hajovsky had been hearing about how beautiful Panama was for 10 years before he got the chance to go. He says the "green and lush" countryside did not disappoint. See more photos on CNN iReport.
The Milky Way provides a stunning backdrop to the famed Mobius Arch in California's Alabama Hills.
Boats line the coast of Trogir. "It's not hard to understand why [Croatia has] become such a popular place to travel," said Julee Khoo. "Every place oozes quaint charm -- lots of cobblestone streets and stone buildings with terracotta tile roofs." See more photos on CNN iReport.
An egret takes flight in Texas. Robert Richardson says it's one of the best photos he's ever taken.
Active volcano Batu Tara sits in the middle of the Flores Sea in Indonesia. "Lava bombs rolled down to the sea and splashed in the water," said Marc Szeglat, a videographer who specializes in volcanoes.
"I have never seen the mountains so beautiful," said Lee Gunderson, who's lived in Canada his entire life. "Sometimes nature can bring absolute wonder."
The Geminid meteor shower puts on a spectacular display in the skies above a windmill in Buckinghamshire. See more photos on CNN iReport.
Manila residents and tourists alike celebrate Chinese New Year on January 31. See more photos on CNN iReport.
The colorful Wat Machimmaram, a Buddhist temple, features the largest sitting Buddha statue in Southeast Asia. See more photos on CNN iReport.
This fairy tale castle is the National Palace of Pena, located just outside Lisbon. "It is quite a stunning site that offers commanding views of the Atlantic coast, Lisbon and the Tagus River," said Scott Isom. "There are also lovely botanical gardens and nature trails running through the grounds."
A lightning storm provides a dramatic backdrop for Seattle's unique skyline.
A Capuchin monkey enjoys a slice of watermelon. "They are amazingly fun to watch in their own environment, jumping from branch to branch and playing with each other. You could literally watch them for hours," said Mark Kreindel, who captured this portrait.
Glacier Bay is a highlight of many Alaskan cruises. "Thankfully, they only let a few ships into the bay each day, so you feel like your ship is the only one there, nothing disturbing the scenery," said Jim Koupas, who captured this image during a 10-day cruise.
Shangri-La is a largely Tibetan area of China that used to be called Zhongdian. It adopted the new name in 2001, after the fictional region in James Hilton's 1933 novel "Lost Horizon." See more photos on CNN iReport.
A cardinal perches on ice-covered branches in Virginia, where it's the official state bird. See his mate and other birds on CNN iReport.
Palais de l'Isle sits in the middle of the Thiou canal. "Annecy has a storybook feel with a beautiful lake, historical buildings and canals," said Arturo Paulino.
Hindus wash in the Ganges river during morning prayers. Read more about the ritual on CNN iReport.
It looks like something from another world, but Blue Lagoon is a warm pool in Iceland that was accidentally formed by a geothermal power plant in 1976. People have been bathing in it ever since.
Icicles cover a sculpture of a dancer in Tulsa's Municipal Rose Garden. "I thought the beauty of the sculptures was only enhanced by the ice," said Clayton Riddell. See more of his photos on CNN iReport.
A lion prowls Londolozi Game Reserve. Kristine Dong says visiting the reserve was "the happiest I'd ever been in my life." See more of her photos, including shots of zebras, birds and a rhinoceros, on CNN iReport.
A vibrant sun disappears behind palm trees on Hawaii's island of Oahu.
Members of an Ethiopian Orthodox church participate in services in Jerusalem. See more photos on CNN iReport.
Steam from an industrial building mixes with the clouds over Mt. Storm, West Virginia. See more photos of the snowy state on CNN iReport.
The Eagle's Nest -- Hitler's rarely used mountain retreat during World War II -- is now a restaurant with spectacular views of the Bavarian Alps.
Two elk stand guard outside a Colorado laundromat. "The elk were very calm," said Darrell Spangler, one of several people who stopped to take a photo. "They stayed in this spot for most of the day, finally heading off into the field at sunset."
Feeling the winter chill today? Warm up by imagining yourself on the sandy beaches of the Riviera Maya.
Mount Mayon is the Philippines' most active volcano. The peak is known for its symmetrical shape. See more photos on CNN iReport.
"Sedona was beautiful with a dusting of snow and the sunlight peeking through the clouds," said Michael Taylor, who captured this photo.
Vibrant blue icebergs wash up on black volcanic sand beaches in the glacial lagoon of Jokulsarlon. See more photos on CNN iReport.
Happy New Year! Fireworks shoot from Sydney Harbour Bridge at midnight. See more spectacular photos on CNN iReport.
The Empire State Building peeks out from under Manhattan Bridge in this shot from Brooklyn. See more photos from around New York on CNN iReport.
A friendly sight in winter: Trumpeter swans spotted in a Minnesota corn field.
A beautiful evening in the small village of Rajince, near Presevo, Serbia. Self-taught Albanian photographer Adrian Limani captured this forced-perspective photo.
Athicha Siripatcharotorn captured this stunning image of Canada's snow-covered mountains from a gondola ride in Whistler.
A barking owl stares into the camera. Jerry Gonzales says he was "captivated" by the bird's huge, yellow eyes.
Photography student Timothy O'Meara set out to capture a unique perspective of the frigid storm that left his area of Plano, Texas, covered in ice and snow -- including the Christmas lights.
Thousands of flawless seashells washed up on Waihi Beach, New Zealand, one brisk winter morning. "I was like a kid in candy shop," said Cindy Schultz, who was there visiting her daughter in July 2011.
Tourists were nowhere in sight when John Vogel visited Muang Tum, an 11th century Khmer temple in eastern Thailand, close to the Cambodian border. He found it a "peaceful and serene" setting.
"Each time we visit that place, we feel like coming back again," says Ranjit Laxman, who took a holiday in Suntikoppa, a small town in southwestern India. "One can feel the fresh air and serenity when you enter the coffee estates. The chirping of birds and mist adds to the beauty."
Tourists and locals alike enjoy the Christmas market in Stockholm's Old Town. Visitors can buy handmade crafts and shop for all kinds of meat and cheese -- or just enjoy a mug of glogg, the traditional mulled wine of Christmastime.
Dan Friesen hiked Italy's Val Gardena for three hours and saw more animals than people, including this grazing cow with its "bell tinkling, of course." See more images of animals in the gorgeous mountains on CNN iReport.
Warm autumn colors surround Virginia's Burke Lake. See more photos on CNN iReport.
Trevor Murphy captured this photo of friend Randy Townsend while the pair were in Costa Rica "to escape the harsh winter in the Northeast."
Seema Asthana waited all day to spot an antelope at Antelope Island State Park. She eventually captured this image from her car on the way out -- although it turned out to be a deer!
If you ever visit Singapore, says Gregorius Suharsono, "don't just stay around the city center because you will only ever see typical 'postcard' scenes." See more photos from around the city on CNN iReport.
Teams from around the world participate in a medieval martial arts tournament held in the walled city of Aigues-Mortes. Find out more on CNN iReport.
Brilliant yellow leaves glow near the Vietnam Veterans Memorial on the National Mall.
A polar bear swims in the open waters of Canada's Repulse Bay. Douglas Kahle captured this underwater image by hanging off the back of a boat -- in a very thick wetsuit, of course.
Row after row of cluster amaryllis bloom during fall in Kyoto.
Majestic ancient ruins crowd Luxor, Egypt. See more photos on CNN iReport.
The lights of the aurora borealis shine bright in this 2012 photo by Tina Ball, who stayed out in the snow for almost four hours "watching the sky dance."
Military armaments are juxtaposed with Reykjavik's idyllic scenery as Navy ships from five countries practiced exercises with the Icelandic Coast Guard. See more photos on CNN iReport.
Tea plants cover a mountainside in China's Fujian province. Vladimir Hrubsa captured this photo while traveling through China on a quest to find the perfect cup of tea. Read more about his journey and see additional photos on CNN iReport.
Since moving to Montana in 2003, Stephan Ferry has spent almost every birthday inside the boundaries of Glacier National Park. "I really wish there were some camera that could relay feelings because the place is totally magical," he said.
A tiger rests amongst the brush in Ranthambore National Park. The park is famous for its free-roaming diurnal tigers. This one "crossed the trail ... and settled down in a puddle located in the brush. I had to steady myself because of the adrenaline rush," said Nikhil Kikkeri, who shot this photo.