STORY HIGHLIGHTS
Edwards says he's "grateful for all my children," including "my precious Quinn"
Jurors acquited Edwards of one count and deadlocked on five more
Prosecutors had alleged he used campaign funds to conceal his mistress
Defense attorneys argued that Edwards was guilty of nothing but being a bad husband
Greensboro, North Carolina (CNN) -- Two-time Democratic presidential hopeful John Edwards took responsibility for "my sins," including an affair that resulted in a "precious" daughter, after his federal corruption case ended in an acquittal and mistrial Thursday.
Prosecutors had accused the onetime North Carolina senator of using nearly $1 million in illegal campaign contributions to keep his pregnant mistress under wraps as he ran for president in 2008. But after more than 50 hours of deliberations over nine days, jurors cleared him of one of six counts and deadlocked on the rest.
Emerging from the courthouse with his parents and daughter Cate at his side, he said that while he never believed he committed a crime, "I did an awful, awful lot that was wrong, and there is no one else responsible for my sins."
"None of the people who came to court and testified are responsible. Nobody working for the government is responsible," he said. "I am responsible, and if I want to find the person who should be held accountable for my sins, honestly, I don't have to go any further than the mirror."
Opinion: Edwards jury got it exactly right
He thanked his family for supporting him, adding that "I'm grateful for all my children" -- including Cate, who sat through the trial with him, 12-year-old Jack, 14-year-old Emma and the 4-year-old girl from his affair, whom he called "my precious Quinn, who I love more than any of you can ever imagine."
Edwards had denied that he was the girl's father for more than a year, saying the affair was over before his onetime mistress, Rielle Hunter, became pregnant.
Once a cheater always a cheater?
Jurors emerged Thursday afternoon to announce they had reached a decision on the one count, but none of the others. U.S. District Judge Catherine Eagles ordered them back into the jury room to continue deliberating, but declared a mistrial after they returned less than an hour later to announce the deadlock.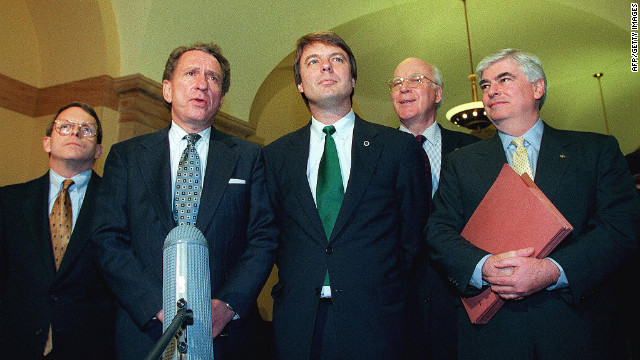 U.S. Sen. John Edwards, center, and other senators discuss President Bill Clinton's impeachment trial on February 3, 1999. More than a year later, Vice President Al Gore reportedly put Edwards on his "short list" as a running mate on the 2000 Democratic presidential ticket (before picking Joe Lieberman).
Sen. Edward Kennedy of Massachusetts and Edwards at a news briefing in Kennedy's office in 2001.
In 2004, Democratic vice presidential candidate Edwards speaks in Fort Lauderdale, Florida.
Sen. John Kerry, the 2004 Democratic presidential candidate, greets his running mate, Edwards, at the Democratic National Convention in Boston.
Edwards appears on "The Tonight Show With Jay Leno" in October 2004.
A month later, the candidate for vice president speaks at an Election Night campaign rally in Boston.
Edwards' wife, Elizabeth, meets with children after a town-hall gathering in Iowa in 2007. She passed away in 2010 from breast cancer after separating from Edwards.
In September 2007, Edwards attends a Democratic presidential debate in Hanover, New Hampshire.
During his "poverty tour," Democratic presidential candidate Edwards toured eight states. Here he speaks in Pittsburgh in July 2007.
Edwards campaigns for the Democratic presidential nomination in Waterloo, Iowa, in December 2007.
Speaking to Iowans during a New Year's Day 2008 campaign event, Edwards tries to earn votes for the upcoming Iowa caucuses.
Edwards greets supporters in New Hampshire in January 2008.
Presidential hopefuls Hillary Clinton, Edwards and Barack Obama point to supporters and family members in the audience after a debate in New Hampshire in January 2008.
Days before South Carolina's 2008 Democratic primary, Edwards speaks to the press in Bennettsville.
Edwards, who bowed out of the presidential race, speaks to the media with his family -- Cate, left, Emma Claire, Jack and his wife, Elizabeth -- in New Orleans in late January 2008.
Edwards endorsed Barack Obama after Hillary Clinton won the West Viriginia primary.
Rielle Hunter, Edwards' former mistress, holds their daughter, Frances Quinn Hunter, in August 2009. Prosecutors accused Edwards of using nearly $1 million in illegal campaign contributions to keep his pregnant mistress under wraps as he ran for president in 2008. Defense attorneys argued the donations could not be considered campaign contributions. They said Edwards was guilty of being a bad husband but had committed no crime.
Former Edwards aide Andrew Young and his wife, Cheri, listen during a 2010 hearing in North Carolina. Defense attorneys argued that Young used the money for his own gain and to pay for Hunter's medical expenses to hide the affair from Edwards' wife.
Edwards and two of his children, Emma Claire and Jack, leave the funeral service for Elizabeth Edwards, who died at 61 after a six-year battle with breast cancer in December 2010.
Edwards' mug shot was released after the former presidential candidate pleaded not guilty in June 2011 to charges of accepting illegal campaign contributions, falsifying documents and conspiracy.
Edwards enters a Greensboro, North Carolina, courthouse for his federal corruption trial with daughter Cate on May 21, 2012.
Edwards addresses the media after his acquittal and mistrial, with his daughter Cate and his parents Wallace and Bobbie Edwards at his side, outside the Greensboro courthouse on Thursday, May 31, 2012. After nine days of deliberation, a jury acquitted Edwards on one count but deadlocked on five other counts in his corruption trial. It's unclear what the Justice Department will do next, but Edwards says his years of service aren't over.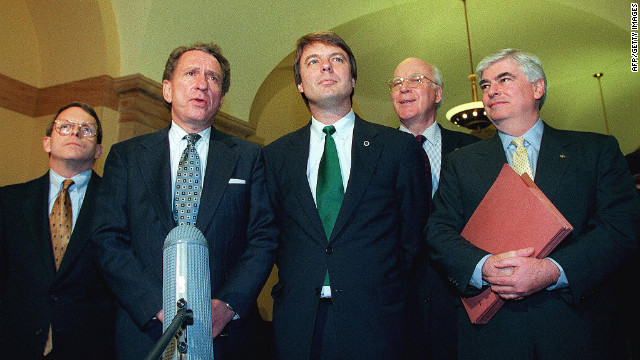 Photos: The rise and fall of John Edwards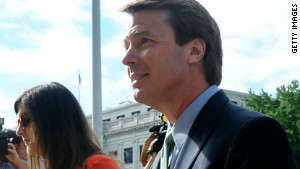 Toobin: 'What a weird case'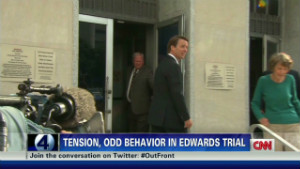 Odd behavior in Edwards trial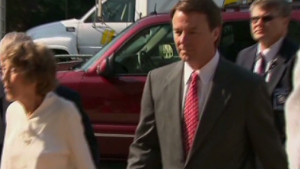 John Edwards' jury coordinates outfits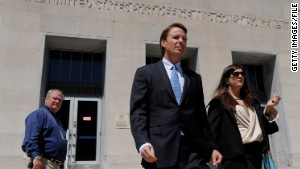 The rise and fall of John Edwards
The result leaves prosecutors to decide whether to re-try Edwards. There was no immediate comment from the Justice Department, which prosecuted the case.
Edwards had been charged with four counts of accepting illegal campaign contributions, one count of falsifying documents and one of conspiring to receive and conceal the contributions. The charges could have carried a maximum sentence of 30 years in prison and a $1.5 million fine.
"This was a win for John Edwards, and there will be a lot of questions about why this case was brought," CNN legal analyst Jeffrey Toobin said after the announcement.
Edwards ran for president in 2004, when he ended up as the Democrats' nominee for vice president, and again in 2008. His attorneys argued he was guilty of being a bad husband to his wife, Elizabeth, who died in 2010, but had committed no crime.
They also argued that former Edwards aide Andrew Young, the government's star witness, used the contributions for his own gain and to pay for Hunter's medical expenses to hide the affair from Edwards' wife.
Neither Edwards, Hunter nor either of the two donors whose funds were in question testified during the trial. Fred Baron died in 2008, while Rachel "Bunny" Mellon -- who gave Edwards the bulk of the money -- is now 101.
More details about the charges
Jurors last week asked to review all the exhibits, indicating they were in it for the long haul.
Prosecutors said Edwards "knowingly and willingly" took the money from Baron and Mellon to keep Hunter out of the public eye, then concealed the donations by filing false and misleading campaign disclosure reports.
The affair occurred as Edwards was gearing up for a second White House bid in 2008, and he knew his political ambitions depended on keeping his affair with Hunter a secret, Assistant U.S. Attorney Robert Higdon told jurors in closing arguments.
"There is no question it would destroy the campaign of John Edwards," Higdon said.
Everything you need to know about John Edwards
Prosecutors argued that Edwards knowingly violated campaign finance laws by accepting the large contributions from Mellon and Baron that went to support Hunter. Edwards "knew these rules well," Higdon said, and should have known that the contributions violated campaign finance laws.
Edwards accepted $725,000 from Mellon and more than $200,000 from Baron, prosecutors said. The money was used to pay for Hunter's living and medical expenses, travel and other costs to keep her out of sight while Edwards made his White House run, prosecutors say.
Defense attorneys argued the donations could not be considered campaign contributions.
Prosecutors said Edwards manipulated Young and others to help keep his affair out of public view. Young testified that he allowed Hunter to move in with him and his wife at Edwards' request after newspapers began looking into a possible affair within the Edwards campaign.
Young initially claimed to be the father of Hunter's baby girl and testified that Mellon was already funding Hunter's living expenses when he called Baron to complain about the situation. Baron offered to help out, telling Young to write up Hunter's expenses so Baron could reimburse them, the aide testified.
Neither Baron nor Mellon appeared to know that the other was reimbursing Young for the same expenses, raising questions about whether and how much Young may have profited from the situation. Young acknowledged during the trial that he had used some donations for his own personal benefit, including paying for the construction of a home.
Why politicians lie and why we want to believe them
Another former Edwards aide, speechwriter Wendy Button, testified that Edwards knew Baron was supporting Hunter and her child in 2009. Defense lawyer Abbe Lowell urged jurors to focus on Young's role in the case, saying he was a biased and unreliable witness with a financial and legal interest in the outcome.
"There is nothing he won't lie about, nothing," Lowell said.
Young, the author of a tell-all book about the Edwards scandal, testified under an agreement with the government in hopes that he will not be prosecuted. Prosecutors agreed that Young made several mistakes over the years, including keeping some of the money, failing to confront Edwards earlier about his behavior and falsely claiming paternity for Edwards' child with Hunter.
But David Harbach of the U.S. Justice Department's public integrity section told jurors in a rebuttal argument that Lowell was merely trying to distract jurors from focusing on the charges against Edwards.
"The defense is overplaying their hand," Harbach said.
CNN's Joe Johns, Ted Metzger and Adam Reiss contributed to this report.