Election notebook: 'I do my own thing'
updated 10:22 AM EDT, Wed May 30, 2012
STORY HIGHLIGHTS
CNN's Juan Carlos Lopez is traveling the country focusing on Latinos and the election
In San Antonio, he met John De Shazo at the Alamo
De Shazo can't vote this year because of a criminal record
Editor's note: CNN Español anchor and correspondent Juan Carlos Lopez is on the CNN Election Express this week, traveling through several states, taking an in-depth look Latino voters and how their vote will influence the November elections. Here is a look at one of the people he met along the way:
San Antonio (CNN) -- John De Shazo is 74 and lives in San Antonio. He spends his days near the Alamo, watching people go by, talking with friends and enjoying the city life.
John can't vote -- we'll get to that later -- but he says sometimes he is glad he doesn't because "I see the policies and all the brick wall and the whitewash that they run on you." The "they" he refers to are politicians.
Instead, John prefers to talk about the Spurs. He marvels when he tells me how he saw Shaquille O'Neal at a store recently. Of course, he is following the NBA finals closely.
John has witnessed the growth of San Antonio, where he was born. He admires the economic growth and the constant flow of tourists. A lot has changed in three-quarters of a century.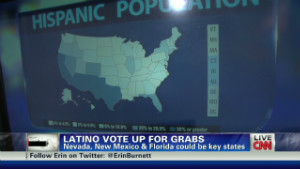 Courting the Latino vote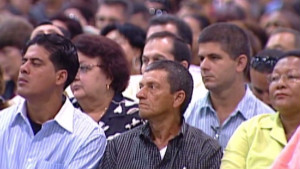 Latino vote may decide 2012 election
John lives by himself, but doesn't like to stay at home. So he has a daily routine. He spends eight or nine hours outside, weather permitting.
His philosophy on life is simple: "I don't bother nobody, I don't want to bother anyone. I just want to live my life until it's time for me to go and that's it. I don't have no grudge on nobody. I do my own thing and if they want to do whatever they want to do that's their own problem, not mine."
But back to why John De Shazo can't vote.
John is a convicted felon. He is no longer allowed to vote.
In 1976, he was arrested for sending threatening letters to politicians -- including Sen. Robert Dole, Vice President Walter Mondale, George H.W. Bush and San Antonio Mayor Henry Cisneros -- and lost his right to vote. But back then, he claimed that he never intended to hurt anyone. He just wanted to get some psychiatric help.
Still, he will watch the election this year on the sidelines. For that, he only blames himself.

Part of complete coverage on
In Depth: Latino voters

A new poll finds Latino voters don't think the Republican Party has done a good job reaching out to minorities and the Democratic Party cares more about people like them.

Eva Longoria is considered one of the most politically involved celebrities in this election cycle. She has been politically active since high school.

President Barack Obama's decision to allow some young undocumented immigrants to defer deportation is likely why the president enjoys support from the key voting demographic.

Forty years ago, Balbino and Rosario Guevara didn't vote. They were living in El Salvador. And they were simply afraid.

Not surprisingly, Latinos nationwide put the economy as their top priority in a CNN/ORC International poll. But there's a hiccup. And it's a big one called immigration.
updated 3:44 PM EDT, Tue October 2, 2012

A Pennsylvania judge ruled that state officials cannot enforce a new voter identification law in next month's presidential election.
updated 10:40 AM EDT, Tue October 2, 2012

Normally, you might think that a controversy over whether the Kennedy Center is overlooking the contributions of Latino artists, actors and musicians would be a real sleeper.
updated 8:16 AM EDT, Fri June 1, 2012

For anyone who wants to make a serious play for the Latino vote -- and not just go through the motions -- here's what you need to know: Latinos are single-issue voters.
updated 10:14 AM EDT, Thu May 31, 2012

There is no doubt that Latinos are a growing political force. Latinos are turning places such as North Carolina into new battleground states while remaining critical in others.
updated 3:10 PM EDT, Wed May 30, 2012

CNN Miguel Marquez reports on Obama and Romney courting the Latino vote in the battleground state of Colorado.
updated 1:05 PM EDT, Tue May 29, 2012

Political parties are closely looking at Latino voting trends in swing states. CNN's Rafael Romo reports.