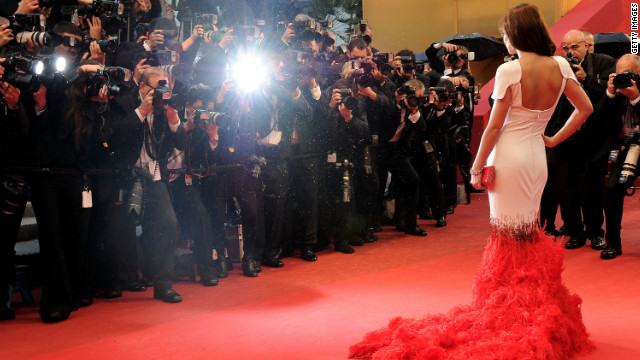 Singer Cheryl Cole walks the red carpet at the Cannes Film Festival on Sunday, May 20. The annual event runs from May 16 to May 27.
Workers set up a giant poster featuring Marilyn Monroe blowing out a birthday candle on May 13.
British actor Sacha Baron Cohen dresses in character as Adm. Gen. Aladeen during a photocall to promote his film "The Dictator."
Bill Murray poses with a miniature camera at the photocall for "Moonrise Kingdom" on Wednesday, May 16. The latest film from director Wes Anderson served as this year's curtain raiser.
Jane Fonda attends the "Moonrise Kingdom" premiere. At 74, the actress wowed the crowds in a stunning Versace gown.
Bruce Willis attends the opening ceremony on Wednesday. The actor is a Cannes jury member.
Filmmaker Roman Polanski makes an appearance at Cannes. In a new documentary, he apologizes to the woman he unlawfully had sex with when she was 13.
An assistant helps actress Eva Longoria with her dress on the red carpet on Wednesday.
Sean Penn arrives for the screening of "Reality" on Friday, May 18. The Italian film was directed by Matteo Garrone.
Actress Jessica Chastain attends the screening of "Madagascar 3: Europe's Most Wanted." She does the voice of Gia the Jaguar.
Ben Stiller and Chris Rock also voice characters in "Madagascar 3."
British actress Naomi Watts hits the red carpet ahead of the "Madagascar 3" premiere on Friday.
Robert De Niro and his wife, Grace Hightower, attend the "Once Upon A Time in America" screening. De Niro plays an ex-gangster in the restored 1984 classic Italian film.
Guests arrive at Cannes during heavy rain on Sunday.
Model Natasha Poly attends the "Madagascar 3" premiere.
Rapper-producer Sean "Diddy" Combs attends the screening of "Lawless" on Saturday, May 19.
"Lawless" is a Western crime film starring Shia LaBeouf, left, and Tom Hardy. The screenplay was written by singer-songwriter Nick Cave.
British musician and actor Pete Doherty poses during the photocall for the French film "Confession of a Child of the Century."
Chinese model Fan Bingbing waves from the red carpet ahead of the opening ceremony on May 16.
A worker closes a door at the Marche du Film market on the sidelines of the Cannes film festival on Sunday.
Nicole Kidman and her husband Keith Urban leave after the screening of "The Paperboy" on Thursday, May 24.
Model Heidi Klumarrives for the screening of "The Paperboy" at Cannes on Thursday.
Guests arrive at the "Hemingway & Gellhorn" premier on Friday, May 25.
Paul Giamatti attends the press conference for "Cosmopolis."
Aishwarya Rai walks the red carpet for the screening of "Cosmopolis."
British actor Robert Pattinson signs autographs and poses for photos with fans prior to the screening of "Cosmopolis" on Saturday.
Matthew McConaughey poses for the "Mud" photocall on Saturday in Cannes.
Actress Reese Witherspoon speaks at the "Mud" press conference.
65th annual Cannes Film Festival
65th annual Cannes Film Festival
65th annual Cannes Film Festival
65th annual Cannes Film Festival
65th annual Cannes Film Festival
65th annual Cannes Film Festival
65th annual Cannes Film Festival
65th annual Cannes Film Festival
65th annual Cannes Film Festival
65th annual Cannes Film Festival
65th annual Cannes Film Festival
65th annual Cannes Film Festival
65th annual Cannes Film Festival
65th annual Cannes Film Festival
65th annual Cannes Film Festival
65th annual Cannes Film Festival
65th annual Cannes Film Festival
65th annual Cannes Film Festival
65th annual Cannes Film Festival
65th annual Cannes Film Festival
65th annual Cannes Film Festival
65th annual Cannes Film Festival
65th annual Cannes Film Festival
65th annual Cannes Film Festival
65th annual Cannes Film Festival
65th annual Cannes Film Festival
65th annual Cannes Film Festival
65th annual Cannes Film Festival