What are the charges against John Edwards?
updated 5:25 PM EDT, Thu May 31, 2012
STORY HIGHLIGHTS
A jury in Greensboro, North Carolina, is deliberating six counts against Edwards
Allegations are that he accepted illegal contributions and falsified documents
Also prosecutors contend that he conspired to receive and conceal the contributions
Edwards is a former U.S. senator from North Carolina and former presidential candidate
(CNN) -- The jury in the trial of former Democratic presidential candidate John Edwards is deliberating six counts stemming from allegations that he accepted illegal campaign contributions, falsified documents and conspired to receive and conceal the contributions. The maximum sentence if convicted on all six counts would be 30 years in prison and a $1.5 million fine.
Here is a breakdown of the charges against Edwards: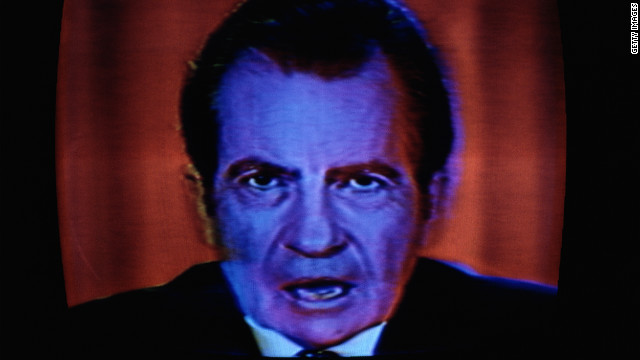 Richard Nixon, who resigned as president after the Watergate scandal, famously said during a 1973 press conference: "In all of my years in public life, I have never obstructed justice. ... People have got to know whether or not their president is a crook. Well, I'm not a crook."
Bill Clinton, who was impeached in 1998 and then acquitted by the Senate, narrowly denied having "sexual relations with that woman," former intern Monica Lewinsky.
After being confronted with allegations of a mistress and child, John Edwards, the one-time presidential hopeful told The National Enquirer: "The story is false. It's completely untrue, ridiculous."
Then-Rep. Anthony Weiner, D-New York, who got caught up in a Twitter photo scandal, told CNN's Wolf Blitzer: "I had no idea what happened that night. ... Sometimes a prank is a prank."
Eric Massa, the former congressman from New York who resigned facing an investigation over allegations of inappropriate conduct with male staffers, first said he didn't grope staffers but had been involved in a "tickle party." Later he told CNN's Larry King, "No, it is not true. Period. I don't know how else to answer your question."
Rod Blagojevich, the one-time Illinois governor who was convicted of political corruption charges, left, denied he tried to sell a vacant U.S. Senate seat once held by Barack Obama: "I will fight until I take my last breath. I have done nothing wrong."
Former Rep. William Jefferson, a Louisiana Democrat, was convicted of corruption charges after the FBI found $90,000 in his freezer. "The $90,000 was the FBI's money," he said.
Edwin Edwards is a former Louisiana governor who served nine years after being convicted of 17 counts of fraud and corruption. "I did not do anything wrong as a governor," he once said. Edwards announced in March 2014 that he would run for the House seat in Louisiana's 6th Congressional District.
Kwame Kilpatrick is the former Detroit mayor who pleaded guilty to obstruction of justice after investigators showed text messages between him and his mistress involving sex that he said never happened. In response to her text about whether he missed her sexually, he replied: "Hell yeah! You couldn't tell. I want some more." In October 2013, Kilpatrick was sentenced to 28 years in prison after his conviction on two dozen federal charges, including racketeering, extortion and the filing of false tax returns.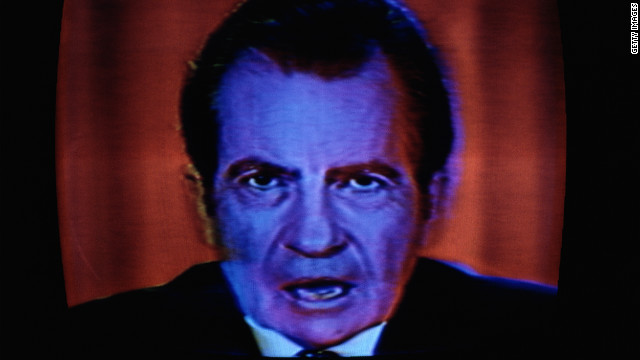 Photos: Political lies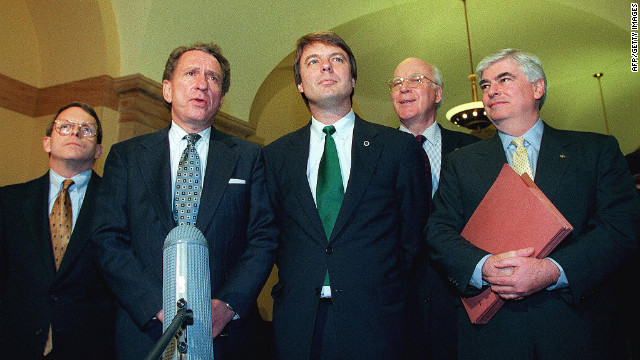 U.S. Sen. John Edwards, center, and other senators discuss President Bill Clinton's impeachment trial on February 3, 1999. More than a year later, Vice President Al Gore reportedly put Edwards on his "short list" as a running mate on the 2000 Democratic presidential ticket (before picking Joe Lieberman).
Sen. Edward Kennedy of Massachusetts and Edwards at a news briefing in Kennedy's office in 2001.
In 2004, Democratic vice presidential candidate Edwards speaks in Fort Lauderdale, Florida.
Sen. John Kerry, the 2004 Democratic presidential candidate, greets his running mate, Edwards, at the Democratic National Convention in Boston.
Edwards appears on "The Tonight Show With Jay Leno" in October 2004.
A month later, the candidate for vice president speaks at an Election Night campaign rally in Boston.
Edwards' wife, Elizabeth, meets with children after a town-hall gathering in Iowa in 2007. She passed away in 2010 from breast cancer after separating from Edwards.
In September 2007, Edwards attends a Democratic presidential debate in Hanover, New Hampshire.
During his "poverty tour," Democratic presidential candidate Edwards toured eight states. Here he speaks in Pittsburgh in July 2007.
Edwards campaigns for the Democratic presidential nomination in Waterloo, Iowa, in December 2007.
Speaking to Iowans during a New Year's Day 2008 campaign event, Edwards tries to earn votes for the upcoming Iowa caucuses.
Edwards greets supporters in New Hampshire in January 2008.
Presidential hopefuls Hillary Clinton, Edwards and Barack Obama point to supporters and family members in the audience after a debate in New Hampshire in January 2008.
Days before South Carolina's 2008 Democratic primary, Edwards speaks to the press in Bennettsville.
Edwards, who bowed out of the presidential race, speaks to the media with his family -- Cate, left, Emma Claire, Jack and his wife, Elizabeth -- in New Orleans in late January 2008.
Edwards endorsed Barack Obama after Hillary Clinton won the West Viriginia primary.
Rielle Hunter, Edwards' former mistress, holds their daughter, Frances Quinn Hunter, in August 2009. Prosecutors accused Edwards of using nearly $1 million in illegal campaign contributions to keep his pregnant mistress under wraps as he ran for president in 2008. Defense attorneys argued the donations could not be considered campaign contributions. They said Edwards was guilty of being a bad husband but had committed no crime.
Former Edwards aide Andrew Young and his wife, Cheri, listen during a 2010 hearing in North Carolina. Defense attorneys argued that Young used the money for his own gain and to pay for Hunter's medical expenses to hide the affair from Edwards' wife.
Edwards and two of his children, Emma Claire and Jack, leave the funeral service for Elizabeth Edwards, who died at 61 after a six-year battle with breast cancer in December 2010.
Edwards' mug shot was released after the former presidential candidate pleaded not guilty in June 2011 to charges of accepting illegal campaign contributions, falsifying documents and conspiracy.
Edwards enters a Greensboro, North Carolina, courthouse for his federal corruption trial with daughter Cate on May 21, 2012.
Edwards addresses the media after his acquittal and mistrial, with his daughter Cate and his parents Wallace and Bobbie Edwards at his side, outside the Greensboro courthouse on Thursday, May 31, 2012. After nine days of deliberation, a jury acquitted Edwards on one count but deadlocked on five other counts in his corruption trial. It's unclear what the Justice Department will do next, but Edwards says his years of service aren't over.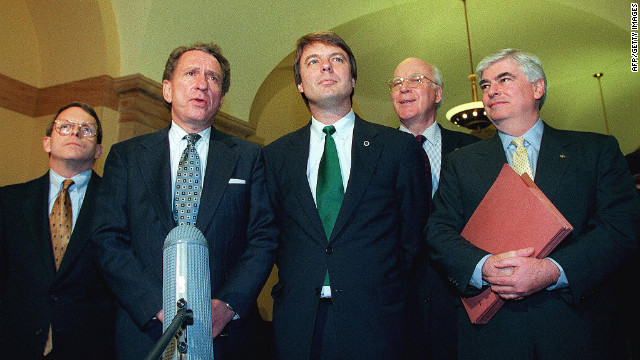 Photos: The rise and fall of John Edwards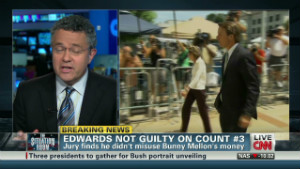 Edwards trial ends in hung jury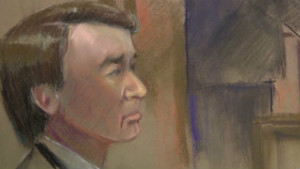 Edwards' trial nears end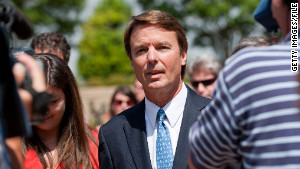 2011: Edwards: 'I didn't break the law'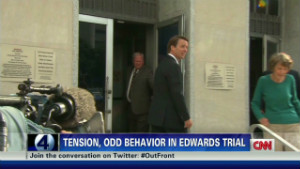 Odd behavior in Edwards trial
Count 1: Conspiracy (maximum 5-year sentence)
Edwards, a former U.S. senator from North Carolina, is accused of conspiring to receive and conceal contributions in excess of the allowed limits from Rachel "Bunny" Mellon and Fred Baron, a now-deceased Texas lawyer who was Edwards' finance chairman. Under the Federal Election Campaign Act, the most an individual could contribute to any candidate in 2008 was $2,300 in the primary election and $2,300 in the general election.
Prosecutors argued that Edwards, while a candidate for federal office, accepted $725,000 from Mellon and more than $200,000 from Baron. Counts 2-5 reflect that accusation.
Count 2: Illegal campaign contributions (maximum 5-year sentence)
Edwards is accused of receiving contributions from Mellon in excess of federal limits in 2007.
Count 3: Illegal campaign contributions (maximum 5-year sentence)
Edwards is accused of receiving contributions from Mellon in excess of of federal limits in 2008.
Count 4: Illegal campaign contributions (maximum 5-year sentence)
Edwards is accused of receiving contributions from Baron in excess of federal limits in 2007.
Count 5: Illegal campaign contributions (maximum 5-year sentence)
Edwards is accused of receiving contributions from Baron in excess of of federal limits in 2008.
Count 6: False statements (maximum 5-year sentence)
Edwards is accused of hiding from his presidential committee the hundreds of thousands of dollars in contributions from Mellon and Baron, causing that committee to create and submit inaccurate campaign finance reports to the Federal Election Commission.