STORY HIGHLIGHTS
Credit rating agency Moody's has downgraded 16 Spanish banks
The government denied rumors of a run on the Spanish bank Bankia on Thursday
Market confidence has been dented by continuing political uncertainty in Greece
Spain has seen its borrowing costs rise amid concern it could fall victim to the debt crisis
Madrid (CNN) -- Spain's government called for calm Friday, a day after rating agency Moody's downgraded 16 Spanish banks in the latest sign of distress in Europe.
Among those who saw their ratings lowered were giants Banco Santander and BBVA, the country's two largest banks.
"On behalf of the government, I want to first send a message of calm to the investors and depositors as the government ... tries to guarantee the solvency and capacity of all the institutions to carry out their obligations," Deputy Prime Minister Soraya Saenz de Santamaria said.
At a Cabinet meeting Friday, Spanish ministers agreed that the top priority regarding the economy is controlling the deficit.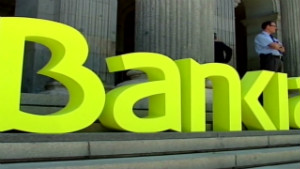 Bankia troubles put Spain on edge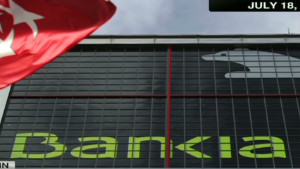 Spain's nationalized 'Bankia' recession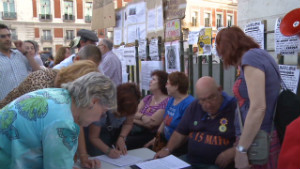 Open Mic: Spain's economy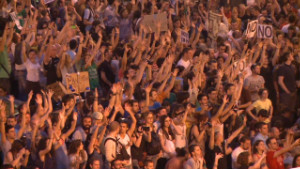 May 15th movement back in Spain
Moody's cited concerns about the banks' exposure to Spain's faltering economy and the "reduced" ability of the Spanish government to support them in a crisis.
The downgrades come amid rising concern about the political and economic turmoil in Greece, and the potential ripple effect of that crisis on nations like Spain and Italy that are struggling with low growth and big debts.
"The Spanish economy has fallen back into recession in first-quarter 2012, and Moody's does not expect conditions to improve during 2012," the rating agency said as it announced the downgrades.
"Moreover, the real-estate crisis that began in 2008 is ongoing, and unemployment has risen to very high levels, with rising risks to white-collar employment (in addition to extremely-high youth unemployment) affecting the outlook for banks' household lending."
Shares in Spanish banks were up in early trading Friday, as markets digested news of the downgrades, which had been widely expected.
The Spanish bank Bankia, which was effectively nationalized this month, was not mentioned by Moody's, but the government was forced to step in Thursday to deny rumors of a run on bank deposits.
"I think this is a good moment to send out a calming message to all the savers. It is not true that there would be a large-scale exit of savings from Bankia at this moment," the country's deputy economy minister said.
Bankia also issued a statement saying deposit holders could be confident about the safety of their savings.
The bank saw shares surge by as much as 30% early Friday, recovering some of the heavy losses suffered in recent days.
Global investors have been unnerved by the political uncertainty in Greece, amid fears it could leave the eurozone should anti-austerity parties win enough votes in elections next month and default on its huge debts.
Ratings agency Fitch downgraded Greece's long-term credit rating from B- to CCC on Thursday, citing the increased risk that Greece could be forced to leave the eurozone.
An exit from the eurozone would be "probable" if the elections fail to produce a government willing to stand by earlier austerity agreements reached with eurozone leaders, Fitch said.
In turn, the country's departure from the eurozone would "result in widespread default on private sector as well as sovereign euro-denominated obligations," the ratings agency said.
This would have an impact on the other 16 nations in the eurozone single-currency area, it warned.
Spain's borrowing costs have been rising as investors in the bond market fear it could become the next euro area nation to fall victim to the debt crisis.
Overall, Spain has pledged to cut its national deficit to 5.3% of GDP, but the European Commission forecast last week that the country would fail to meet that goal, instead hitting 6.4% of GDP.
Spain has announced roughly $35 billion in budget cuts this year.
CNN's Per Nyberg and Al Goodman contributed to this report.