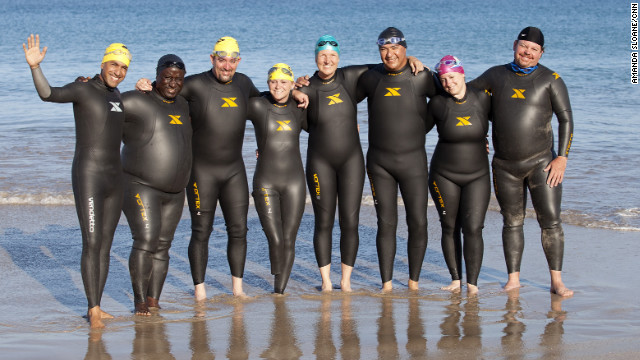 The Fit Nation "Lucky 7" arrived in Hawaii on Sunday, May 13, for a week of training. The group will be participating in the Nautica Malibu Triathlon with CNN's Dr. Sanjay Gupta in September. Here they gather for a swim at Hapuna Beach. From left are Gupta, Glenn Keller, Rick Morris, Denise Castelli, Nancy Klinger, Carlos Solis, Adrienne LaGier and Jeff Dauler.
Gupta joins the "Lucky 7" for a swim as they train for their upcoming triathlon.
Keller does an open-water swim at Hapuna Beach.
Fit Nation producer Matt Sloane uses an aerial drone to capture video of the group in the water.
Keller treaded water for 26 straight minutes during a swim lesson in Hawaii, a very important survival skill. Now he takes a break for a beauty shot on the beach.
Klinger, LaGier and Morris emerge from the ocean after a long practice swim.
LaGier walks back along Hapuna Beach after a successful open-water swim.
Gupta emerges from the Pacific Ocean after a training swim.
Gupta congratulates Morris on a job well done.
The Fit Nation participants head off for a bike ride along the "Queen K" highway in Hawaii.
Gupta stays hydrated during the bike ride through the lava fields.
Castelli, a below-the-knee amputee, rides her bike through the lava fields.
Klinger and Dauler keep each other company on the bike ride with the team.
CNN medical news director and Fit Nation coach Roni Selig rides on the Big Island of Hawaii.
Carlos Solis treks along the "Queen K" highway.
Athletic director April Burkey gives Morris some tips as they continue their bike ride.
Gupta and Burkey enjoy an additional bike ride at the Mauna Lani Bay Resort in Hawaii.
Training for a tri: 'Lucky 7' dives in
Training for a tri: 'Lucky 7' dives in
Training for a tri: 'Lucky 7' dives in
Training for a tri: 'Lucky 7' dives in
Training for a tri: 'Lucky 7' dives in
Training for a tri: 'Lucky 7' dives in
Training for a tri: 'Lucky 7' dives in
Training for a tri: 'Lucky 7' dives in
Training for a tri: 'Lucky 7' dives in
Training for a tri: 'Lucky 7' dives in
Training for a tri: 'Lucky 7' dives in
Training for a tri: 'Lucky 7' dives in
Training for a tri: 'Lucky 7' dives in
Training for a tri: 'Lucky 7' dives in
Training for a tri: 'Lucky 7' dives in
Training for a tri: 'Lucky 7' dives in
Training for a tri: 'Lucky 7' dives in