STORY HIGHLIGHTS
England coach Roy Hodgson omits Rio Ferdinand from Euro 2012 squad
Former England defender Sol Campbell tells CNN he's baffled by the decision
John Terry, the former England captain, is selected in the 23-man squad
Liverpool's Steven Gerrard will captain the side, Hodgson reveals
(CNN) -- Former England defender Sol Campbell has told CNN World Sport he is baffled by England coach Roy Hodgson's decision to omit Rio Ferdinand from the forthcoming Euro 2012 tournament.
Hodgson insisted he had decided to exclude the 33-year-old Manchester United center-back from his 23-man squad for purely footballing reasons.
But Campbell, who won 73 caps and played in three World Cup campaigns for his England, thinks Hodgson's call has more to do with off-field concerns.
Former England captain John Terry has been included in the squad, despite awaiting trial on charges he racially abused Rio's brother Anton during an English Premier League match in October. Terry denies the allegations.
Did Manchester City win the title -- or did United lose it?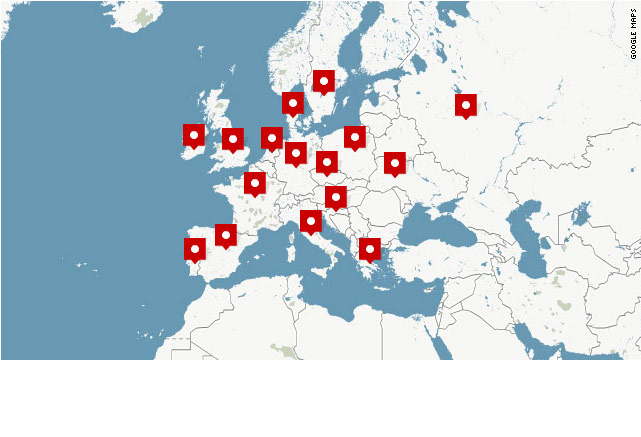 Which countries have reached Euro 2012?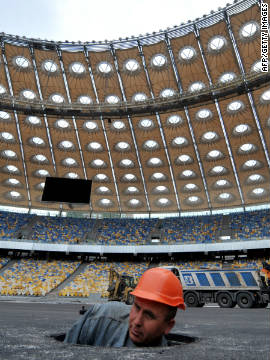 The Olympic Stadium in Kiev has been revamped at an estimated cost of $681 million, according to German broadcaster Deutsche Welle. It opened on November 11 with a game between Ukraine and Germany.
Ukrainian fans are known for creating a formidable atmosphere in their own stadiums. Here, Dynamo Kiev's fans hold flares during a match between their team and rivals Shakhtar Donetsk.
CNN's Pedro Pinto talks to Ukraine's deputy prime minister Boris Kolesnikov in the brand new Lviv Stadium, during his whirlwind day visiting all four stadiums that will host matches in the country.
Ukrainian President Viktor Yanukovych (L) shakes hands with Michel Platini on a recent visit to the country by UEFA's president. Platini said in 2008 that Ukraine needed to "wake up" and "get going" after a series of delays.
Platini and deputy prime minister Boris Kolesnikov inspect work on a new terminal at Donetsk airport. The improvement work, insisted on by European football's governing body, comes at a cost of $412m, according to the Ukrainian government.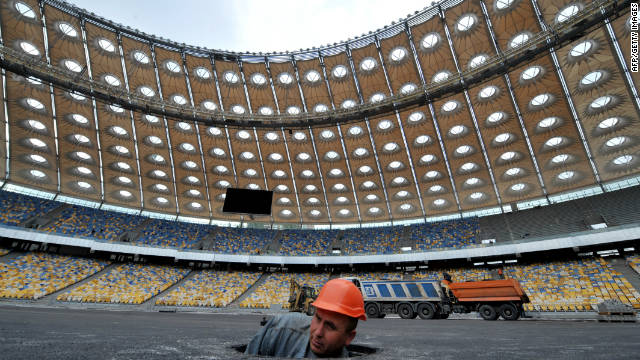 Euro 2012: Poland and Ukraine race to be ready
Terry was stripped of the captaincy over the affair, leading to the resignation of Fabio Capello, and Campbell is convinced the ongoing court case involving the Chelsea player was a factor in Hodgson's decision.
"I don't know what's gone on," he told CNN. "I don't know the conversation Roy Hodgson has had with John Terry or Rio Ferdinand. That's going to probably be kept quiet.
"But I think it did play a small, or a big part in it, because you're away for four to six weeks together, (Roy is) probably thinking, maybe something might happen at the camp.
"But you can't say for football reasons Rio Ferdinand shouldn't be going because he's experienced, he knows how to play football, he's an excellent defender, he's been fantastic for his club and country, especially in the last three months."
Hodgson said his conversations with both players would remain private though he did reveal Ferdinand was gracious and wished England well for the competition.
Of Terry Hodgson, the former Liverpool manager, said: "I realized that when I selected him there would be people who would raise eyebrows but that's the decision that I've made, that's the decision I shall live with."
Manchester City sorry for Tevez's 'Fergie R.I.P.' banner
You need all your experienced players ... Rio knows his way around all these tournaments
Sol Campbell
Ferdinand took to social networking site Twitter to express his disappointment at missing out, saying: "Absolutely loved playing for England. To say I'm gutted is an understatement of the highest order."
Campbell believes Ferdinand's vast experience on the international stage will prove a big miss for Hodgson's side.
"I can't believe it," he told CNN. "He's played the last 10, 12 games for Manchester United, he's played excellently, he's fit as a fiddle.
"You need all your experienced players in a tournament like this. If you want younger players who are coming in and learning their way around international football, start with them in a campaign, at the beginning of your qualifying.
"Start not at the end, when you need the most experienced players at the tournament. Rio knows his way around all these tournaments. You need characters like that."
Campbell, who played in six consecutive major tournaments for his country between 1996 and 2006, did back Hodgson's decision to hand Steven Gerrard the captain's armband though.
The Liverpool skipper has 90 caps to his name since making his debut in 2000 and Campbell said: "I'm surprised Stevie didn't become captain sooner.
"He's always seemed to be overlooked but he's an excellent captain for his club, Liverpool, and I'm sure he'd be excellent for England."