STORY HIGHLIGHTS
NEW: An opposition group reports gunfire, shellings, blasts early Monday
NEW: Medical supplies running out after mortar barrage in Rastan, the group says
NEW: Clashes continue between pro- and anti-Assad factions within Lebanon
Dozens of U.N. observes are in Syria, hoping to monitor a cease-fire
Monday night, Anderson Cooper reports live from the Syria/Turkey border on the turmoil in the country. Watch "Anderson Cooper 360°" at 8 ET.
(CNN) -- Gunfire and mortar shells pierced the pre-dawn sky in cities around Syria early Monday, the latest in the months-long violence that has even begun spilling into neighboring countries.
The Local Coordination Committees of Syria, an opposition network, posted dire reports early Monday out of a number of locales -- from "a powerful explosion" rattling the Damascus suburb of Jisreen to the military's aiming mortars and heavy artillery at the Homs village of Al-Burnhanieh.
Rastan, which has been subject to intense attacks by Syrian government forces before, got hit hard yet again Sunday and into Monday, the coordination committees said.
Medical supplies were running short after more than 60 people were reported injured following a barrage of roughly 255 mortar shells that rained down on Rastan, which is between the Middle Eastern country's third and fourth largest cities, respectively, of Homs and Hama
Violence also has been prevalent on the edges of Syria, from "heavy gunfire" near the Turkish border in Idlib governate to shelling and the deployment of snipers on residential rooftops in Daraa province, some 430 kilometers (270 miles) south near Jordan.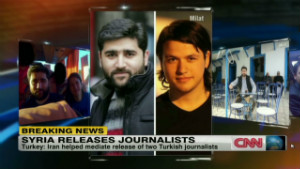 Syria releases journalists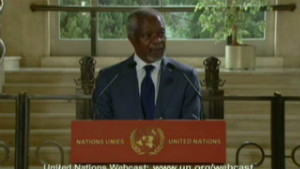 Annan: Civil war possible in Syria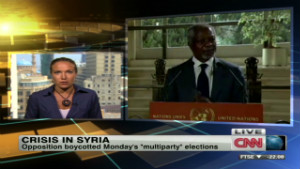 Annan: Syria running out of options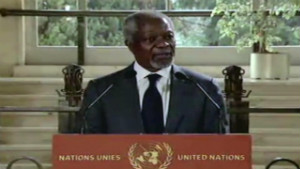 Can Annan's Syria plan be salvaged?
The bloodshed even trickled into Lebanon, and specifically in and around the Lebanese city of Tripoli. At least one Lebanese civilian and one Lebanese soldier were killed Sunday in clashes between factions supporting and opposing the uprising in Syria, Lebanon's National News Agency reported.
Even after bolstering of state security forces, off-and-on clashes continued into Sunday night with "open fire from machine guns and rocket bomb explosions," according to the news agency, a division of Lebanon's Ministry of Information. By then, the agency was reporting six casualties, though there was no breakdown as to how many of those were killed and wounded.
The fighting in Lebanon pits residents of Bab al-Tebbaneh, a Sunni stronghold hostile to the Syrian regime, against Alawite residents of Jabal Mohsen who support Syrian President Bashar al-Assad.
Inside Syria's borders, where the LCC reported at least killed by government forces Sunday, the crisis remains complicated.
A video purportedly released by a shadowy, Syrian-based terrorist group claimed responsibility Saturday for dual suicide bombings that killed dozens and wounded hundreds in the country's capital last week.
The two-minute video, apparently by jihadist group Al Nusra Front, says government buildings were targeted "because the regime continues to shell residential civilians in Damascus countryside, Idlib, Hama, Daraa and other areas. And we remained true to our promise to respond to this shelling with strikes."
Syrian Prime Minister Adel Safar visited the site of the bombings in Damascus on Saturday, state-run media reported.
The suicide attacks were aimed "at striking Syria's will and its people in life, security and stability," Safar said, according to the official Syrian Arab News Agency.
The attacks Thursday, which struck near a military intelligence center, killed at least 55 people. The government has blamed "terrorists," while members of the Syrian opposition have blamed the government.
Some analysts have raised concerns about the presence of jihadist elements in Syria, noting the Damascus strikes resemble suicide car bombings during the sectarian violence in Iraq in the past decade.
But opposition groups have said the regime is responsible for the violence that erupted after government forces began a crackdown on peaceful protests in March 2011. That fierce clampdown spurred a grassroots uprising against the regime.
The opposition Syrian National Council said al-Assad's regime staged the deadly Damascus suicide bombings "to spur chaos, disrupt the work of the international observers and divert attention away from other crimes being committed by its forces elsewhere."
"In orchestrating such acts," the council said Friday, "the regime seeks to prove its claims of the existence of 'armed terrorist gangs' in the country that are hindering its so-called 'efforts of political reform.'"
More than 1,000 people have died since a cease-fire was supposed to go into effect on April 12, according to the LCC.
CNN cannot independently verify reports of deaths and violence because the Syrian government has severely restricted access to international media.
A team of U.N. monitors is on the ground to observe the progress of the cease-fire and encourage the implementation of a U.N.-backed peace plan.
On Saturday, the head of the U.N. observer mission, Maj. Gen. Robert Mood, said 157 civilian and military monitors were in the provinces of Daraa, Idleb, Hama and Homs, the state-run Syrian Arab News Agency reported. About 300 observers are expected within weeks.
CNN's Kamal Ghattas, Saad Abedine and Salma Abdelaziz contributed to this report.