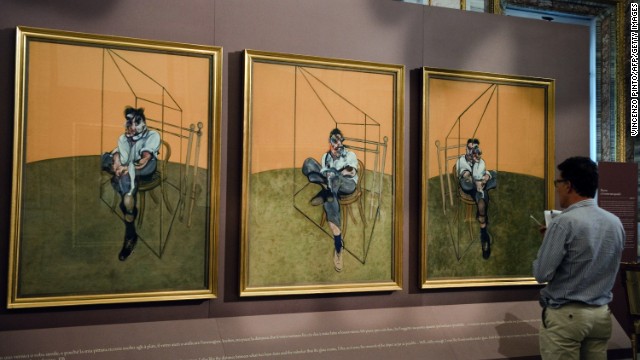 "Three Studies of Lucian Freud," a 1969 painting by Francis Bacon, sold for $142.4 million in November,
breaking the record
for the most expensive piece of art ever auctioned.
Andy Warhol's "Silver Car Crash (Double Disaster)," a silk-screen from 1963, sold for more than $105 million in November. It was a record price for a Warhol work.
In a private sale in 2011, Qatar's royal family paid more than $250 million for "The Card Players," a post-impressionist painting by French artist Paul Cezanne.
"Portrait du Dr. Gachet" by Vincent van Gogh sold for $82.5 million in 1990.
Edvard Munch's "The Scream" sold for $120 million at Sotheby's in New York in May, setting a world record at the time.
Billionaire Steven A. Cohen privately purchased "Woman III" by Willem de Kooning for an estimated $137.5 million,
The New York Times reported
in 2006.
Cosmetics heir Ronald Lauder paid $135 million in 2006 for "Adele Bloch-Bauer I," a portrait by Gustav Klimt.
Pablo Picasso's "Nude, Green Leaves, and Bust" sold for $106.5 million in 2010.
In 2004, Picasso's "Garcon a la Pipe" sold for more than $104 million.
Sotheby's sold Picasso's "Dora Maar au chat" in 2006 for $95.2 million.
Klimt's "Portrait of Adele Bloch-Bauer II" sold for $87.9 million in 2006.
Mark Rothko's 1961 piece "Orange, Red, Yellow" was sold in 2012 for $87 million.
In 2008, Sotheby's auctioned Bacon's "Triptych" for $86.3 million.
Warhol's "200 One Dollar Bills," which was bought by a private client in 1986 for $383,000, sold in 2009 for more than 100 times that -- $43.8 million.
Paintings worth millions
Paintings worth millions
Paintings worth millions
Paintings worth millions
Paintings worth millions
Paintings worth millions
Paintings worth millions
Paintings worth millions
Paintings worth millions
Paintings worth millions
Paintings worth millions
Paintings worth millions
Paintings worth millions
Paintings worth millions
STORY HIGHLIGHTS
Mark Rothko's "Orange, Red, Yellow" sells for almost $87 million
Record for post-war art set at a record-breaking Christie's auction in New York
Entire auction raised $388.5 million, breaking previous record set in 2007
Buyers remain anonymous but art dealer say money likely coming from China
(CNN) -- One week after Edvard Munch's "The Scream" shattered art auction records, Mark Rothko's "Orange, Red, Yellow" has broken the price ceiling for a work of contemporary art.
The 1961 painting, described by auction house Christie's as arguably the most important work by the Russian-Amerian artist to ever appear at auction, sold for almost $87 million Tuesday. The previous record was held by Francis Bacon's Triptych at $86.2 million.
"This was an historic event in the auction world, with three major records set in the space of a few short hours," said Brett Gorvy, Chairman and International Head of Post-War and Contemporary Art in a press statement.
The entire auction raised a record $388.5 million, surpassing the previous record set in May 2007, also at Christie's, by some four million dollars.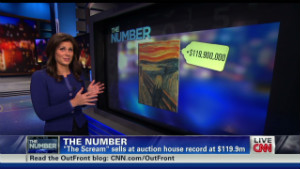 Number: The most costly painting ever
Feverish bidding also produced the highest price for a collection sold at auction, for 13 works from the Pincus Collection, described by Christie's as the "most important and comprehensive ensemble of Abstract Expressionism ever to come to auction."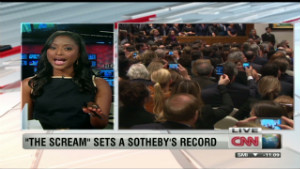 He sold 'The Scream' at record price
The Pincus lots were part of an impressive catalog of post-war art collected over 50 years by former clothing manufacturing boss David Pincus and his wife Gerry before his death last December.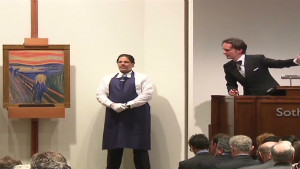 Behind the scenes of 'The Scream' sale
The collection included the record-breaking Rothko, bought by Pincus in 1967, which was sold to an anonymous phone-bidder after a seven-minute volley of more than 50 bids, Christie's said.
"The art market is ignoring European woes," Randy Slifka, a New York collector and money manager told Bloomberg. "People feel comfortable buying prime works by world-class artists."
Of the top 10 works sold, eight buyers were listed as "anonymous," while two were attributed to private buyers from Europe and the U.S.
Jon Reade, the managing director of Art Futures Group in Hong Kong, says there's a good chance the money flowing into the Christie's New York auction room Tuesday came from Asian investors looking to diversify their portfolios.
"A lot of it's from China, new wealth from China. They're buying property, they're buying cars and they're looking for new asset classes to get involved with," he said.
"Of course it's like a knock-on effect, one Chinese billionaire buys an artwork and makes money from it, tells his friend, and it's just reverberating around the whole world art market at the moment."
Reade said the Chinese started emerging as major buyers in the art market in 2009 and 2010, coinciding with strong growth in the Chinese economy.
A 2011 report by auction sales analysts Artprice said that sales that year "confirmed China's domination of the art market, with the economic health of Asian collectors generating higher price levels than anywhere else in the world."
Reade said: "The Chinese art market has been strong for the last two years and is getting stronger and now some of the big global players are coming on board as well."
Of the 59 works offered by Christie's at the New York auction, 56 were sold including more than a dozen for record prices for their respective artists.
Jackson Pollock's Number 28, 1951, a riot of black enamel and silver-grey paint, sold for just over $23 million, a new world auction record for the artist, Christie's said. And at $36 million, Yves Klein's FC 1 (Fire-Color 1) set a new record for the French artist who created the work just weeks before his death in 1962.
Reade, whose firm encourages investment in art, said that he expects demand to continue to rise as investors look for returns beyond traditional and poorly performing markets.
"At the moment property in Asia, not just in Hong Kong, has just topped out in a way. Stocks have obviously been very volatile over the last few years to say the least so people are looking to put their money in new asset classes," he said.