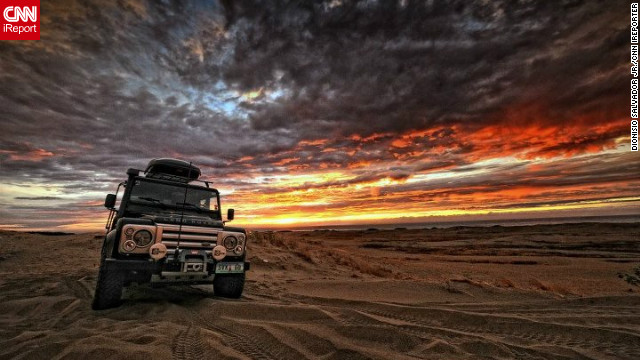 The scenic La Paz sand dunes are one of the most popular stretches of the famous sand dunes in the province of Illocos Norte. iReporter Dionisio Salvador Jr. says he took this photo while on a family vacation. He drove a 4x4 off-road vehicle on obstacle courses while his children went sand surfing.
Located near Manila, the seaside town of Anilao offers divers a weekend getaway. Underwater photography enthuasiast and iReporter Jayvee Fernandez described the pygmy seahorse as a "fascinating creature...as small as half a grain of rice" that resembles the fan corals it resides among.
The Philippines is part of the Coral Triangle, a hub of marine biodiversity in Southeast Asia spanning 6 million square kilometers. The Verde Island passage is a popular diving spot, with one of the world's largest concentrations of coral and other endangered marine species. Unfortunately, it is a victim of overfishing, pollution, and urban development. iReporter Boogs Rosales hopes that by sharing his beautiful photos, he can "help [Filipinos] care about the environment more and realize what we have to lose if we don't protect it."
iReporter Jerry Gonzalez explains that halo-halo (meaning "mix-mix") is a favorite Filipino summertime snack to keep cool. It features "sweet preserved beans, coconut meat, jackfruit, pounded dried rice, sweet yam, cream flan, shreds of sweetened plantain, filled with crushed ice and milk and topped with ice cream."
Rising 2,922 metres, the sweeping Mount Pulag is the third highest peak in the Philippines. iReporter Marikit Singson writes: "We must not forget that we have... beautiful and breath-taking mountains preserved and untouched by the negative side effects of development and progress."
The annual week-long Coco Festival is held in San Pablo City to honor the patron Saint Paul the Hermit . A highlight is the street dancing competition between schoolchildren dressed in costumes made from coconuts. iReporter Toni Gutierrez says the five-time consecutive winner San Pablo Central Elementary School (pictured) "signifies determination and the importance of keeping values and tradition alive."
Dubbed "The Mother of All Fiestas", the annual Aliwan Festival held in Manila celebrates cultures from across the Philippines, with regional contingents competing in a street parade, beauty pageant, and float competition. iReporter Eduardo Sawal says it is "not just an ordinary festival...it's all about showing how religion, culture and traditions enriched and affects the Filipinos' existence today."
The Masskara Festival is held every October in Bacolod City, featuring a masked street dance competition, a beauty pageant, concerts, food fairs, and trade show. iReporter Giuseppe Diangco Pascual says his photo captured the essence of the festival-- that Filipinos know how to be happy no matter what.
During a wedding reception in the village of San Felipe, these local children were the highlight of guest and iReporter Jen Thomas' visit: "[They] befriended us and showed us their farms, their homes, the local community center where they play basketball and video games. These girls loved fist bumps, high fives and making hearts with their hands. For us, it was amazing to feel so welcomed, especially since most of us were so far from home and were in completely unfamiliar territory."
iReporter Roberto Castor returns to his hometown of Isabel almost every January for the Santo Nino (Little Jesus) fiesta, known locally as the Sinulog festival. His photo depicts religious pilgrims in small boats following the main barge, which parades a status of Little Jesus in hopes for a prosperous year ahead.
Found in the Cordillera region of the Philippines, the famous hanging coffins on cliffs and caves reflect an ancient funerary custom. iReporter Karl Grobl explains the belief is that a deceased person's spirit cannot rise to heaven if the body is buried in the ground.
Snails are considered a delicacy in the Philippines. iReporter Tina Lim captured these unusual white snails during a sunrise shoot on Mount Karoboboan in Itbayat, Batanes province.
La Paz Sand Dunes
Anilao
Verde Island
Halo-Halo
Mount Pulag
Cocofest
Aliwan Festival
Masskara Festival
Smiles
Santo Nino Fiesta
Sagada hanging coffins
White snails