Japan takes over TEPCO after disaster
updated 11:58 PM EDT, Wed May 9, 2012
STORY HIGHLIGHTS
The trade and Industry Minister Yukio Edano approved a request for a 1 trillion yen injection
In the 10-year plan, TEPCO has vowed to turn a profit by March 2014
All of Japan's nuclear reactors are now offline for the first time in four decades
(CNN) -- Reeling from the Fukushima Daiichi nuclear disaster, Tokyo Electric Power Co. (TEPCO) has effectively been nationalized after Tokyo approved a request for a 1 trillion yen ($12.5 billion) injection of capital.
TEPCO supplies power to nearly 30 million people in the Tokyo region and was once valued at more than $150 billion. But the nuclear disaster that followed Japan's historic earthquake and tsunami in March 2011 has left it dependent on government support.
The plan, approved by Trade and Industry Minister Yukio Edano Wednesday, would give the government control of more than 50% of the company, and could increase its hold to two-thirds of the company stock.
"Without the state funds, (TEPCO) cannot provide a stable supply of electricity," Edano told reporters at a news conference.
However, Edano hoped the government would relinquish control within two years if the restructuring plan successfully returns the company to profitability. "It will depend on how well TEPCO carries out restructuring measures," Edano told reporters.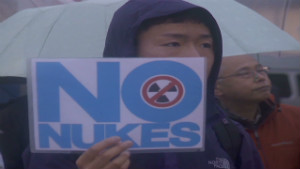 Japan is nuclear energy free
In the 10-year plan, TEPCO has vowed to cut 3.3 trillion yen in costs and turn a profit by March 2014. The company has planned a 10% rate increase for electricity, which the government has yet to approve. The company also hopes to bring back some of its nuclear reactors online.
As of last weekend, all of Japan's nuclear reactors were offline for the first time in four decades as the Tomari Nuclear Power Plant's reactor 3 in Hokkaido was shut down for maintenance. In the wake of the Fukushima Daiichi nuclear disaster, reactors have not been allowed back on, making Japan now the first major economy to see the modern era without nuclear power.
The national government's ruling party, the Democratic Party of Japan, has been urging local communities to allow reactors to return to operation. The party's deputy policy chief, Yoshito Sengoku, bluntly said without nuclear energy the world's third-largest economy would suffer. "We must think ahead to the impact on Japan's economy and people's lives, if all nuclear reactors are stopped. Japan could, in some sense, be committing mass suicide," said the party's deputy policy chief, Yoshito Sengoku.
Japan's biggest business lobby, Keidanren, joined the plea in an April press conference. "We cannot possibly agree to do the kind of energy saving yet again this year, or every year from now on," said Chairman Hiromasa Yonekura, referring to the country's efforts to turn off air conditioners and shift operation of production lines to weekends. "The government must bring the nuclear power stations back into operation."
The tsunami that followed last year's magnitude-9 quake swamped the Fukushima Daiichi plant, knocking out power to cooling systems and leading to meltdowns in its three operating reactors. The resulting release of radioactivity forced residents of several towns near the plant to flee their homes, and a 20-kilometer (12.5-mile) zone around the plant remains closed to the public.
CNN's Kyung Lah, Anne Renzenbrink and the CNN Wire staff contributed to this report

Part of complete coverage on
updated 10:40 PM EDT, Wed June 20, 2012

Mikio Watanabe's Fukushima home is contaminated with radiation and filled with the nightmares of his wife's horrific suicide.
updated 11:24 AM EST, Tue February 28, 2012

CNN gets its first tour inside the Fukushima nuclear plant. CNN's Kyung Lah reports from the meltdown zone.

Did events on March 11, 2011 affect your life? Share before and after photos of your area, or grab a video camera and let us know what life is like today.
updated 6:45 AM EDT, Mon May 28, 2012

Former Japanese Prime Minister Naoto Kan said he was overwhelmed and afraid during last year's nuclear meltdown at the Fukushima Daiichi plant.
updated 2:01 PM EDT, Tue May 29, 2012

A Fukushima Prefecture evacuee made a brief visit to his radiation-contaminated home, walked to his shuttered shop, and then hanged himself.

See how areas hit by the tsunami looked just after the disaster and how they look today.
updated 12:19 AM EST, Sun March 11, 2012

Scientist Ken Buesseler looks at what's known -- and not known -- about the largest accidental release of radioactivity into the ocean.
updated 5:46 AM EST, Wed February 29, 2012

Twisted metal beams still jut from the top of Japan's Fukushima Daiichi stricken reactors, almost one year after a massive tsunami triggered nuclear meltdown.