Greenland ice melt could raise seas less than feared, study says
updated 8:23 AM EDT, Fri May 4, 2012
STORY HIGHLIGHTS
Movement of glaciers in the study sped up an average of 30%, scientists say
But a new study finds they may contribute less to rising seas than feared
More data needed on rising ocean levels, other researchers say
(CNN) -- Greenland's glaciers are sliding into oceans at a faster pace than previously known, but they may contribute less to an expected rise in global sea level than feared, scientists reported Thursday.
From 2000 to 2010, researchers at the University of Washington and Ohio State University monitored the vast rivers of ice that course across the world's largest island. Their results, published this week in the peer-reviewed journal Science, found that glaciers in northwestern and southeastern Greenland flowing toward the Arctic and Atlantic oceans picked up speed by about 30%, on average.
"Glaciers are continuing to accelerate, which means they are continuing to put more ice into the ocean," said University of Washington at Seattle glaciologist Twila Moon, the paper's lead author. "And as soon as that ice hits the ocean, it's contributing to sea-level rise."
But Moon said her group's data suggests that contribution will be less than existing worst-case scenarios.
Earlier estimates suggested melting Greenland ice could contribute as much as half a meter (about 19 inches) to the projected 2-meter increase in average sea levels by 2100 as a result of a warming global climate, Moon said. Her team's research doesn't point to a specific figure, "but we can say some of the worst numbers aren't there at this point."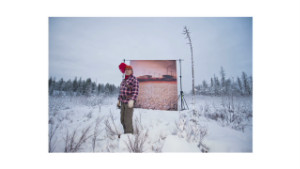 Photographer's images of global warming
"They are speeding up. That's certainly not a question," she said. "But they are not speeding up at some of the rates that we would consider a remote possibility."
"Speeding" is a relative term. Many of the roughly 200 glaciers studied move less than the length of a football field per year; others flow about a mile annually. One glacier in northern Greenland was clocked going from 50 meters to 650 meters a year (about 160 feet to 2,100 feet) over the course of seven years.
The research was funded by NASA and the National Science Foundation.
Most of Greenland is covered by a sheet of ice that averages more than a mile thick. NASA says its observations indicate the ice sheet is shedding up to 50 billion tons of water a year. Researchers are also watching the behavior of the ice that covers Antarctica, where a study published last week concluded that warmer ocean currents are eating away at the ice shelves around the rim of the continent.
In the same issue of Science that included the Greenland research, scientists from NASA and Australia said that more detailed observations are needed to figure out what that will mean for human populations.
Since more than 180 million people around the world could be displaced by higher sea levels, "Credible projections of sea-level rise in the 21st century are essential for devising adaptation or mitigation measures," wrote NASA's Josh Willis and John Church, of the Tasmania-based Center for Australian Weather Research. "Yet present estimates of future sea-level rise are too imprecise to inform such decisions."
And Moon said the 2007 report of the United Nations' Intergovernmental Panel on Climate Change left a "big asterisk" when it came to the behavior of the major ice sheets. Research into their behavior "continues to be a work in progress," she said.

Part of complete coverage on
updated 10:26 AM EST, Wed February 6, 2013

Advocates say the exam includes unnecessarily invasive and irrelevant procedures -- like a so-called "two finger" test.
updated 7:09 PM EST, Tue February 5, 2013

Supplies of food, clothing and fuel are running short in Damascus and people are going hungry as the civil war drags on.
updated 1:01 PM EST, Wed February 6, 2013

Supporters of Richard III want a reconstruction of his head to bring a human aspect to a leader portrayed as a murderous villain.
updated 10:48 AM EST, Tue February 5, 2013

Robert Fowler spent 130 days held hostage by the same al Qaeda group that was behind the Algeria massacre. He shares his experience.
updated 12:07 AM EST, Wed February 6, 2013

As "We are the World" plays, a video shows what looks like a nuclear attack on the U.S. Jim Clancy reports on a bizarre video from North Korea.

The relationship is, once again, cold enough to make Obama's much-trumpeted "reset" in Russian-U.S. relations seem thoroughly off the rails.

Ten years on, what do you think the Iraq war has changed in you, and in your country? Send us your thoughts and experiences.
updated 7:15 AM EST, Tue February 5, 2013

Musician Daniela Mercury has sold more than 12 million albums worldwide over a career span of nearly 30 years.

Photojournalist Alison Wright travelled the world to capture its many faces in her latest book, "Face to Face: Portraits of the Human Spirit."
updated 7:06 PM EST, Tue February 5, 2013

Europol claims 380 soccer matches, including top level ones, were fixed - as the scandal widens, CNN's Dan Rivers looks at how it's done.
updated 7:37 AM EST, Wed February 6, 2013

That galaxy far, far away is apparently bigger than first thought. The "Star Wars" franchise will get two spinoff movies, Disney announced.
updated 2:18 AM EST, Fri February 8, 2013

It's an essential part of any trip, an activity we all take part in. Yet almost none of us are any good at it. Souvenir buying is too often an obligatory slog.