'The Scream' sold for nearly $120 million
updated 3:02 PM EDT, Thu May 3, 2012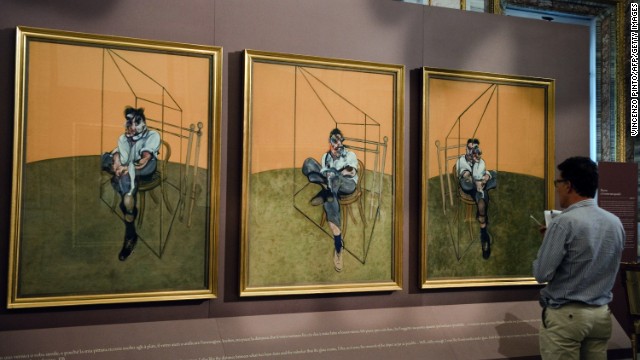 "Three Studies of Lucian Freud," a 1969 painting by Francis Bacon, sold for $142.4 million in November,
breaking the record
for the most expensive piece of art ever auctioned.
Andy Warhol's "Silver Car Crash (Double Disaster)," a silk-screen from 1963, sold for more than $105 million in November. It was a record price for a Warhol work.
In a private sale in 2011, Qatar's royal family paid more than $250 million for "The Card Players," a post-impressionist painting by French artist Paul Cezanne.
"Portrait du Dr. Gachet" by Vincent van Gogh sold for $82.5 million in 1990.
Edvard Munch's "The Scream" sold for $120 million at Sotheby's in New York in May, setting a world record at the time.
Billionaire Steven A. Cohen privately purchased "Woman III" by Willem de Kooning for an estimated $137.5 million,
The New York Times reported
in 2006.
Cosmetics heir Ronald Lauder paid $135 million in 2006 for "Adele Bloch-Bauer I," a portrait by Gustav Klimt.
Pablo Picasso's "Nude, Green Leaves, and Bust" sold for $106.5 million in 2010.
In 2004, Picasso's "Garcon a la Pipe" sold for more than $104 million.
Sotheby's sold Picasso's "Dora Maar au chat" in 2006 for $95.2 million.
Klimt's "Portrait of Adele Bloch-Bauer II" sold for $87.9 million in 2006.
Mark Rothko's 1961 piece "Orange, Red, Yellow" was sold in 2012 for $87 million.
In 2008, Sotheby's auctioned Bacon's "Triptych" for $86.3 million.
Warhol's "200 One Dollar Bills," which was bought by a private client in 1986 for $383,000, sold in 2009 for more than 100 times that -- $43.8 million.
Paintings worth millions
Paintings worth millions
Paintings worth millions
Paintings worth millions
Paintings worth millions
Paintings worth millions
Paintings worth millions
Paintings worth millions
Paintings worth millions
Paintings worth millions
Paintings worth millions
Paintings worth millions
Paintings worth millions
Paintings worth millions
STORY HIGHLIGHTS
Edvard Munch's iconic piece sells for nearly $120 million to an unknown buyer
It is one of four painted versions of "The Scream," and the only one available for bidding
Few pieces have topped $100 million at public auction, Sotheby's spokesman says
New York (CNN) -- A pastel version of "The Scream" by Edvard Munch fetched nearly $120 million from an anonymous buyer Wednesday at Sotheby's in New York, setting a new world record for a work of art sold at auction.
Experts had expected the masterpiece to break new ground at the famed New York auction house; its presale estimate of at least $80 million was the highest ever listed at Sotheby's.
It sold for $119,922,500, which includes the premium paid to Sotheby's.
Previously, the most expensive artwork ever sold there was Pablo Picasso's painting "Nude, Green Leaves, and Bust," which brought in $106.5 million two years ago. The previous record for a Munch work of art was just over $38 million.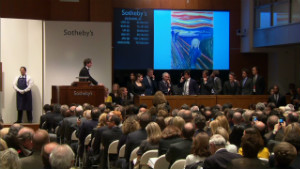 'The Scream' nabs record auction sum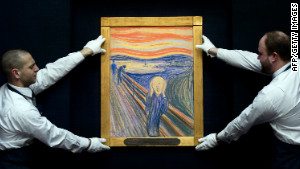 Final moments of 'The Scream' auction
The version of "The Scream" on the block Wednesday was one of four -- two pastels and two paintings -- executed between 1893 and 1910, Sotheby's said, and is one of the best-known images in modern art.
It's also the only version a private collector can get their hands on at public auction. The other three are housed in National Gallery of Norway and at the Munch Museum in the Norwegian capital, according to Sotheby's.
Munch also created a lithograph of "The Scream" in 1895, the same year he executed the pastel auctioned on Wednesday.
Munch's use of color, art historians say, is a distinguishing characteristic of this version. The pastel-on-board also remains in its original frame.
Dubbed "the portrait of a soul" and "the face that launched 1,000 therapists," "The Scream" depicts a distorted human figure -- hands flat against its sunken face, eyes and mouth wide open -- in the foreground of a nightmarish landscape.
The pastel is being sold by Norwegian businessman Petter Olsen, whose father is thought to have been a friend and patron of the famed artist.
"I was walking down the road with two friends when the sun set; suddenly, the sky turned as red as blood," Munch wrote, describing how the idea for the painting came about. "I stopped and leaned against the fence, feeling unspeakably tired. Tongues of fire and blood stretched over the bluish black fjord. My friends went on walking, while I lagged behind, shivering with fear. Then I heard the enormous, infinite scream of nature."
Few pieces have crossed the $100 million benchmark at public auction, said Sotheby's spokesman David Norman.
"The Scream has really entered the collective conscience, whatever nationality, whatever country, whatever attitude or age, it really sort of speaks to that sort of existential terror that everyone experiences in the world," Norman said.