STORY HIGHLIGHTS
The $2.3 billion purchase of the Dodgers and Dodger Stadium is official, new owners says
"It's a new day in Dodger Town," Magic Johnson says
Team President Stan Kasten stresses "culture of winning" and a safe, clean and fun ballpark
A violent attack and a messy divorce had cast a pall over the storied franchise
Los Angeles (CNN) -- The Los Angeles Dodgers, one of the most successful franchises in Major League Baseball, ushered in a new era of ownership Wednesday while ending a dismal chapter of ownership under Frank McCourt, who baseball's commissioner described as "looting" the club of $190 million to fund an extravagant lifestyle.
At a news conference, a consortium of investors, including Los Angeles Lakers great Magic Johnson, delivered a message to fans: "We are out to win. We are out to win for the fans. It's a new day in Dodger Town."
On Tuesday, Guggenheim Baseball Management officially closed its $2.3 billion purchase of the club and Dodger Stadium from McCourt.
Mark Walter, CEO of Guggenheim Partners, which manages more than $125 billion in assets, will be the controlling partner with sports executive Stan Kasten as president and CEO. The investor group includes Mandalay Entertainment Chairman Peter Guber, Guggenheim Partners President Todd Boehly and Texas energy investor Bobby Patton.
Johnson, 52, broke into tears when asked what it meant being part of the franchise that broke the color barrier in baseball with the signing of Jackie Robinson (in 1947, when the Dodgers were still in Brooklyn).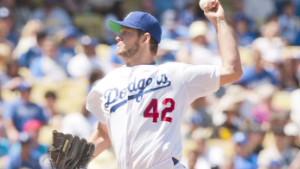 'Magical start' for L.A. Dodgers
"I can't even put into words how it is," he said. "I would not be here if it wasn't for Jackie Robinson."
Under the new ownership, the Dodgers face a formidable challenge of restoring a brand that once nurtured greats like Duke Snider, Sandy Koufax, Fernando Valenzuela and longtime manager Tommy Lasorda.
Kasten, former president of the Atlanta Braves and Washington Nationals, said he is not expecting to make any changes to team operations immediately.
"We are first committed to a culture of winning and making the experience at Dodger stadium clean, safe, affordable and entertaining," Kasten said.
The sale of the team followed the most tumultuous off-the-field period in the franchise's history.
After McCourt acquired the team in 2004, the Dodgers reached the postseason four times, on the heels of a decade-long drought. But just after the home opener in 2011, a San Francisco Giants fan was beaten nearly to death in the Dodger Stadium parking lot. The assault on Bryan Stow left an indelible sense of concern over safety, in spite of increased security.
And Frank and Jamie McCourt's bitter divorce became a cloud over the franchise. Attendance declined dramatically; whole sections of one of the game's most picturesque ballparks were completely empty on many game days.
Eventually, McCourt's financial turmoil led MLB Commissioner Bud Selig to take over day-to-day operations while the league conducted an investigation into McCourt's finances.
Last June, when Selig declined to approve a $3 billion agreement between Fox and the Dodgers to extend television broadcast rights, McCourt filed for bankruptcy. McCourt became embroiled in so much debt that he needed to borrow millions just to meet a monthly player payroll.
Near the end of the two-year divorce battle, court documents revealed that the McCourts used team revenue to purchase estates in Holmby Hills and Malibu, California, traveled around the world in private jets, and spent lavishly on hair and makeup.
During bankruptcy proceedings, McCourt finally agreed to sell the team under a bidding process that granted him authority to approve the new owner.
In March, Guggenheim was selected from a list of three finalists. Based on a settlement with MLB and overseen by the bankruptcy court, McCourt had until Monday to close the sale. The settlement also required McCourt to pay his former wife a $131 million divorce settlement by April 30.
As part of the sale, Guggenheim paid an additional $150 million for a 50% interest in the property surrounding Chavez Ravine and the Dodger Stadium parking lots, in a joint venture with McCourt.
In the end, McCourt is expected to make a $1 billion profit.
On Wednesday, Walter, the Guggenheim CEO, was dismissive about McCourt's role in future Dodger operations.
"Every aspect of the operation in Chavez Ravine that relates to baseball, parking, everything, is controlled and managed by us and all of those revenues go to this organization."
Johnson was more emphatic about any future role of McCourt.
"Frank's not here, he's not a part of the Dodgers anymore. We should be clapping for just that," he said.
The Dodgers have started this season as one of the hottest teams in the majors and are vying for an opportunity to win a seventh World Series (their last was in 1988).
But the cost of rebuilding a franchise, with a staggering $2.3 billion investment and future renovations expected, leaves big questions about generating revenue.
Johnson sought to ease concerns Wednesday about the prospect of higher ticket prices.
"We're not here to price-gouge the fans just because we paid a nice sum for this franchise," he said, noting that parking rates will be reduced from $15 to $10.
Despite any peripheral future role for the former owner in the development of the parking facilities, Selig sought to put the McCourt saga behind.
"After a long and difficult road, the sale of the Dodgers is now complete, and I am pleased that the club can have the fresh start it deserves under new ownership," said Selig in a statement.
Walter echoed that sentiment: "We'll focus on making this the finest organization possible, make this a place that everyone wants to be, that it accessible to a really broad range of people."
Surrounded by former Dodgers Don Newcombe, Maury Wills, Ron Cey, Steve Garvey and Eric Karros, Johnson reflected on his successful basketball career, saying he is now solely focused on bringing his winning ways to baseball.
"We were able to accomplish great things with the Lakers," Johnson said, "and I think we are going to accomplish great things with the Dodgers -- I can promise you."