Van der Sar: Ferguson will lead United to derby success
updated 9:03 AM EDT, Mon April 30, 2012
STORY HIGHLIGHTS
Former Manchester United goalkeeper says Alex Ferguson will have a key role in derby
Edwin van der Sar is hoping for a 1-1 draw between rivals Man United and Man City
The 41-year-old believes Manchester derby has grown in importance in last year
Defending champions United hold three-point lead ahead of game at City's home ground
(CNN) -- The experience of Alex Ferguson could be the key to Monday's potentially title-deciding Manchester derby, according to one of the veteran manager's former stalwarts Edwin van der Sar.
The Dutchman retired last year after Manchester United claimed a record 19th English championship, but that reign appeared to be over earlier this season as big-spending Manchester City took pole position under the guidance of Roberto Mancini.
A form slump allowed United to move eight points clear at the top -- but that has been cut to three with three games to play ahead of the clash at City's Etihad Stadium.
Ferguson is the most successful British manager of the modern era, having won 12 Premier League titles and two European Champions League crowns in more than quarter of a century at Old Trafford.
U.S. focused on England's biggest game
"He will be right up for it. He's had challenges over the last 26 years against various teams and he beat them, he got down to them and he diminished them and he's going to do the same with City," Van der Sar told CNN.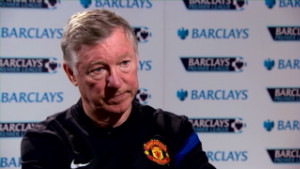 Ferguson on United title hopes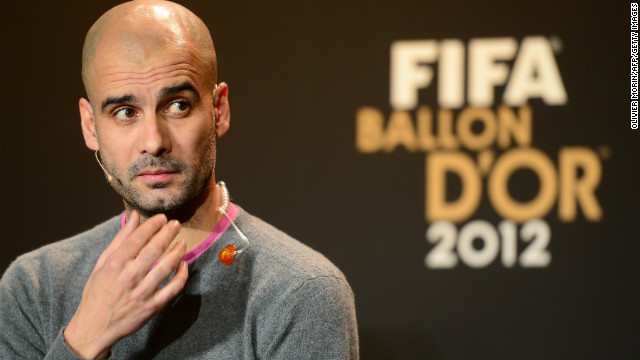 Pep Guardiola has been on a year-long sabbatical in the U.S. after stepping down as Barcelona coach, but he returned to Europe in January for the Ballon d'Or when he was shortlisted for FIFA's world coach of the year award.
When he confirmed he was to end his four-year reign as Barcelona coach, Guardiola gave an emotional press conference.
Guardiola announced his intent to quit at the end of last season just three days after the club's Champions League semifinal exit against Chelsea, drawing 2-2 at home and losing 3-2 on aggregate. He left a remarkable legacy.
He was massively popular at the Camp Nou after four trophy-laden seasons. Here he is thrown in the air by his players after winning the FIFA Club World Cup for the second time in December 2011, having been the first team from Spain to win it two years earlier.
Guardiola congratulates Barca players Cesc Fabregas and Javier Mascherano after winning the Spanish Supercup against Real Madrid at the start of the 2011-12 season.
Guardiola lifts the 2011Champions League trophy after Barca beat Manchester United at Wembley. The 41-year-old has earned a reputation as a coach who prepares meticulously for matches.
Guardiola won the FIFA Men's Football Coach of the Year award in January 2012. "I can't promise you silverware, but I can say that we'll keep on battling to the end and you'll be proud of us," he said after becoming coach four years ago.
In the 2009 calendar year, Guardiola won six trophies in total -- the Copa del Rey, La Liga, the European Champions League, the Spanish Supercup, the UEFA Supercup and the Club World Cup.
Former Barcelona president Joan Laporta shakes hands with Guardiola on June 5, 2008. The Catalan club's 15th coach arrived with the mission to end a two-season trophy drought -- he didn't disappoint.
As a player, Guardiola spent more than a decade in Barcelona's senior team, winning six Spanish titles and one European Cup. He captained Spain to a gold medal at the 1992 Barcelona Olympics and went to the 1994 World Cup.
He joined Barca's famed La Masia youth academy in 1984, and wore the No. 4 shirt until leaving for Italy in 2001.
He had two spells at Serie A side Brescia either side of a brief time at Roma, and is pictured playing against Perugia in 2002.
Guardiola left Europe to join Qatar's Al-Ahly from 2003 to 2005, then joined Mexico's Dorades de Sinaloa for a season before finally hanging up his boots.
Guardiola is pictured here with fellow Spaniard Jose Maria Olzabal at the Ryder Cup after Europe produced a remarkable comeback to win the tournament at Medinah in the U.S.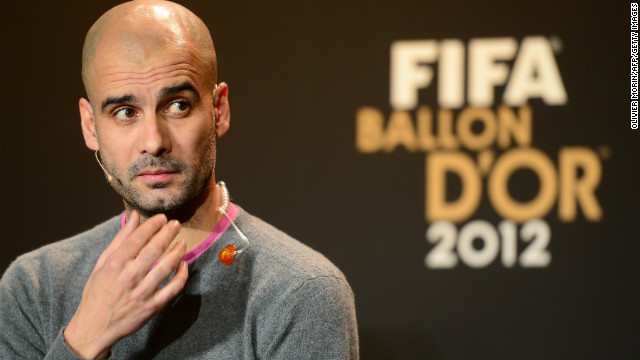 The end of an era: Josep Guardiola
"He's going to motivate the players because it's a massive moment to win the Barclays Premier League. He's going to do it the same way he always does -- of course there are going to be remarks about, 'You have to win otherwise you're not going to show your face for the next two months in Manchester,' all that kind of thing. But in general it's all about tactics."
Mancini guided City to the club's first silverware since 1976 with success in the FA Cup last season, but it has been 44 years since a league title was celebrated by the blue half of Manchester.
"They've both got strikers on good form -- Sergio Aguero scored a lot of goals, Wayne Rooney scored a lot of goals," said Van der Sar, who played for United for six seasons.
"I think City has slightly a better defensive record. But I think the midfield is going to be the place where it's going to be decided.
"Hopefully my old teammates are up for it, can withstand the pressure."
The 41-year-old revealed he was hoping for a draw, which would leave United in the box seat ahead of final games at home to Swansea and away to Sunderland. City must next travel to Champions League-chasing Newcastle and relegation-threatened Queens Park Rangers.
"My heart is right, of course you want a win for United, and a draw would be fine also. So let's go for a draw, a 1-1 or something to decide who's going to win the Barclays Premiership. That would be great," he said.
Van der Sar is one of the few footballers to have won the Champions League with two different teams -- helping deliver Ajax the title in 1995 and repeating the feat with United in 2008.
The man named UEFA Best European Goalkeeper in 1995 and 2009 said that the Manchester derby had grown in importance in the last year along with City's fortunes.
"I remember when I came here and played a game and even lost during one of the seasons -- we lost both games -- but still ended up winning the league. They were still so happy that they won from us, even though we ended up winning the league so it didn't really matter that much," he said.