Verdict expected in Pakistani prime minister contempt case
updated 11:32 PM EDT, Wed April 25, 2012
STORY HIGHLIGHTS
The Pakistani Supreme Court has summoned Prime Minister Gilani to appear Thursday
He is accused of contempt for refusing to revive charges against President Zardari
He could be sent to prison for six months if found guilty, but most observers don't expect that
Islamabad, Pakistan (CNN) -- The Pakistani Supreme Court is expected to announce its verdict on Thursday in the contempt case against Prime Minister Yousuf Raza Gilani, a member of the premier¹s legal team said.
The court has summoned Gilani to appear. If convicted, he could face up to six months in jail.
In February the Supreme Court indicted Gilani on a contempt charge after his repeated refusals to revive old corruption charges against the country's president, Asif Ali Zardari.
Gilani has "willfully flouted, disregarded and disobeyed the direction given by this court," said Justice Nasir ul-Mulk as he read out the charge, to which Gilani pleaded not guilty.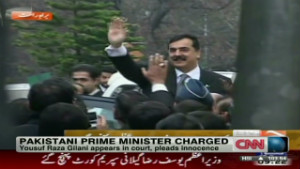 Pakistan PM indicted for contempt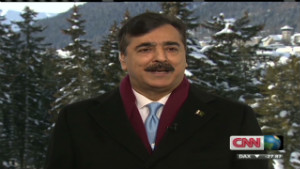 Gilani: Musharraf must faces charges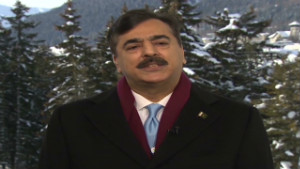 Pakistan PM: No objection to prison
Gilani's lawyers have argued that the prime minister has not followed the court's order because Zardari enjoys immunity in Pakistan and abroad as a president in office.
"I think the Supreme Court was satisfied with our argument." said Gohar Ali, a member of Gilani's defense team. "He will be acquitted and he should be acquitted, but you just never know."
Ali said it is within the discretion of the court to sentence the prime minister to jail if there's a guilty verdict.
"One option is not to sentence him to prison and let him live with the stigma of the conviction alone," Ali said.
A conviction would mean Gilani could be disqualified as prime minister, but that's a process that could take up to four months, leaving the bizarre possibility of Gilani governing the country from a prison cell.
But most observers don¹t seem to think a conviction would come with a prison sentence.
"They don¹t want to make a spectacle out of it," said columnist and analyst Muhammad Malick. "A prison sentence would create an unnecessary political drama."
"Time in prison would create a wave of sympathy for the prime minister, and that's something the judges don't want to see," said author and political analyst Imtiaz Gul.