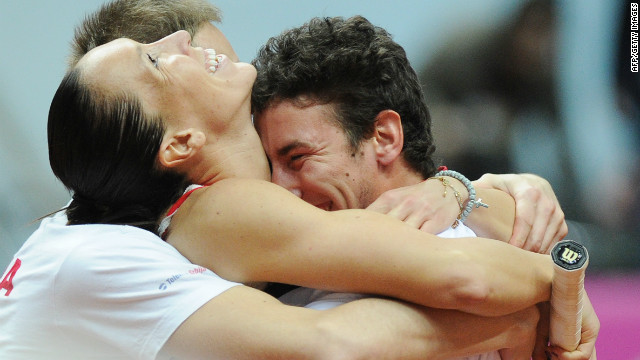 World No. 17 Jelena Jankovic, left, celebrates with her teammates after beating Russia's Svetlana Kuznetsova to put Serbia in to the Fed Cup final for the first time.
A frustrated Kuznetsova lashes out during Sunday's match as four-time champions Russia failed to repeat last year's feat of reaching the final.
Ana Ivanovic helped deliver the historic Serbian win, defeating Russia's Anastasia Pavlyuchenkova 3-6 6-0 6-3 in Sunday's opening reverse singles tie.
The Czech Republic's Petra Kvitova high-fives her teammates after defeating Italy's Francesca Schiavone as the defending champions won 4-1 in the other semifinal.
The Serbian women's team will be hoping to follow in the footsteps of their male compatriots, who reached the Davis Cup final for the first time in 2010 and won the title after defeating France 3-2.
Serbia's emotional win
Russian tempers flare
Ivanovic in form
Champions celebrate
Men set the pace
STORY HIGHLIGHTS
Serbia in historic first Fed Cup final after beating four-time champs Russia 3-2
Women's team hope to follow male compatriots who won Davis Cup in 2010
Former world No. 1s Jelena Jankovic and Ana Ivanovic help deliver victory
Serbs will now face reigning champions Czech Republic in November final
(CNN) -- It was dubbed "mission impossible" by one of their own mothers, but Serbia's women tennis players are now looking forward to the country's historic first Fed Cup final appearance.
Former world No. 1s Jelena Jankovic and Ana Ivanovic won their reverse singles ties in Moscow on Sunday before Serbia lost the dead doubles rubber to leave the score at 3-2.
But that defeat could not take the gloss off an emotional semifinal victory over a Russia team that has won the tournament four times in the past decade.
Yugoslavia reached the semifinals in 1984, but the Serbs had never made it to the last four since first competing as an independent nation in 2007.
"The journey has been very long -- five years long -- so I'm very happy to make it to the final," Serbian captain Dejan Vranes said on the Fed Cup website.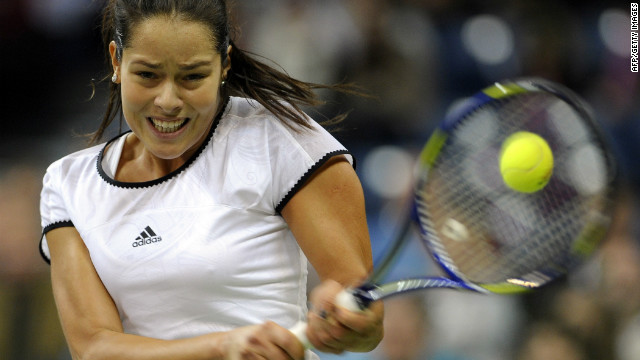 Spearheading Serbia's Fed Cup semifinal match against Russia is 24-year-old Ana Ivanovic. The former world No.1 has enjoyed a recent return to form, rising seven places since the end of 2011 to be ranked 15th in the world.
Serbia will make history when they compete in a Fed Cup final four tie for the first time. Here the team (L-R) Bojana Jovanovski, Natalija Kostic, captain Dejan Vranes, Aleksandra Krunic and Jelena Jankovic celebrate after winning the Fed Cup tie against Belgium in Charleroi in February.
Serbia's Bojana Jovanovski celebrates her victory with coach Dejan Vranes after she helped to beat Belgium in Charleroi.
Russia's semifinal chances have been thrown into doubt with the loss of world No. 2 Maria Sharapova to injury.
Petra Kvitova, the 2011 Wimbledon champion, will play a big role in the Czech Republic's defense of their Fed Cup title against Italy in the other semifinal. The world No. 3 is hoping for a return to form after injury and illness plagued her last two months.
The Czech team will have to reverse a four-tie losing streak against Italy if they are to reach the final. The 2010 champions will be led by Francesca Schiavone, who also won the French Open that year. Schiavone will lead off against Lucie Safarova.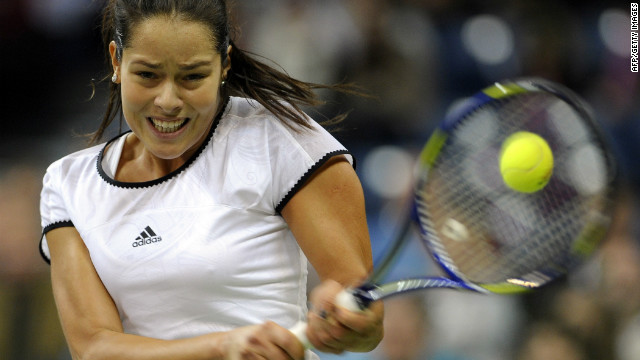 Fed Cup: Semifinal showdown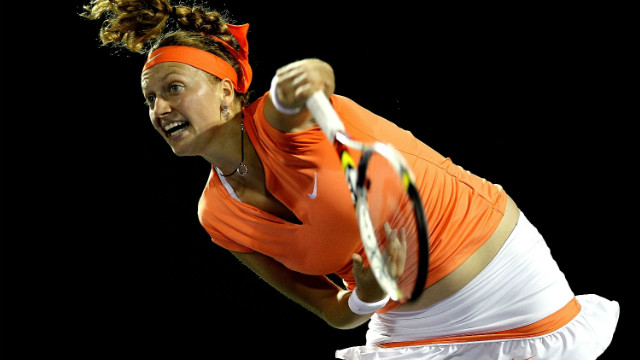 World No. 3 Petra Kvitova is hoping a tough fitness regime will deliver her to the top spot.
The Wimbledon champion began 2012 in fine style as she teamed up with compatriot Tomas Berdych to win the Hopman Cup teams exhibition tournament in Perth.
Kvitova was beaten by China's French Open champion Li Na in the semifinals of her next event, the Sydney International.
The left-hander also reached the last four at the season's opening grand slam, the Australian Open, but lost to Maria Sharapova to end her hopes of becoming the new world No. 1 as the Russian avenged her Wimbledon final thrashing.
Kvitova bounced back with two wins as the Czech Republic reached the semifinals of the Fed Cup with victory over Germany in Stuttgart in early February.
She is a big hit in her home nation, having helped the East European country win the Fed Cup final last year.
After injury and illness forced her out of tournaments in Qatar and Dubai, Kvitova was beaten by American teenager Christina McHale in the third round at California's Indian Wells event in March.
Worse was to come in Key Biscayne, Florida, when Kvitova lost her opening match to Venus Williams, who was playing her first tournament after a long absence due to an incurable illness.
Kvitova came to the fore when she won her first grand slam title at the prestigious English grass-court event last July.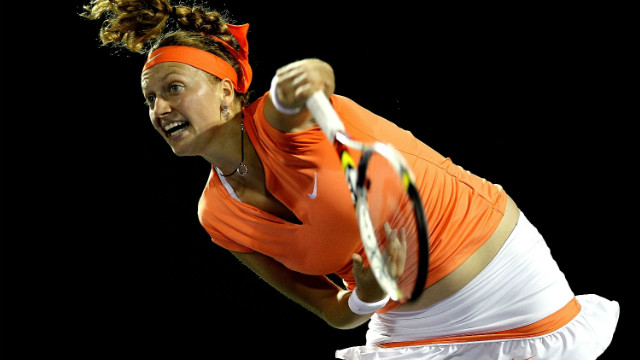 Petra Kvitova's 2012 struggles
"They played very good. We did everything possible to prepare for the match and I think we deserve the victory."
Despite the Russians missing top players Maria Sharapova and Vera Zvonareva, Jankovic's mother Snezana said of the win: "It's amazing. Coming to Russia was mission impossible."
The women will now be hoping to follow in the footsteps of their male compatriots, who reached the Davis Cup final for the first time in 2010 and -- led by current world No. 1 Novak Djokovic -- won the title.
"I have goosebumps because it's so exciting for us," world No. 17 Jankovic said after her decisive win 6-1 6-4 over two-time grand slam champion Svetlana Kuznetsova.
"We've come a long way. I remember those days we would play in the lower groups, so it's so exciting for us to be in the final and playing for the trophy. I'm very proud of our team and everyone who has helped us."
Ivanovic, now ranked 15th, lost to Kuznetsova on Saturday but redeemed herself by beating Anastasia Pavlyuchenkova 3-6 6-0 6-3 in Sunday's opening match.
"I didn't have a great night of sleep last night. I felt a lot of pressure after what happened yesterday," the 2008 French Open champion said after her win.
We did everything possible to prepare for the match and I think we deserve the victory
Dejan Vranes, Serbian captain
"I was a little bit tense in the beginning of the match against Anastasia. She was hardly missing a ball and every shot was a winner. I just thought: 'Just find your rhythm, this set is gone.'
"I stayed composed and started playing more aggressively and it worked."
In November's final, the Serbs will face reigning champions the Czech Republic, who triumphed over Italy 4-1 in the other semifinal.
World No. 3 Petra Kvitova helped seal the Czech victory in the third match with a 6-4 7-6 (7-1) win over 2010 French Open champion Francesca Schiavone for her second victory of the tie.
"Francesca played unbelievable tennis," last year's Wimbledon champion said.
"Every Fed Cup I'm playing I'm nervous, so I'm really happy to win today. It's an unbelievable feeling -- I really wanted to be in the final again. The crowd was great, and I hope everyone who came to support us this weekend comes to the final too."
The 22-year-old has struggled to repeat her stellar 2011 performances this year, struggling for form and fitness since losing in the semifinals of the Australian Open in January. Kvitova will return to the WTA Tour circuit this week in Stuttgart following an intensive training program in Turkey.
The Stuttgart clay event will be headed by world No. 1 Victoria Azarenka, while second-ranked Sharapova is also in the field along with Ivanovic, Jankovic, Polish fourth seed Agnieszka Radwanska and last year's runner-up Caroline Wozniacki.