Save the whales? There's an app for that
updated 7:49 AM EDT, Mon April 23, 2012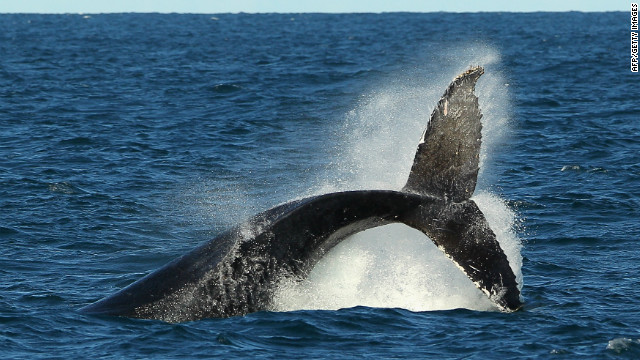 There are only between 350 and 550 right whales remaining, making it one of the most threatened large animals on the planet.
A new iPhone app aims to reduce collisions between endangered right whales and commercial ships.
The Whale Alert App is available to download for free for anybody with an iPhone or iPad.
The endangered right whale
Whale Alert App
Free iPhone downloads
STORY HIGHLIGHTS
A new iPhone app aims to reduce collisions between endangered whales and ships
The right whale is one of the most endangered large animals anywhere in the world
The project is the result of a collaboration between 13 different organizations
(CNN) -- A new iPhone app is making waves in the commercial shipping world by providing an early warning system that aims to reduce maritime collisions with endangered whales.
The Whale Alert App was launched at the start of April and produces up to the minute data regarding sightings of right whales near busy shipping lanes off the north east coast of America.
The program is a collaborative effort between 13 different organizations including the Stellwagen Bank National Marine Sanctuary, the National Oceanic and Atmospheric Administration and the International Fund for Animal Welfare.
See also: How Flickr can help save the whales
Although there are only a handful of incidents between ships and the giant mammals each year, any collision that leads to a right whale fatality can have a major impact on the species status due to its severely depleted numbers.
"The right whale is one of the most endangered large animals on the planet, there are only between 350 to 550 of them left" says David Wiley of the Stellwagen Bank National Marine Sanctuary.
"If a ship strikes a reproductive female then the mortality impact could be very large in terms of what it means for the overall population," adds Wiley.
The Whale Alert App works by collating up to the minute reports from all the organizations involved in tracking or researching right whales in the United States.
See also: Rare dolphins boosted by sea sanctuary
This information is then used to pinpoint right whales straying within a five kilometer radius of major shipping lanes.
Ship captains with access to the free app via their iPhone or iPad can then reduce their speed, change course or increase their vigilance so as to avoid a potential collision.
"By increasing mariners ability to comply with regulations and protective measures, you increase protection for the right whales (as well as) decreasing the chance that mariners will be fined for violating (those) regulations," says Wiley
"NOAA has fined some ships up to $92,000 dollars for going too fast repeatedly in seasonal management (conservation) areas," he adds.
See also: Activists using drones against Japanese whalers
So far there has been 9,600 downloads of the Whale Alert App from iTunes and Wiley believes the idea could also be extended to reduce shipping collisions with whales in other areas of the world.
He cites the Mediterranean Sea strait where sperm whales frequently cross busy shipping lanes as well as off the coast of New Zealand where collisions with Bryde's whales are common.
"We've invented this on our own," says Wylie. "But we expect it to be extremely influential in terms of creating a model for a lot of other conservation efforts."

Part of complete coverage on
updated 9:30 PM EST, Sun January 20, 2013

Patricia Wu looks at efforts to combat food waste in Hong Kong.
updated 9:33 PM EST, Sun January 13, 2013

CNN's Pauline Chiou goes to Hong Kong's annual toy fair to find out about the growing market for eco-friendly toys.
updated 11:15 PM EST, Sun December 30, 2012

CNN's Liz Neisloss reports on a roof that is only a sample of the greening of Singapore's skyline.
updated 9:16 PM EST, Tue December 18, 2012

A dam project in Cambodia could destroy livelihoods and ecosystems, says Conservation International
updated 10:22 PM EST, Mon December 17, 2012

Shipping lines, port authorities and technology companies are taking the initiative to go green and reduce costs.
updated 9:06 PM EST, Sun December 9, 2012

Less than 20 miles from Singapore's skyscrapers is a completely different set of high-rise towers.
updated 6:04 AM EST, Thu December 6, 2012

The Pitcairn Islands might only have 55 human inhabitants, but the waters surrounding them are teeming with marine life.
updated 10:22 PM EST, Sun December 2, 2012

Biofuel made from sugar cane waste in Brazil could revolutionize the global energy industry.
updated 9:58 PM EST, Sun November 25, 2012

Many believe that fuel-cell cars will overtake electric vehicles in the near future.
updated 3:20 AM EST, Mon November 19, 2012

Modern and sustainable buildings in the UAE are taking cues from an ancient Arabic design tradition.
updated 11:09 PM EST, Sun November 11, 2012

One man's artistic vision is distracting divers from Cancun's threatened underwater ecosystem.
updated 12:46 PM EST, Mon November 12, 2012

Lake Victoria, Africa's largest lake, has been plagued by water hyacinth plants for over two decades.

Just how much are natural wonders like the Great Barrier Reef worth in monetary terms?